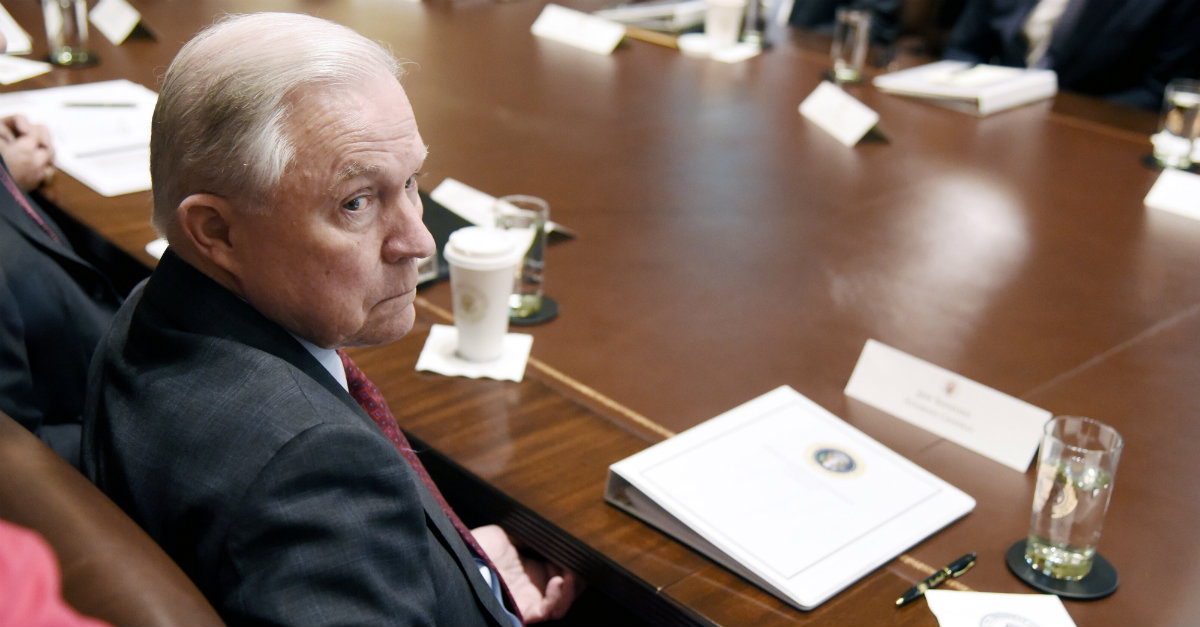 It's Saturday! Do know what time it is? It's time to look back at President Donald Trump's history of publicly embarrassing his Attorney General Jeff Sessions. He did it again this afternoon, while drumming up another attack on the infamous Russia dossier by former British military intelligence officer Christopher Steele.
"I have never seen anything so Rigged in my life," Trump wrote. "Our A.G. is scared stiff and Missing in Action. It is all starting to be revealed – not pretty. IG Report soon? Witch Hunt!"
No big deal, just your boss, the most powerful person in the world, calling you a wimp in front of the entire planet.
Trump often takes Sessions to task in a public manner. It might be a bit much to call it routine, but it's certainly a recurring element in this administration.
Sessions was the first Senator to back then-candidate Trump during the campaign, and the president returned that favor by nominating him to be the most powerful lawman in the country.
Then things soured when Sessions recused himself from the Russia investigation because he didn't tell the Senate about his meetings with Russian ambassador Sergey Kislyak. Clearly, the relationship has yet to fully heal. Trump's "sacred stiff" insult is striking. Presidents don't tend to have publicly awful relationships with their cabinet members.
In an interview with the New York Times last year, Trump said point blank that he wouldn't have nominated Sessions had he known there'd be a recusal. Again in April, the president said his AG made a "terrible mistake" by stepping back from the Russia probe.
Then on August 1, Trump publicly called on Sessions to end the Mueller probe (he made no mention of the recusal).
..This is a terrible situation and Attorney General Jeff Sessions should stop this Rigged Witch Hunt right now, before it continues to stain our country any further. Bob Mueller is totally conflicted, and his 17 Angry Democrats that are doing his dirty work are a disgrace to USA!

— Donald J. Trump (@realDonaldTrump) August 1, 2018
POTUS has attempted multiple times to needle Sessions into investigating "Crooked" Hillary Clinton.
Attorney General Jeff Sessions has taken a VERY weak position on Hillary Clinton crimes (where are E-mails & DNC server) & Intel leakers!

— Donald J. Trump (@realDonaldTrump) July 25, 2017
"Weak." "Scared." It's the kind of language Trump typically saves for people outside his team, at least in public. But here he is, calling out his own subordinate.
Out in the open, Sessions is just doing his job, and took a leading role in defending and accelerating the administration's "zero tolerence" immigration policy. In private? Well…A Sessions ally told The Daily Beast last year that the AG is "pissed," but refused to resign.
The relationship seems frigid in person. A Wall Street Journal report from Wednesday said that Trump prefers to work with Deputy Attorney General Rod Rosenstein over Sessions. A source familiar with the matter reportedly said the president and AG rarely speak to each other, and staffers put Sessions' chair out of POTUS' line of sight during cabinet meetings.
Trump "feels like Sessions was the one he made AG knowing all these things could happen, and then he recused himself," a senior administration official told the outlet. "He sees that as the catalyst for all these things happening, less than Rosenstein."
[Image via Olivier Douliery-Pool/Getty Images]
Have a tip we should know? [email protected]