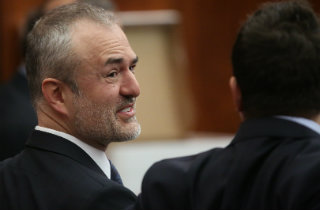 According to reports from both Sydney Ember of the New York Times and Peter Kafka of Recode, Univision is the winning bidder in the bankruptcy auction for Gawker Media with a $135 million final bid. While not confirming the monetary figure,  Gawker founder and publisher Nick Denton did name Univision as the new owners in a memo sent out to staff:
Gawker Media Group has agreed this evening to sell our business and popular brands to Univision, one of America's largest media companies that is rapidly assembling the leading digital media group for millennial and multicultural audiences. I am pleased that our employees are protected and will continue their work under new ownership — disentangled from the legal campaign against the company. We could not have picked an acquirer more devoted to vibrant journalism.
While Univision is best known for its mostly Spanish-language TV networks, including its over the air namesake, it's made a major play for online media as of late. Their portfolio includes the following sites, which are all good fits with Gawker Media's properties:
Fusion, its news network and website targeted towards young adults.
The Onion and its family of properties, including Clickhole and AV Club, the popular film/TV/etc. criticism site
The Root, a black issues news site.
In the end, the only bidders were Univision and publishing company Ziff Davis, best known for its various tech-themed magazines and websites like IGN and PC Magazine, which served as the "stalking horse bidder" to set the opening bid. On Monday, the New York Post reported that Vox Media, the parent company of Recode, SBNation, The Verge, and Polygon, dropped out of the race due to a lack of funds. As for Ziff Davis, CEO Vivek Shah sent out this memo, which was provided to LawNewz by a source familiar with the matter:
As many of you know, the auction for Gawker Media Group (GMG) was held today and we decided to withdraw once we felt the price and terms exceeded our threshold. We pride ourselves on being disciplined acquirers, having consummated 13 successful acquisitions over the past 6 years, and while we would have been excited to add Gizmodo, Lifehacker and a few of the other properties to our portfolio, we're also happy to collect our breakup fee​ and move on. We wish Univision and GMG great success in their partnership.
According to one LawNewz source, Ziff Davis had been prepared to fight Gawker's creditors (led by Hulk Hogan) in court if they insisted on the deletion of certain articles as part of the deal. It's not yet clear if there have been any communication between the creditor committee and Univision. The same mystery surrounds the issue of whether or not Univision will carry over the contract with the unionized writing staff that was in place since June of last year. According to an update from Politico's Peter Sterne, Univision will be honoring the writer's union contract as well as the lease on Gawker Media's office space while retaining at least 95% of the staff.
Have a tip we should know? [email protected]