As they brace for E. Jean Carroll's civil rape trial, former President Donald Trump's lawyers have run roughshod over one of the most time-tested online maxims: never read the comments.
In a filing on Friday, Trump's attorneys Joe Tacopina and Alina Habba flagged some of the meanest insults left by random internet users in order to urge a federal judge to reconsider his multiple rulings for an entirely anonymous jury.
Senior U.S. District Judge Lewis Kaplan denied the request just hours after it was filed.
'The Harvey Weinstein of Politics'
Carroll first went public with her allegations against Trump in New York Magazine on June 21, 2019. By Trump's count, readers left more than 900 comments on that story, and the former president wasn't happy with many of them.
"Trump is a monster," one unattributed comment read. "Because he rapes. Because he lies… He raped Ms. Carroll as sure as he is compulsed to, given his need to destroy the value of others, and given an opportunity for which he's learned he can destroy any consequence."
Tacopina highlighted sexual assault allegation, presumably to suggest that online commentators — and perhaps, potential jurors — didn't grant Trump the presumption of innocence.
Other comments describe Trump and his children as "monsters," judge Carroll's accusation to be "entirely credible," and pronounce the former president a "man-beast" and the "Anti-Christ."
"Fact is that Trump supporters you know these women are telling the truth they know that he is a serial sexual predator but if it gets them just one more judge on the court they will give him their daughters in exchange… as if all these women are making up these stories just so they could be dragged through the mud and abused and threatened," another user wrote, adding in a withering three-letter sneer: "Lol."
Venturing beyond the comments section of New York Magazine, Trump's team trawled the comments of the New York Times, where they found more unkind words about the former president.
"Trump is the Harvey Weinstein of Politics," one of the Gray Lady's 1,349 commenters wrote in response to an article from June 27, 2019. "Why isn't everyone outraged?"
At least 26 women have accused the former president of some form of sexual misconduct. Two of those other accusers will testify in Carroll's support at her trial.
'Ship him to gitmo'
Trump's legal team unfavorably compared the former president's pretrial reputation to the convicted rapist Weinstein and sex trafficker Ghislaine Maxwell, saying those convicted felons had fewer write-ups about their criminal cases than he does within two weeks of his civil trial.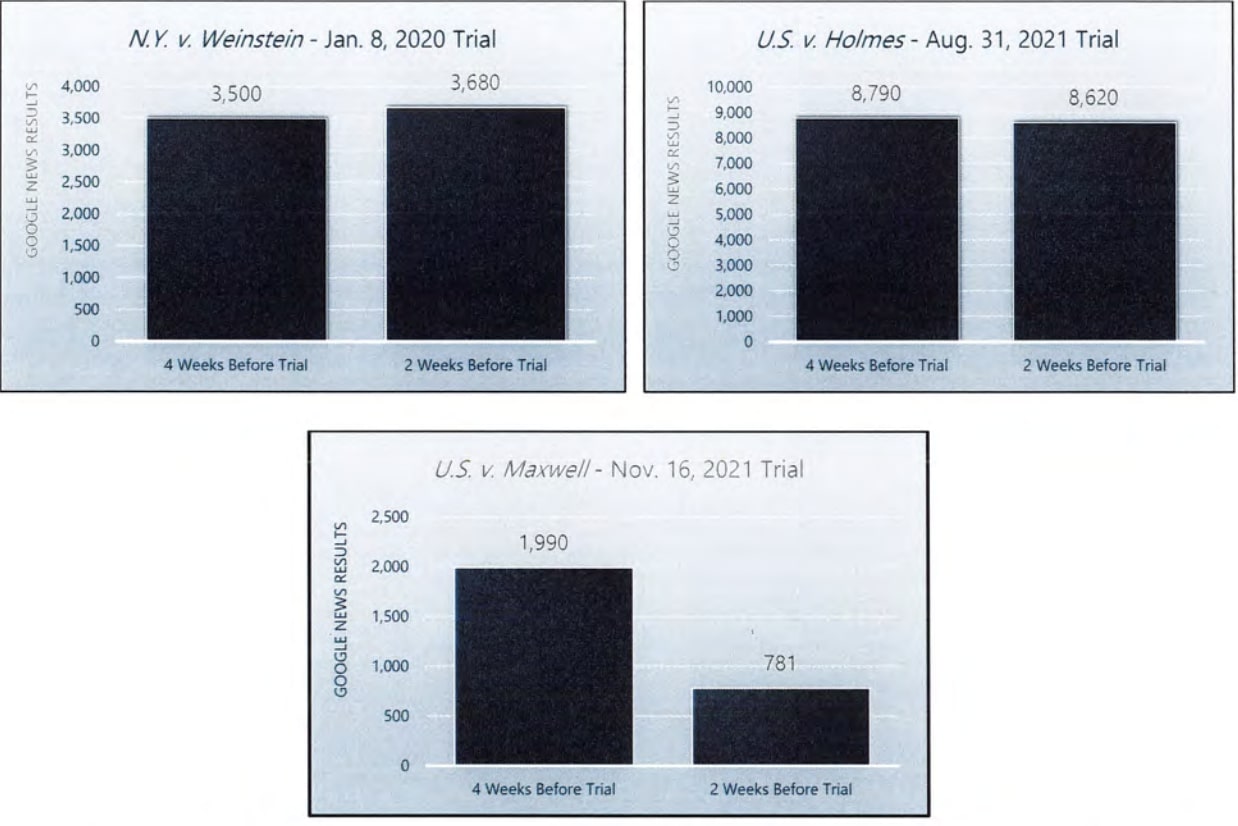 Trump's legal team even submitted charts to the court highlighting those comparisons, embedded in their legal brief.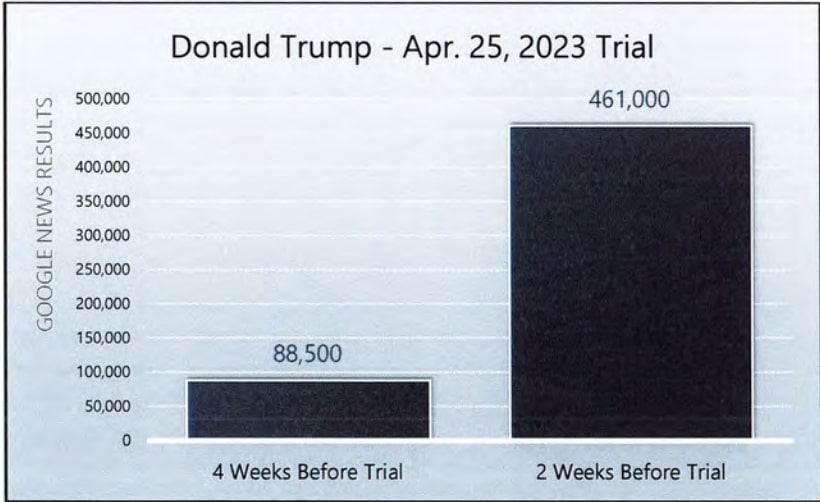 Even what Trump may once have counted as sympathetic New York Post readers flamed the former president in the comments section of an article preparing for his indictment.
"Time to send in the FBI swat team to violently arrest Trump the traitor on TV," a comment read. "Ship him to gitmo for some real interrogation."
In two scathing rulings, Judge Kaplan has made abundantly clear that he believes the jury must be kept anonymous for their privacy and protection. Kaplan suggested that Trump's own actions make that particularly necessary.
"Mr. Trump's quite recent reaction to what he perceived as an imminent threat of indictment by a grand jury sitting virtually next door to this Court was to encourage 'protest' and to urge people to 'take our country back,'" Judge Kaplan noted. "That reaction reportedly has been perceived by some as incitement to violence. And it bears mention that Mr. Trump repeatedly has attacked courts, judges, various law enforcement officials and other public officials, and even individual jurors in other matters."
Kaplan reiterated those concerns after Trump's arraignment on his 34-count indictment for allegedly falsifying business records on hush-money payments to Stormy Daniels and their reimbursement.
"The likelihood of such difficulties since the Court made those findings only has increased," Kaplan wrote in a six-page ruling on Monday. "That is so in view of Mr. Trump's public statements, characterized by the media as attacks against the New York State judge presiding over the recently filed New York State criminal case against Mr. Trump and the threats reportedly then made, presumably by Mr. Trump's supporters, against that judge and members of his family."
On Friday, Kaplan added, simply: "Nothing between then and now has occurred to warrant revisiting that ruling."
Former federal prosecutor Mitchell Epner noted that Trump's attempts to overturn unfavorable rulings were doomed to fail.
"Judge Kaplan has clearly stated, numerous times, that he will not give the litigants a second bite at the apple," said Epner, a partner at Rottenberg Lipman Rich PC. "Client regret (and I can only imagine how the former president has expressed his displeasure) is no basis for a 'do over.'"
The trial is expected to begin on April 25, if Trump does not prevail on his most recent bid for a delay. He has lost multiple attempts already.
Read Trump's latest brief here, and Kaplan's ruling here.
Have a tip we should know? [email protected]
Adam Klasfeld - Managing Editor