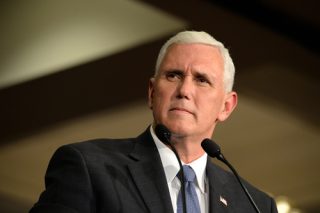 It's just too easy to call out the hypocrisy. So I'm not even going to talk about how patently absurd it is for Mike Pence demand email privacy after persecuting Hillary Clinton for the past year about the same issue. Double-standards aside, Pence's refusal to release his email is troubling all on its own.
For starters, there's the context of what's at issue with Pence. To get that context, we have to go back to President Obama's executive order in 2012; that order directed DHS to de-prioritize certain groups of people for deportation. Specifically, under a plan that became known as the Deferred Action for Childhood Arrivals ("DACA") "certain young people" (who might have been deported) could apply for a two-year deportation deferment after they'd passed a background check."
As I've written before, DACA worked well. It made sensible use of a limited federal budget, and prioritized deportation of adult criminals over law-abiding children and their parents. It would seem like a no-brainer, but since it was President Obama's idea, the red states had no choice but to oppose it as loudly as they could. That opposition came in the form of a federal lawsuit that went all the way to the Supreme Court.
When the legal work on Texas v. U.S. began, right-leaning states were deciding whether to jump on board the litigation. Indiana was one of those states. Putting aside the obvious question about whether Indiana truly has a problem with illegal immigration (even according to right-wing media, such a "problem" is minimal and was steadily decreasing under DACA ), I'll instead focus on the logistics of Indiana's decision. Governor Pence jumped at the chance to join Texas in the lawsuit and then made kind of a weird move. He hired Barnes & Thornburg, an outside law firm, to handle the lawsuit. In case you're tempted to think "well, it makes sense to hire lawyers to handle a lawsuit" – keep in mind that Indiana has an attorney general – and it's his or her job to handle lawsuits on behalf of the state. When Governor Pence needed someone to handle his other legal fights against progress (such as those filed to undo the Affordable Care Act, legalization of gay marriage and clean air rules), Pence just sent the work over to Attorney General Greg Zoeller. But for whatever reason, Pence felt like spreading the work around to some other lawyers.
If there's anything we know about litigation, it's that it's expensive. And a case that goes up to the Supreme Court packs quite the price tag. If I were cozied up to Mike Pence, you'd better bet I'd love the chance to piggyback on Texas' lawsuit and double-bill my way to a summer house on Indiana's dime. But the thing about our government is that it's supposed to be transparent about its expenditures. Especially when it's spending state taxpayer dollars suing our own federal government.
Now it's time to get back to the Pence email. After Texas v. U.S., a prominent Indianapolis labor lawyer named William Groth filed an open records request with the State of Indiana to make public the records of just how much money was spent hiring outside counsel to do what the Attorney General could have done himself (for "free"). In response to that request, Pence's office refused to turn over an email that contained a "position paper," which had been sent to Pence by Daniel Hodge, the chief of staff for Texas Governor Greg Abbott. In that paper, Abbott extolled the virtues of Texas' lawsuit over DACA and urged Indiana and other states to sign on to it. Pence has refused to turn over the position paper, calling it "attorney work product."  Mr. Groth filed suit to enforce his open records request, but lost at the lower court level. He appealed in June and the Indiana Court of Appeals will hear oral arguments on Nov. 21.
From where I sit, Pence's choices in this matter – from his opposition to DACA to his joining in the lawsuit, to his hiring an outside firm, and finally, to concealing his steps in doing so – are a disturbing microcosm of his ideologies. He will choose the wrong positions and then he will advance those positions in an even more wrong manner. When questioned, he will hide his actions from the very people he purports to represent.
There's quite a lot to hate about Mike Pence's political positions, from his blatant homophobia to his willful blindness about the need for medical research and protection of women's health. But the issue of governmental waste isn't a political one. Both parties waste taxpayer money. And both need to speak up about what a refusal to effect transparency means to them. Vice President Elect Pence shouldn't turn over the position paper because Hillary Clinton would have, or because DACA is a practical and compassionate program. He should do it because whatever his actions as governor, he should be accountable for them. Without making that commitment on a broad scale, his oath to "bear true faith and allegiance… without any mental reservation or purpose of evasion" is meaningless.
This is an opinion piece. The views expressed in this article are those of just the author.
Elura Nanos - Columnist & Trial Analyst, Law & Crime; CEO Lawyer Up