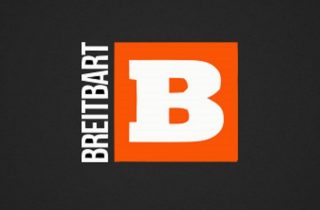 Breitbart News, the conservative website formerly run by new Donald Trump strategist Steve Bannon, is reportedly preparing to sue an unidentified "major media company" over assertions that it is a white nationalist site.
A statement provided to Joe Concha at The Hill (which was first to report this story) also stated:
Breitbart News cannot allow such vicious racial lies to go unchallenged, especially by cynical, politically-motivated competitors seeking to diminish its 42 million monthly readers and its number one in the world political Facebook page. Breitbart News rejects racism in all its varied and ugly forms. Always has, always will
Bannon's selection to be part of the Trump administration has drawn ire due to controversial allegations that he is a white nationalist. Breitbart has gotten slammed in the media in recent days for espousing similar views. In fact, a story dated today on CNN Money bears the headline "10 of Breitbart's most incendiary headlines," describing Breitbart as "a website that traffics in incendiary headlines, many of them outwardly racist, misogynist, anti-Semitic — and very, very pro-Trump." It is unknown whether CNN is the media company that Breitbart is targeting with their lawsuit. However, there are some other contenders including the Huffington Post, which had a headline over the weekend which said,  A White Nationalist is The New White House Chief Strategist.  The first line of the article reads, "Steve Bannon, the Breitbart News Network executive chairman known for having white nationalist views ― and who has himself been accused of anti-Semitism ― was named chief strategist and senior counselor to President-elect Donald Trump on Sunday."
Without knowing who Breitbart is suing and what the exact allegations are, it is difficult to assess the strength of their case at this time. For example, if they sue CNN over an article such as the one mentioned above, it would be difficult for them to win. While terms such as "racist, misogynist, and anti-Semitic" sound defamatory, the article does support the assertion with a list of actual articles published on Breitbart.com. Experts we spoke to believe that Breitbart might be in store for a difficult case, and could be opening themselves up to even more trouble.
"I think it's likely (protected) opinion. I also think it's very dangerous for Mr. Bannon if such an action is brought, one than can lead to major trouble for him as well as Breitbarters," Floyd Abrams, a well-known First Amendment attorney told LawNewz.com
We also spoke with Lin Wood, a media law attorney, who offered us this assessment of the potential lawsuit:
Breitbart would be facing an extremely difficult case even if the statement is deemed actionable. The defenses of substantial truth and actual malice would pose major obstacles to success. Impossible – no. Extremely difficult – definitely. Depending on the forum, Breitbart might also be facing an anti-SLAPP statute.

Having said all of the above, defamation plaintiffs are sometimes motivated to use a lawsuit for purposes of litigating in the court of public opinion – that is, to get their side of the issue in the public domain in a manner that will attract publicity despite the slim chances of ultimate success in court.  There are obvious downsides to this strategy in the form of possible penalties for fees and expenses. In my practice, I do not recommend that defamation cases be used for a PR purpose.
We've updated this article with analysis from  First Amendment experts. 
Have a tip we should know? [email protected]