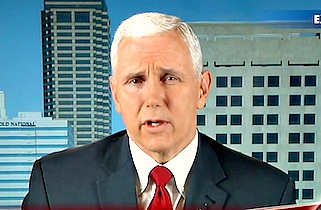 Indiana Governor and Vice President-elect Mike Pence is in the middle of a legal battle to keep the contents of an email sent to him exempt from being disclosed as a public record.  This comes, as Pence spent months on the campaign trail railing against Hillary Clinton for failing to disclose all off her emails.
The email was in connection to an immigration lawsuit brought by the state of Texas against the U.S. government. Pence joined in the suit and hired a local law firm. As a result, Indianapolis lawyer William Groth has been bringing a legal battle of his own to the trying to get information behind Pence's decision to hire outside attorneys for the case, IndyStar reported.
"I think joining the lawsuit without the attorney general and hiring that firm was a waste of taxpayer dollars and the people have the right to know how much of their money was spent," Groth said to IndyStar, despite state Attorney General Greg Zoeller reportedly giving Pence the OK to join the case. Zoeller's office did not respond to the newspaper's request for comment.
While Pence's administration has produced 57 pages of documents in response to Groth's request, Groth argued in a court filing that they were heavily redacted. Additionally, a key email that Pence received from Texas Gov. Greg Abbot's chief of staff, Daniel Hodge, was turned over, but without an attached document. Pence's administration made the redacting decisions, and argued that the email attachment was attorney work product, which is privileged and exempt from being turned over according to Indiana's Access to Public Records Act.
The matter went to trial, and after roughly a year-long court battle, a judge ruled in Pence's favor. The court decided that they did not have the authority to make decisions regarding the administration's redactions to public records. Now Groth is appealing the case. "I think governmental transparency is an important concern of anyone who lives in a democracy – the governor cannot put himself above the law," he said.
This matter has garnered particular attention, given Pence's statements regarding Hillary Clinton's emails and the ensuing FBI investigation. "I truly do believe, as Abe Lincoln said, 'Give the people the facts, and the republic will be saved,'" Pence said to MSNBC's Chris Matthews, after FBI Director James Comey announced the discovery of new emails days before the Presidential election. The FBI later maintained their decision not to recommend charges against Clinton.
LawNewz.com reached out to Pence's administration, but a representative said they do not comment on on-going litigation.
Have a tip we should know? [email protected]