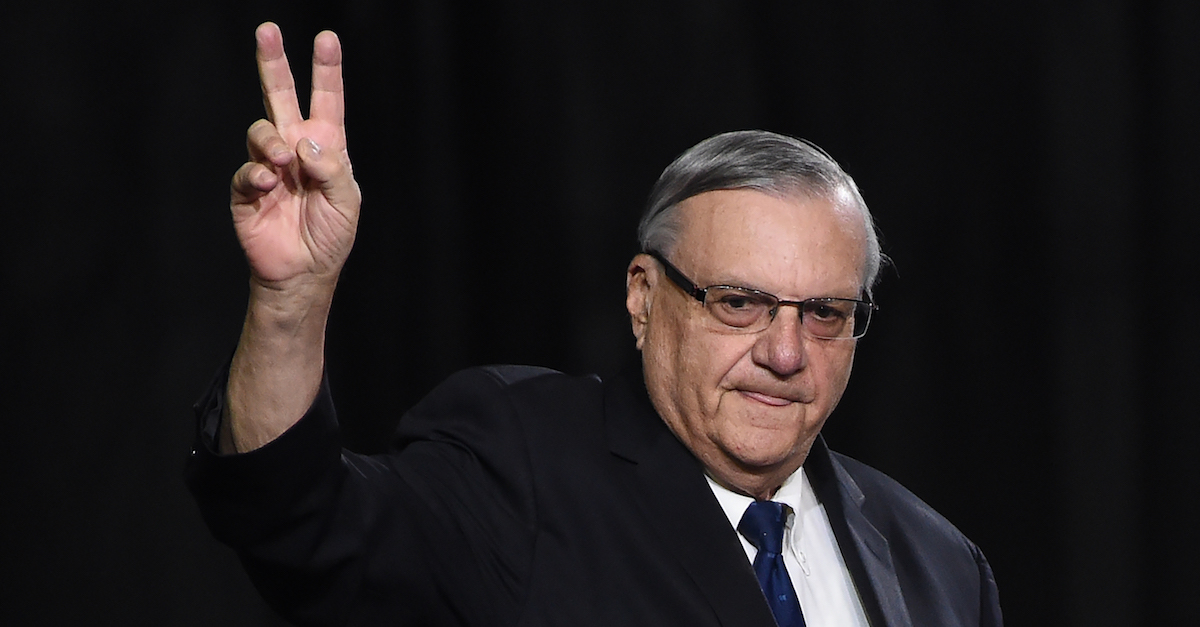 Former Maricopa County Sheriff Joe Arpaio, who just days ago was praised by Vice President Mike Pence as a "tireless champion of strong borders and the rule of law," is still causing problems for the county he served in Arizona. Pence's kind words came despite Arpaio's conviction for racial profiling policing policies that later led to him being pardoned by President Donald Trump,
Judges Paul J. Watford, Ronald M. Gould, and Richard C. Tallman of the United States Court of Appeals for the Ninth Circuit ruled against Maricopa County on Monday, affirming that the county can be held liable for the "racially discriminatory policing policies" of the former Sheriff Joe.
The judges held that Arpaio, as sheriff, "acted as a final policymaker for the County" when he instituted "racially discriminatory traffic-stop policies." The panel cited Title VI of the Civil Rights Act of 1964 and 34 U.S.C. § 12601 as on-point law authorizing policymaker liability.
34 U.S.C. § 12601 says the following:
(a) Unlawful conduct

It shall be unlawful for any governmental authority, or any agent thereof, or any person acting on behalf of a governmental authority, to engage in a pattern or practice of conduct by law enforcement officers or by officials or employees of any governmental agency with responsibility for the administration of juvenile justice or the incarceration of juveniles that deprives persons of rights, privileges, or immunities secured or protected by the Constitution or laws of the United States.

(b) Civil action by Attorney General

Whenever the Attorney General has reasonable cause to believe that a violation of paragraph (1) has occurred, the Attorney General, for or in the name of the United States, may in a civil action obtain appropriate equitable and declaratory relief to eliminate the pattern or practice.
It was Judge Watford who penned a lengthy opinion.
"In short, Maricopa County is liable for violations of Title VI and § 12601 stemming from its own official policies. As discussed above, when Arpaio adopted the racially discriminatory traffic-stop policies at issue, he acted as a final policymaker for the County," Judge Watford wrote. "Those policies were therefore the County's own, and the district court correctly held the County liable for the violations of Title VI and § 12601 caused by those policies."
[Image via Robyn Beck/AFP/Getty Images]
Have a tip we should know? [email protected]