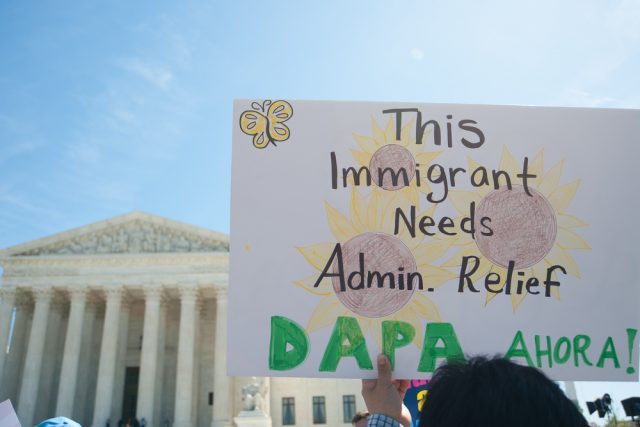 The White House is preparing a plan to backtrack on a key Trump campaign promise related to immigration.
Key aides are pushing the president to retain the popular program known as Deferred Action for Childhood Arrivals ("DACA") and use its retention as leverage in order to strike a grand bargain with Congress–including, presumably, Democrats.
By keeping DACA–whose beneficiaries are commonly referred to as "Dreamers"–intact, those aides hope to achieve a deal that simultaneously protects Dreamers, contains funding for the border wall, builds more detention facilities, and limits legal immigration. Also on the wish-list being floated is implementation of the E-Verify program–which would allow employers to quickly check an employee's immigration status. E-Verify is popular with movement conservatives and has been harshly criticized by pro-civil liberties groups and the agricultural industry.
The pro-Dreamer clique includes current White House chief of staff John Kelly, Ivanka Trump, and her husband Jared Kushner, who serves the president in various advisory roles. Reince Priebus, former White House chief of staff is also said to be part of this group. Additionally, Vice President Mike Pence, Security Adviser H.R. McMaster and Democrat Gary Cohn, Director of the National Economic Council, are believed to be sympathetic the Dreamers and keeping DACA intact to use their continued presence in the United States as a carrot to dangle in front of legislators.
On the opposite side is a smaller group comprised of Attorney General Jeff Sessions, Trump's senior policy adviser Stephen Miller and Rick Dearborn, White House deputy chief of staff. This anti-DACA group vehemently opposes citizenship for Dreamers and does not believe a compromise is necessary in order for the president to deliver on immigration.
Complicating the anti-Dreamers groups ambitions is the fact that Stephen Miller has not been allowed to brief President Trump on immigration for months–roughly tracking with the installment of John Kelly as White House chief of staff. This is because of widespread belief that the president tends to agree with whoever speaks to him las–and because Miller's views are well known.
A turn-around on this issue would likely be considered a political flip-flop of the highest order.
During the presidential campaign, then-candidate Trump repeatedly called DACA a form of "amnesty" and vowed to repeal it. He also categorized it as an abuse of the president's powers in order to take potshots at Barack Obama, who implemented the program in June 2012. During a campaign speech in Phoenix, Trump said:
"We will immediately terminate President Obama's two illegal executive amnesties, in which he defied federal law and the constitution to give amnesty to approximately 5 million illegal immigrants. In a Trump administration, all immigration laws will be enforced. As with any law enforcement activity, we will set priorities. But, unlike this [Obama] administration, no one will be immune or exempt from enforcement — and ICE and Border Patrol officers will be allowed to do their jobs."
After his inauguration, however, Trump began singing a different tune. During a February news conference, he said: "DACA is a very, very difficult subject for me. To me, it's one of the most difficult subjects I have because you have these incredible kids, in many cases not in all cases. In some of the cases they're having DACA and they're gang members and they're drug dealers too. But you have some absolutely incredible kids, I would say mostly."
If the volte-face in policy and rhetoric remains Trump's preferred course of action, the White House is likely to receive a bit more than unsatisfied grumbles from some of his core supporters and fellow travelers.
Texas–along with nine other states–plans to sue the government if DACA is not gone by September 5. The prospect of the Trump administration defending Obama-era immigration policies would be quite a sight to see. But as that deadline quickly approaches, legal action is likely in the near future.
[image via Shutterstock.com]
Follow Colin Kalmbacher on Twitter: @colinkalmbacher
Have a tip we should know? [email protected]