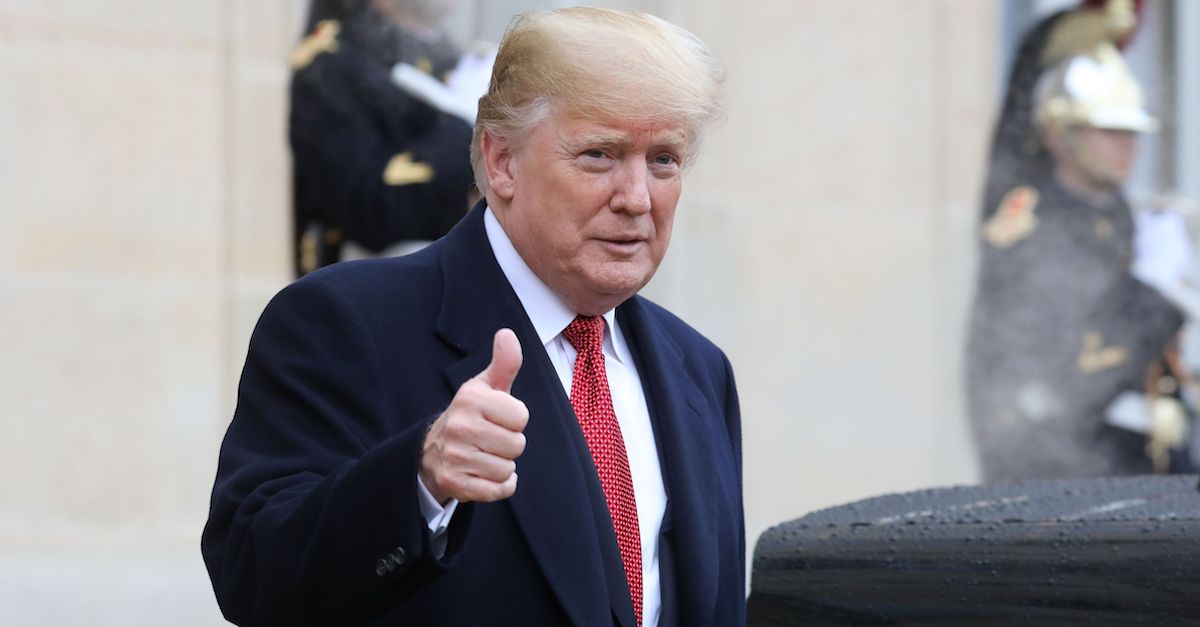 A federal court ruled against several hundred Iraqi nationals who have long been awaiting deportation. This ruling could be seen as a major victory for Immigration and Customs Enforcement (ICE) and the Trump administration's broader immigration policy.
The Sixth Circuit Court of Appeals on Thursday determined that a lower court lacked jurisdiction to issue two previous court orders, which (1) halted longstanding removal actions against 1,444 Iraqi nationals and (2) demanded bond hearings for a smaller number of Iraqis who are currently being held in administrative detention.
U.S. District Judge Mark Goldsmith issued a string of rulings during the summer of 2017 that kept those Iraqi nationals from being deported after the Trump administration reached an agreement with the government of Iraq to repatriate them in exchange for Iraq being taken off the list of countries affected by the White House's then-controversial travel ban.
The rulings quickly set off immigration hardliners who argued that the Eastern District of Michigan lacked insight into and authority over the situation. Judge Goldsmith openly flouted ICE's jurisdictional argument in a July 2017 opinion favoring the Iraqi nationals:
[This court is] armed with jurisdiction to act as a first responder to protect the writ of habeas corpus and the allied right to due process, by allowing an orderly filing for relief with the immigration courts before deportation, thereby assuring that those who might be subjected to grave harm and possible death are not cast out of this country before having their day in court.
ICE's acting director even took the extremely unusual step of publicly criticizing Goldsmith–while the agency itself pressed forward with jurisdictional challenges to the judge's pro-immigrant ruling. It now appears that ICE has won the argument. At least for now.
"[T]he Attorney General's enforcement of long-standing removal orders falls squarely under the Attorney General's decision to execute removal orders and is not subject to judicial review," the opinion by Circuit Judge Alice M. Batchelder notes.
Judge Batchelder then argues that the referenced grant of statutory removal authority–for the attorney general and, therefore, for ICE–was well understood by the lower court. Goldsmith, however, threw the relevant statute to the wind by saying that "the longstanding unenforced removal orders, the detention far from home followed by successive transfers, and limited access to counsel [for the Iraqi nationals]" created a situation that effectively stripped those detainees of any meaningful way to challenge ICE's designs against them.
This was an argument by Goldsmith that the writ of habeas corpus—-the legal mechanism by which someone can allege a detention or imprisonment is unlawful and then force a court to review the legality of said detention–was being both implicated and ignored by the government and therefore the Constitution demanded that the writ remain in effect. In operation, this meant the Iraqis were allowed to stay in the United States and contest their incarceration.
The Sixth Circuit didn't find that argument too convincing. Thursday's decision continues:
After correctly concluding that [the statute in question] divested it of jurisdiction as a matter of federal statutory law, the court then erred by finding that it could still exercise jurisdiction because "extraordinary circumstances" created an as-applied constitutional violation of the Suspension Clause. This is a broad, novel, and incorrect application of the Suspension Clause.
Why? Because the court doesn't think reprieve from an imminent deportation to another country really qualifies as seeking the writ.
"Petitioners' removal-based claims fail to seek relief that is traditionally cognizable in habeas, [and therefore] the Suspension Clause is not triggered…" the court argues. "Petitioners' removal-based claims did not challenge any detention and did not seek release from custody."
At least one expert–and one other federal judge–disagreed with the Sixth Circuit's logic here.
University of Texas Law Professor Steve Vladeck immediately took issue with the ruling.
"Judge Batchelder's conclusion for the panel majority that the Suspension Clause categorically does not apply to claims by non-citizens seeking to halt their removal from the United States to a foreign country (pp. 7-8) is both incredibly important and, in my view, deeply wrong," he wrote, in a series of tweets after the decision was released. "[E]ven a narrow reading of the history of habeas in pre-revolutionary England suggests it encompasses claims seeking to block transfers to foreign countries."
Thursday's ruling, Vladeck argues, is also "deeply hostile" to the Supreme Court's understanding of the time-honored writ.
[image via LUDOVIC MARIN/AFP/Getty Images]
Have a tip we should know? [email protected]