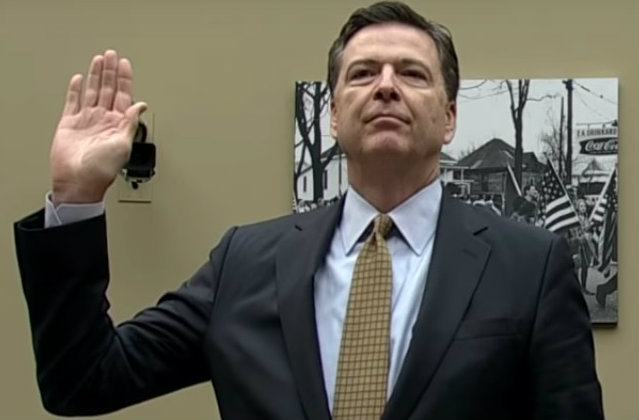 Former FBI Director James Comey is prepping for his big day before the Senate Intelligence Committee on Thursday. As we grab our popcorn for the opening act (Deputy Attorney General Rod Rosenstein is scheduled to testify on Wednesday), let's take a minute to get centered on what's likely to come.
White House Deputy Press Secretary Sarah Huckabee Sanders announced on Monday that President Donald Trump will not attempt to invoke executive privilege as grounds for blocking Comey's testimony. Of course, if Trump did start screaming "executive privilege!" to muzzle Comey, it's pretty unlikely to work, as LawNewz founder Dan Abrams has pointed out before.
So now that it's safe to say that Comey will find himself in front of a microphone on Thursday, what should we be listening for as we tune in?
To put it broadly, obstruction of justice. Rep. Jim Himes (D-Conn.) said Friday that if Comey testifies that President Donald Trump pressured him to back off the investigation into his ties with Russia, that "points in the direction of obstruction of justice." Congressman Himes is right, but it's not exactly a simple matter. Unlike a violent crime, in which key evidence would simply describe what happened – a crime like obstruction requires evidence about why things happened.
If someone were prosecuting an obstruction case against President Trump, it wouldn't be enough to prove that he mentioned "backing off" Flynn to then-Director Comey; it similarly would be insufficient to say that Trump fired Comey. A prosecutor would have to prove that these things were done "corruptly" or with an "improper purpose."
Here's where it gets tricky: Jim Comey cannot give valid evidence about why Donald Trump did anything. The only person qualified to testify about what is going on in the brain of Donald Trump is Trump himself. And such is the difficulty with prosecuting any case that requires a specific intent on the part of the perpetrator. In typical criminal cases, prosecutors present evidence of how a defendant acted, what the defendant said, and what circumstances surrounded the crime; jurors then have the chance to infer a defendant's state of mind based on that contextual information. For example, a jury might infer that a defendant acted with intent to kill when that defendant threatened to fatally shoot a victim and then followed through with the threat.
If Comey's testimony is to be damaging for Trump, it'll be a two-step process. First, Comey could testify about what Trump may have said to him about the Russia investigation. Second, Comey could provide contextual information tending to indicate why Trump may have made such statements. Assuming that Comey reiterates the content of the infamous Comey Memo, we also need to listen up for other details relating to the surrounding circumstances of those statements. Everything from Trump's tone and body language, to Comey's own state of mind would be relevant.
Let's also not forget: obstruction of justice isn't the only thing that might rise to the top of Comey's testimony. Remember that tweet?
James Comey better hope that there are no "tapes" of our conversations before he starts leaking to the press!

— Donald J. Trump (@realDonaldTrump) May 12, 2017
There are also potential violations of federal law if, say, it appears that Trump actually had "tapes" of his talk with Comey and then destroyed those tapes. Lastly, we should be listening for any new facts, relating specifically to Trump's interactions with Comey. When news of the Comey Memo broke, it justifiably marked the start of new times for President Trump; there's always the chance that there are more memos, more facts, or more conversations Comey will make public.
[Image via CSPAN screengrab]
This is an opinion piece. The views expressed in this article are those of just the author.
Elura Nanos - Columnist & Trial Analyst, Law & Crime; CEO Lawyer Up