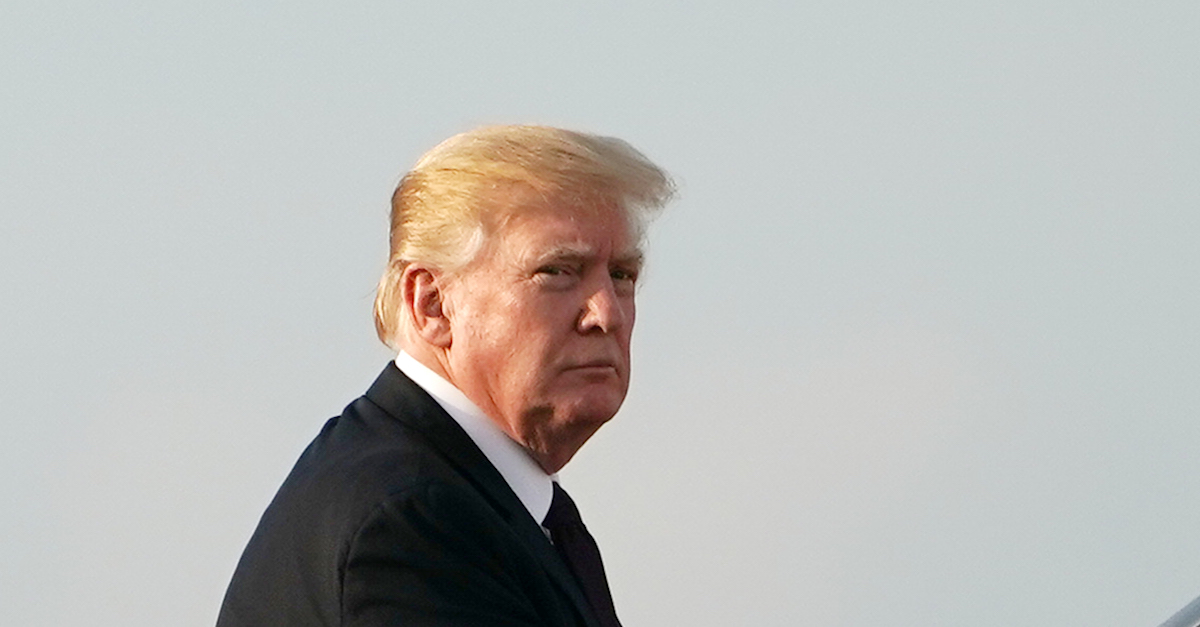 Once again, President Donald Trump lashed out Monday on Twitter over the ongoing Russia investigation and its architect, Special Counsel Robert Mueller. As Law&Crime noted earlier, one of the tweets having to do with Trump confidant Roger Stone was immediately seen as potential obstruction of justice.
The tweet about Stone "never testify[ing] against Trump" was regarded as potentially more than a mere wink and a nod to Stone on how to approach dealing with Mueller. In other words, attempting to corruptly influence a witness. But there's another way of looking at this tweet, as well. This statement on Stone could be viewed in a similar light as something we just learned from Michael Cohen's guilty plea.
Former federal prosecutor Renato Mariotti suggested that the tweet "takes on added meaning," given that Cohen admitted he lied to be consistent with Trump's political messaging and to be loyal to Trump. Put another way, we've already seen a person admit that they have lied in the past for Trump's benefit.
Here's what Cohen said last week: "I made these [false] statements to be consistent with Individual-1's political messaging and to be loyal to Individual-1." Trump is Individual-1.
The false statements were lies about Trump's Russia dealings, in particular about when discussion of a Trump Tower proposal in Russia, known as the Moscow Project, came to an end.
"I knew at the time in that I asserted that all efforts had ceased in January 2016, when in fact they continued until June 2016," Cohen said. "In fact had more extensive communications."
It brought to mind Cohen previously admitting in the Southern District of New York that he committed campaign finance violations at Trump's "direction." Making false statements to be loyal to Trump isn't exactly the same as committing a crime at Trump's "direction," but Cohen still said Trump factored in to his decision making.
Mariotti went on to say he's "never heard a public official speak this way before Trump."
"This sounds like something the criminals I used to prosecute would say," he added.
Some regard Trump's public discussion about pardoning Paul Manafort as more of the same of winking and nodding, and think that a pattern might be unfolding.
"It was never discussed, but I wouldn't take it off the table. Why would I take it off the table?" Trump said of a pardon last week.  Trump has also called Manafort, Jerome Corsi, and Roger Stone "brave" for combating Mueller.
Former federal prosecutor Daniel S. Goldman said that a pardon of Manafort itself "should be the end of [Trump's] presidency."
"We now have more evidence that Manafort was essentially the President's mole in the Mueller's investigation, and we can therefore assume — before we find out concretely in a couple of months from the Special Counsel's sentencing memorandum in Manafort's case — that at least some of Manafort's lies relate to the President," he said. "A pardon of Manafort can therefore only be interpreted as a reward for protecting the President or his family from incriminating information. This is blatant obstruction of justice that should lead to immediate impeachment and expulsion from the Presidency."
[Image via Mandel Ngan/AFP/Getty Images]
Have a tip we should know? [email protected]