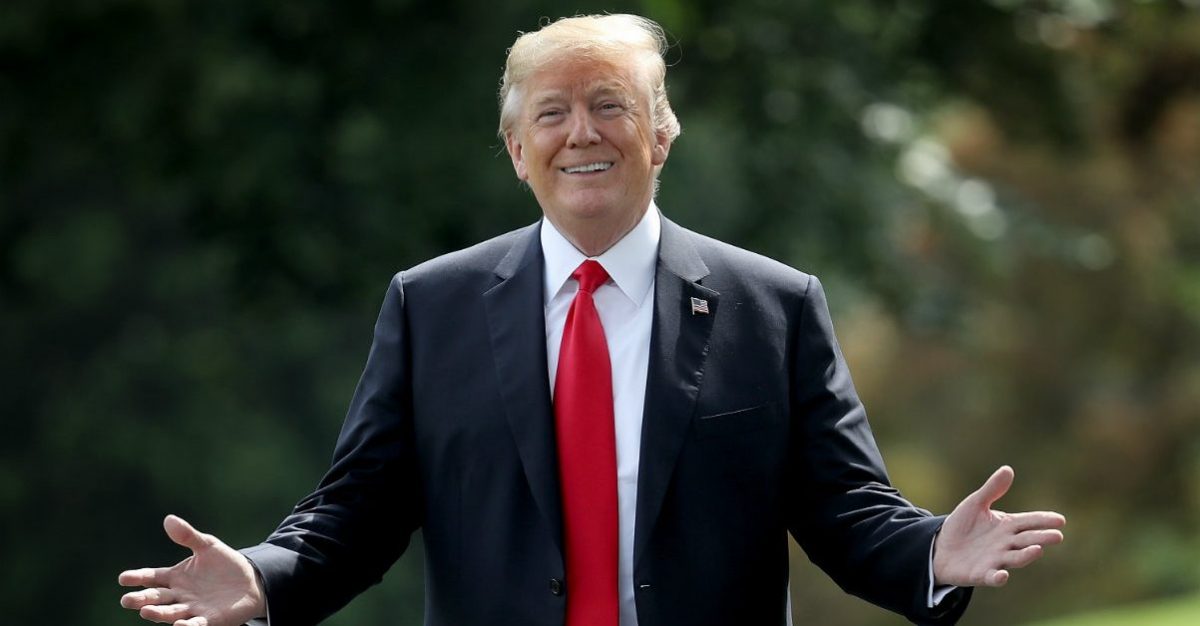 President Donald Trump and his supporters claim that he doesn't know much of anything about campaign finance law, but there's one person who might disagree with that assessment: Donald Trump himself. Or at least a prior version.
According to the Wall Street Journal, sworn statements from prior decades "indicate [Trump] has a deep understanding of campaign-finance laws." This apparent knowledge is notable because of Trump's previous Twitter pronouncements that he relied upon the advice of his former attorney Michael Cohen when authorizing hush money payments to adult actresses during the 2016 presidential election.
"I never directed Michael Cohen to break the law," Trump tweeted. "He was a lawyer and he is supposed to know the law. It is called 'advice of counsel,' and a lawyer has great liability if a mistake is made. That is why they get paid."
Cohen was recently sentenced to three years in prison due in part to those hush money payments–payments that prosecutors determined were unlawful campaign contributions. As Law&Crime previously reported, legal experts have been skeptical of Trump's potential liability viz. the Cohen-facilitated hush money payments because criminal violations of campaign finance law are contingent on someone actually knowing their behavior is unlawful. Wednesday's revelation of Trump's prior on-the-record testimony would seem to alter that calculus.
The WSJ report notes:
Trump's statements were made as part of a 2000 regulatory investigation into his casino company and in 1988 testimony for a government-integrity commission. They contrast with the portrayal by some of the president's allies that he is a political novice with little understanding of campaign-finance laws and therefore couldn't be charged with violating them.
In one of the documents, a four-page affidavit signed by Trump, the one-time casino magnate appeared to note his strong familiarity with Federal Election Commission (FEC) rules governing corporate contributions to candidates.
"I personally sponsored and hosted a reception for William L. Gormley, a candidate for election to the United States Senate from the State of New Jersey," one of Trump's statements reads. "I did so solely in my individual capacity, not in my representative capacity as Chairman of Trump Hotels & Casino Resorts, Inc."
Another series of statements note:
I paid from my personal funds all the costs of the invitations, food, and beverages for the March 27, 2000 reception I sponsored and hosted for William L. Gormley. I was not reimbursed, in whole or in part, for the costs of the invitations, food and beverages for the March 27, 2000 reception I sponsored and hosted for William L. Gormley.
"I have gone through federal campaigns, and frankly it's the best thing that ever happened to me because you're limited to a thousand-dollar contribution," Trump said in another statement from 1988.
Brett Kappel is an election-law lawyer at Akerman LLP cited in the WSJ's report. In comments to the outlet he noted that the language used above by Trump more or less tracks with statutory rules surrounding what's acceptable–and what's not acceptable–under campaign finance law.
"[The affidavit] indicates that Trump had a very thorough understanding of federal campaign finance law, especially regarding what he could and could not legally do when raising money for a federal candidate," Kappel said.
Trump's lead attorney Rudy Giuliani previously cast doubts on Trump's knowledge or awareness of campaign finance law.
"Honestly, I don't think his knowledge goes that deep because mine didn't until I researched it," he told the WSJ on Wednesday.
Ultimately, the FEC declined to move ahead with charges against Trump's company. Prosecutors in the Southern District of New York, however, could find that those decades-old Trump statements dovetail quite nicely with their present understanding of President Trump as an unindicted co-conspirator in the Cohen case. One perhaps not-so-obvious caveat here: campaign finance laws have changed a bit since 1988–and 2000.
But such shifts in campaign finance law might not matter all that much to investigators.
Election law expert and Law Professor Richard Hasen told the WSJ that "[Trump's] sophistication in matters of campaign finance would be valuable and probative evidence" for any investigation into what the 45th president knew and when he knew it.
[image via Win McNamee/Getty Images]
Have a tip we should know? [email protected]