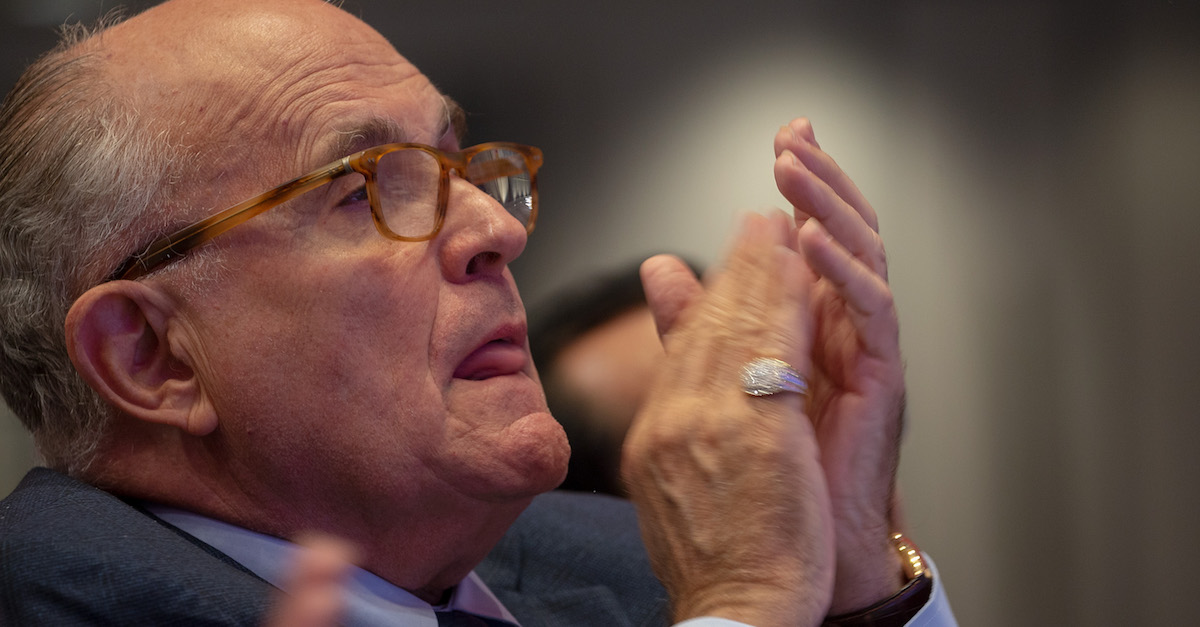 President Donald Trump's attorney Rudy Giuliani has made headlines again for a cable news appearance in which he appeared to intentionally blurt things out that hadn't been said before. This time the subject was "collusion."
Giuliani made an appearance on CNN's Cuomo Prime Time Wednesday night and didn't mind participating in a discussion about collusion. Trump and Giuliani have repeatedly said there was "no collusion," sometimes in all caps. They've called Special Counsel Robert Mueller's investigation a "witch hunt," for reasons we've explored.
Giuliani didn't quite say there was collusion, but he allowed for the possibility that it happened, unavoidably granting the Mueller probe legitimacy. The way he qualified it this time was to say that he never said there wasn't collusion, just that Trump didn't collude. He also said Trump's denials of collusion were always in reference to himself not others.
"I never said there was no collusion between the campaign or between people in the campaign," Giuliani said. "I have not. I said the President of the United States." Giuliani then said something to effect of: if it happened, it didn't happen.
"If the collusion happened, it happened a long time ago. It's either provable or it's not. It's not provable because it never happened there's no chance it happened," he said. The cable news pundits have responded to these statements as they responded to the hush payments remarks, prompting Giuliani to say more.
"I represent only President Trump not the Trump campaign. There was no collusion by President Trump in any way, shape or form. Likewise, I have no knowledge of any collusion by any of the thousands of people who worked on the campaign," he said. "The only knowledge I have in this regard is the collusion of the Clinton campaign with Russia which has so far been ignored."
This isn't the first time Giuliani appeared to say a little too much in defense of his client.
Remember: Soon after the FBI raided Michael Cohen's home, office, and hotel room in April 2018, Giuliani made a May cable news appearance on Fox News to discuss the alleged hush payments made to porn star Stormy Daniels and former Playboy model Karen McDougal.
In case you missed it, Giuliani said that the money was "funneled […] through the law firm and the president repaid it." He said Trump "didn't know about the specifics of it," as far as he knew, but "he did know about the general arrangement, that Michael would take care of things like this, like I take care of things like this for my clients." He also said that in the end this would "turn out to be perfectly legal" and that the money wasn't campaign money.
Nothing had been said before about Trump's knowledge or his understandings with Cohen regarding payments — payments the Southern District of New York now regard as campaign finance violations.
Cable news pundits pounced, saying that this was a "confession," although Giuliani would later walk back his statements.
President Trump responded to the gaffe by saying that Giuliani was new to the case and would "get his facts straight." But the facts as federal prosecutors allege them reflect what Giuliani said in the first place. Cohen admitted in a Manhattan courtroom that Trump "directed" the hush payments for the purpose of influencing the 2016 election.
Giuliani apparently didn't misspeak then; is he misspeaking now?
It's possible that Giuliani is signaling a big factual development. The Washington Post's Aaron Blake put it this way: "This is at least 2nd time Giuliani has seemingly spilled the beans on something big to come. Did the same with Cohen hush-money. Question is whether he KNOWS something is coming — as he did with Cohen — or he just SUSPECTS it might be, based on Manafort/Kilimnik stuff."
What Blake is referring to here was the recent failed redaction by Paul Manafort's attorneys, revealing that Manafort shared Trump campaign polling data in 2016 with Konstantin Kilimnik, a Russian national with suspected ties to Kremlin intelligence:
In fact, during a proffer meeting held with the Special Counsel on September 11, 2018, Mr. Manafort explained to the Government attorneys and investigators that he would have given the Ukrainian peace plan more thought, had the issue not been raised during the period he was engaged with work related to the presidential campaign. Issues and communications related to Ukrainian political events simply were not at the forefront of Mr. Manafort's mind during the period at issue and it is not surprising at all that Mr. Manafort was unable to recall specific details prior to having his recollection refreshed. The same is true with regard to the Government's allegation that Mr. Manafort lied about sharing polling data with Mr. Kilimnik related to the 2016 presidential campaign.
It remains to be seen if this connection will loom large in the grand scheme of Mueller's investigation into Russian interference in the election and links to it.
Giuliani recently downplayed the Kilimnik connection to the Trump campaign. "Polling data is not a state secret," he told the New York Daily News.
"You can hand it out to anybody you want, nothing wrong with that," he said. "It's a joke. He gave out polling data, so what?" Giuliani admitted "you shouldn't be talking to people like [Kilimnik]," namely, accused criminals with connections to Russian intelligence.
"But [Manafort] only gave him polling data. That's handed out all the time. Everybody has polling data," Giuliani continued. "You have to be a real jackass to not know that."
The major question really is whether Giuliani has advanced knowledge that another shoe will drop. It's not out of the realm of possibility when you consider the joint-defense agreement in place between Trump and Manafort.
In another attempt to re-word things, Giuliani said Trump "did not himself, nor does he have any knowledge of collusion with Russians. If anyone was doing that, he is unaware of it… But neither he nor I can possibly know what everyone on the campaign was doing."
[Image via Tasos Katopodis/Getty Images]
Have a tip we should know? [email protected]