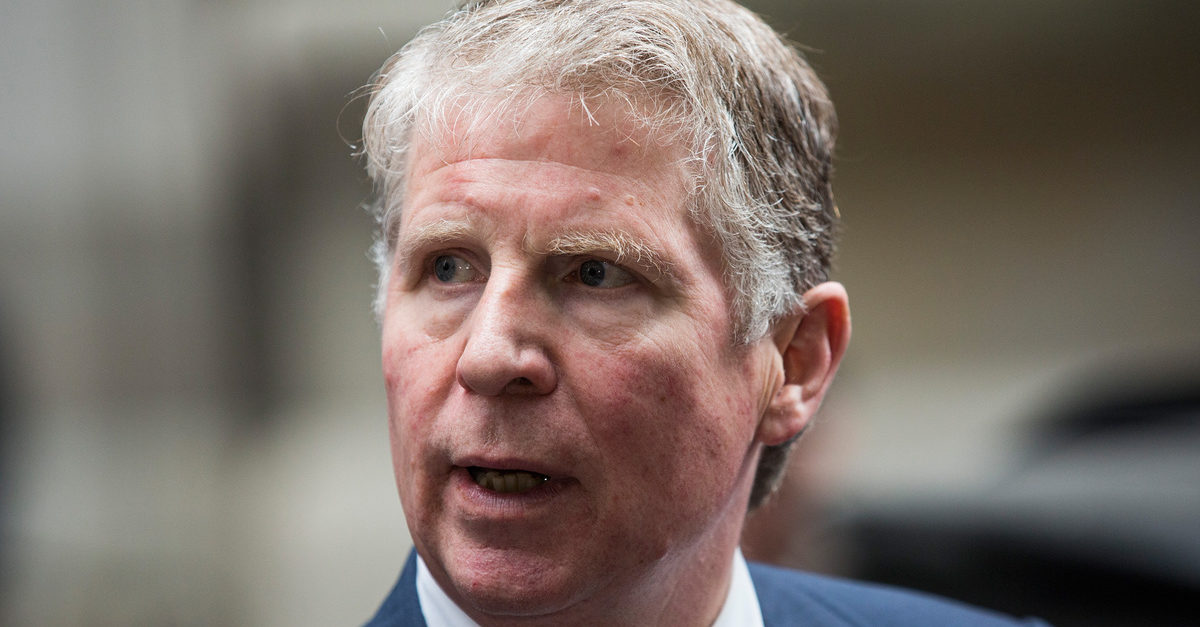 Doubly-convicted felon Paul Manafort has filed a motion to dismiss various financial fraud charges that were filed against him over the summer by the State of New York. In the Wednesday court filing, Manafort's legal team came out swinging against Manhattan District Attorney Cyrus Vance, suggesting that he targeted Manafort for political reasons.
Attorneys for the former Trump campaign chairman argued that the state mortgage fraud charges unconstitutionally overlap with Manafort's many bank fraud convictions in the Eastern District of Virginia.
In a 59-page filing with the 42nd Supreme Court of the State of New York, Manafort's legal team offers a brief legislative history lesson on the double jeopardy doctrine as it exists in the Empire State.
"Since 1970, the New York Legislature has 'decreed' that this state's courts will extend double jeopardy protection beyond the minimum standard embodied in the state and federal constitutions," the filing notes–citing Section 40.20 of New York State's Criminal Procedure Law which provides that "[a] person may not be separately prosecuted for two offenses based upon the same act or criminal transaction unless" certain listed statutory exceptions apply.
To hear Manafort's attorneys tell it, not one of those exceptions are applicable here–and, they say–Vance knows very well that none of those exceptions fit the present case against their client.
"[Vance] cannot, and presumably will not, attempt to deny the common factual basis underlying the prior and present proceedings," the filing asserts. "Instead, they may argue, as previewed by the District Attorney when announcing the charges against Mr. Manafort, that they seek only to vindicate 'New York's sovereign interests, including the integrity of our residential mortgage market.'"
The filing argues that New York's mortgage market simply isn't enough here:
[W]hatever the interest of New York in the transactions for which Mr. Manafort has already been criminally prosecuted and is currently serving a years-long prison sentence, in connection with a case brought to vindicate the governmental interest in the integrity of that very market, it is well established that New York's double jeopardy statute "legislatively nullifies the 'dual sovereign' doctrine in this State," with the result that, absent a specifically enumerated statutory exception, a prior federal prosecution like the one at issue here bars a subsequent New York prosecution.
Manafort's attorneys also argue that far from being enough to satisfy the enumerated statutory exceptions allowing double jeopardy prosecutions, Vance's interest in New York's mortgage market is actually just subterfuge masking alleged political motives in bringing the case against the formerly high-powered consultant.
"[W]hile New York's double jeopardy statute provides an exception," the filing notes, "it does not provide that the double jeopardy bar may be circumvented by the mere incantation of the words 'residential mortgage market'—a fig leaf woefully inadequate to cover [Vance's] improper attempt at successive prosecutions of Mr. Manafort in violation of New York law."
The filing continues on–and in blistering fashion–to specifically rail against Vance's presumed political motives:
Mere minutes after Mr. Manafort's second federal sentencing, the District Attorney—delivering a statement that was as much campaign speech as public announcement—proclaimed the indisputable principle that "[n]o one is beyond the law in New York." Regrettably, he neither advertised nor adhered to the equally indisputable principle that no one is below the law in New York. Mr. Manafort is entitled to the equal protection of New York's double jeopardy statute, which permits no exceptions for defendants who have garnered national interest, nor for favored political causes of the elected district attorney.
The political dig at Vance, a liberal Democrat enmeshed in the Manhattan elite and party machine, comes in light of the district attorney's own past controversies–and a left-wing primary challenger in decarceration activist Janos Martin who announced his bid to unseat Vance earlier this summer.
Vance has previously weathered criticism and allegations of corrupt, pay-for-play justice over his past decisions to shutter investigations into Hollywood mogul Harvey Weinstein, Ivanka Trump and Donald Trump Jr.–after Vance himself received several hefty campaign contributions from their lawyers. Vance's office was also a source of controversy in the Jeffrey Epstein case.
Law&Crime reached out to the Manhattan District Attorney's Office for comment on this story, but no response was forthcoming at the time of publication.
[image via Andrew Burton/Getty Images]
Have a tip we should know? [email protected]