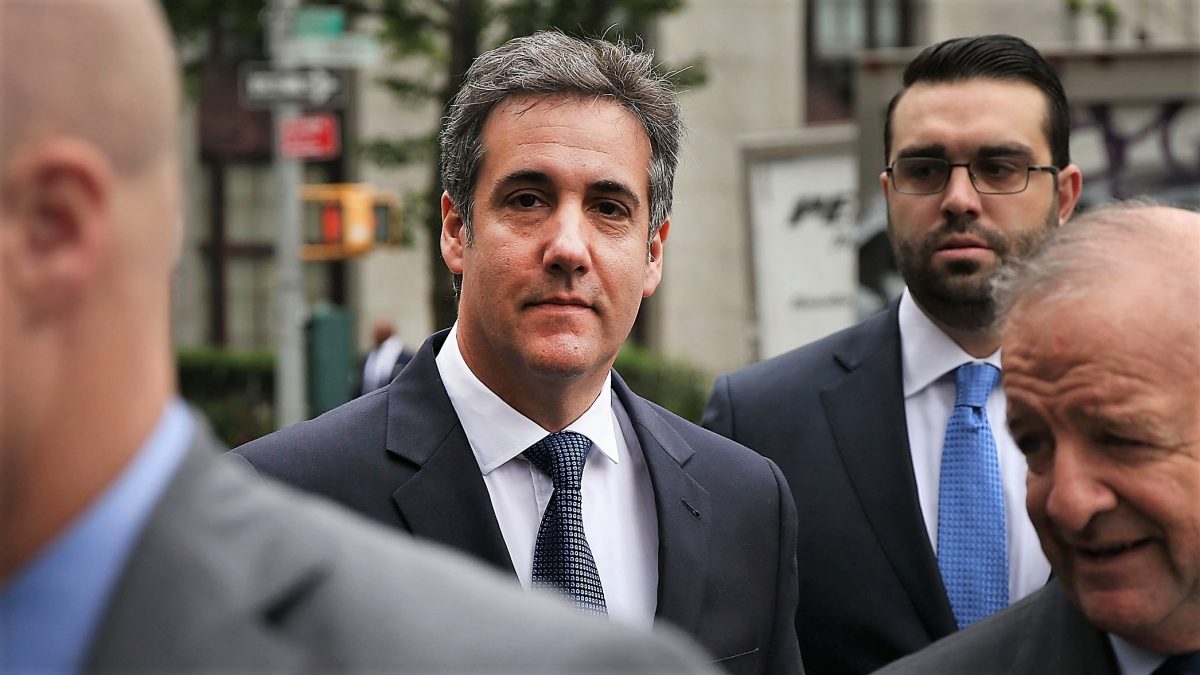 Ever since Southern District of New York (SDNY) Judge Kimba Wood said that any objections to the court-appointed special master's determinations about the privilege status of materials seized in the Cohen raids would have to be argued in public, no one has invited an attorney-client privilege fight. Have you noticed?
Neither Michael Cohen nor President Donald Trump has expressed any willingness to get into such a fight, despite their early opposition to the raid of a lawyer's office. For Cohen's part, the running assumption has been that his lack of resistance is due to his increasing cooperation with federal investigators. As for Trump and his lawyer Rudy Giuliani, the strategy behind their response to secret recording news has been a bit murkier.
However, hat tip to Courthouse News' Adam Klasfeld for pointing out that Cohen and Trump could very well challenge special master Barbara S. Jones on her privilege determinations if they so chose, but there hasn't been a whiff of that since June 8. Jones has been tasked with sifting through all of the files the FBI seized from Cohen's office, home and hotel in April and making a judgement about whether these items are covered by attorney-client privilege or should be designated in a different way.
Law&Crime reported on a seemingly innocuous order from Judge Wood related to the special master in June, but here's why it is relevant now: After the New York Times reported last Friday that the Government has a recording of a conversation between Trump and his former lawyer Michael Cohen about a payment, more news dropped that the Feds now have 12 recordings in total.
Legal experts wanted to know why Trump attorney Giuliani tried to get out on front of the story so quickly while potentially jeopardizing a legal argument down the road over whether the recordings are covered by attorney-client privilege.
Not only did Giuliani get out in front of the story, he also boldly proclaimed that it shows his client, President Trump, has done nothing wrong.
"Nothing in that conversation suggests that [Trump] had any knowledge of it in advance," he said. "In the big scheme of things, it's powerful exculpatory evidence." All the while, Trump and Giuliani have watched as the government gets more and more information in the Cohen case.
Concerns about having to lodge objections to this evidence in public could very well be what is behind Trump and Giuliani's downplaying of the secret recording.
Judge Wood said in June that if Trump, the Trump Organization or Cohen object to court-appointed special master Jones' privilege recommendations for items seized in the FBI raids of Cohen's home, office or hotel room they will have to do so publicly — at least to some degree.
Wood sided with the government argument that objections should be made public, but redacted where "substance" is involved if need be.
"With respect to the President's letter dated June 6, 2018, (ECF No. 75), the Court agrees with the Government that Plaintiff and the Intervenors' objections should be pled publicly, except for those portions that divulge the substance of the contested documents (ECF No. 76, at 1), which should be pled under seal and ex parte. The Court will make a final determination as to those portions at a later date," Judge Wood said.
Additional context
Last Thursday, in what was perhaps considered a footnote in the grand scheme of things, we were actually gifted a scoop ahead of the Friday news that Michael Cohen had recorded a secret audio tape of at least one conversation he had with Trump two months before the 2016 election. On Monday, special master Jones announced that a full 12 audio files were handed over to the government, sparking questions about why Trump has not argued they are covered by attorney-client privilege.
The key thing to know here is that Cohen (not Trump) previously argued these items were protected by attorney-client privilege, but Cohen declined to object to the release of these materials. The next morning, news that a Cohen-Trump recording existed spread like wildfire.
Former federal prosecutors Daniel Goldman and Renato Mariotti noted that it was odd that the Trump team didn't get into an argument about attorney-client privilege. They speculated on Twitter that it was possible Trump and Giuliani are cutting their losses — the rationale being that Trump would waive attorney-client privilege claims on these tapes if he is deeply concerned the "crime-fraud" exception would render such a claim useless.
The other issue, as we've explained, is that by claiming privilege, Trump, et al., would risk getting embarrassingly shot down in public, given the judge's order.
Special Master Jones announced additional privileged determinations on Tuesday, saying 665 additional items are not privileged. Trump and Cohen haven't fought about that either and it looks like this may not happen from here on out.
[Image via Spencer Platt/Getty Images]
Have a tip we should know? [email protected]