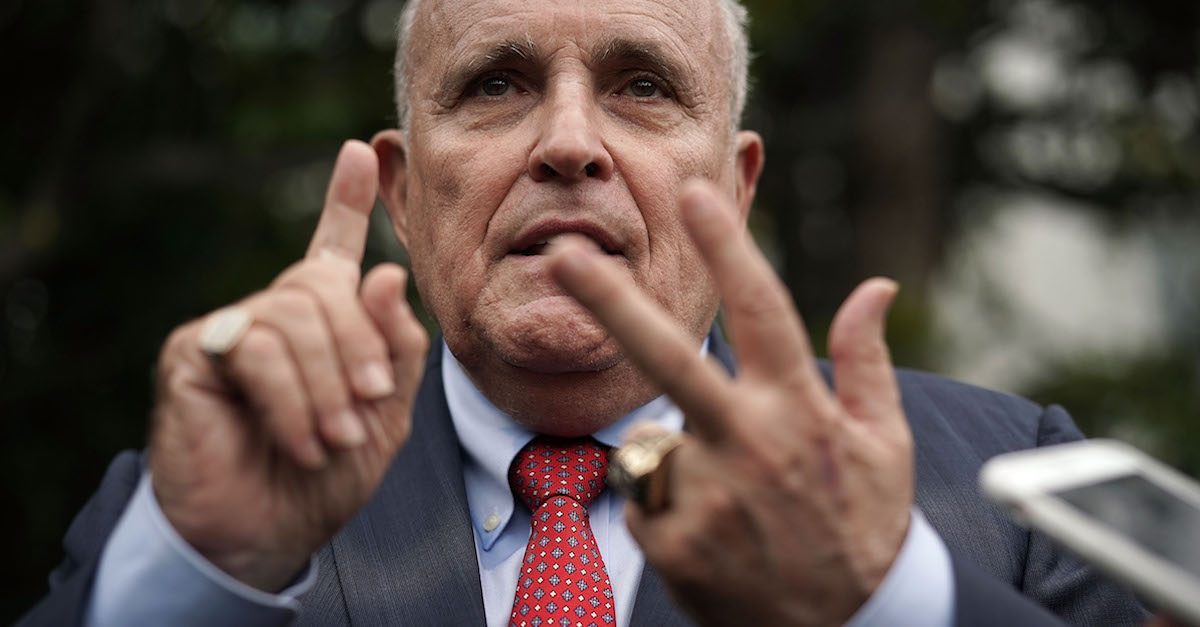 There never seems to be a dull moment when the president's lawyer, Rudy Giuliani, speaks to the press. Giuliani's reaction to the news that there is a "secret" recording of a conversation between Donald Trump and his former personal attorney Michael Cohen from two months before the election is yet another example.
Giuliani claims that Cohen's recording of a conversation about paying off a Playboy model for silence about an affair with his client is actually great and "powerful" news.
The New York Times reported on Friday that one of the materials the FBI seized in the April raids on Cohen's office, home and hotel room is a secret recording. The Feds are said to be looking into whether Cohen violated campaign finance laws with his involvement in deals (like the Stormy Daniels nondisclosure agreement, for example) to prevent negative press.
Giuliani confirmed that there was such a conversation between Trump and Cohen, but Giuliani says it actually shows Trump did nothing wrong. He said no payment was ever made and that the recording was under two minutes in length.
"Nothing in that conversation suggests that [Trump] had any knowledge of it in advance," he said. "In the big scheme of things, it's powerful exculpatory evidence."
Giuliani also claimed that, while no payment was made, Trump said that if a payment was going to be made it would have to be a check rather than cash.
Cohen's recent attorney hire Lanny Davis declined to comment.
In June, Law&Crime reported that prosecutors had subpoenaed American Media, the publisher of The National Enquirer, over records connected to a $150,000 payment to former Playboy model Karen McDougal over her story that she had an affair with President Donald Trump.
The company was said to be cooperating, and getting its documents together.
McDougal and American Media had recently ended a lawsuit over the August 2016 payment. McDougal sued in March, saying she thought she'd be getting press coverage in return for selling the rights to her story. She didn't, according to her lawsuit. They reached a settlement in April, and McDougal became free to talk.
Alberto Luperon contributed to this report. 
[Image via Alex Wong/Getty Images]
Have a tip we should know? [email protected]