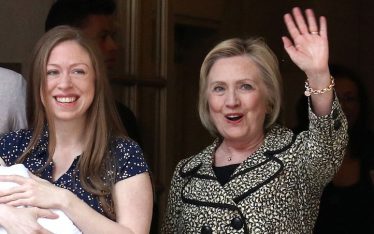 New emails released by the State Department show Hillary Clinton forwarded an email containing classified information to her daughter, Chelsea, in late 2009.
The email was included in the 357 emails released on Thursday that were recovered by the FBI during its investigation into Clinton's use of a private server during her tenure as Secretary of State.  The documents were released as the result of a Freedom of  Information Act lawsuit brought by Vice News reporter Jason Leopold.
The December 20, 2009 email contained the subject line, "Update" and was forwarded by Hillary to Chelsea's email account that used the pseudonym "Diane Reynolds."  In the email body, Hillary instructed Chelsea, "See below" and it appears she was referring to a forwarded email chain originally sent by Michael B. Froman.  At the time the email was sent, Froman served as a national security advisor in the Obama White House.
Froman's original email was also sent to President Obama's then-National Security Advisor Tom Donilon, then-National Security Council communications director Denis McDonough, White House national security advisor Ben Rhodes and Clinton's deputy State Department chief of staff Jake Sullivan.
However, nothing else is known about the contents of Froman's email because it contained classified information that was redacted prior to its release.
On October 30, 2015, a State Department review determined the email contained information classified at the confidential level, referencing designations 1.4 (B) and 1.4 (D).
Classification category 1.4(B) refers to foreign government information and 1.4(D) refers to foreign relations or foreign activities of the United States, including confidential sources.
The email will not be declassified until December 2024.
[image JStone/shutterstock]
Have a tip we should know? [email protected]