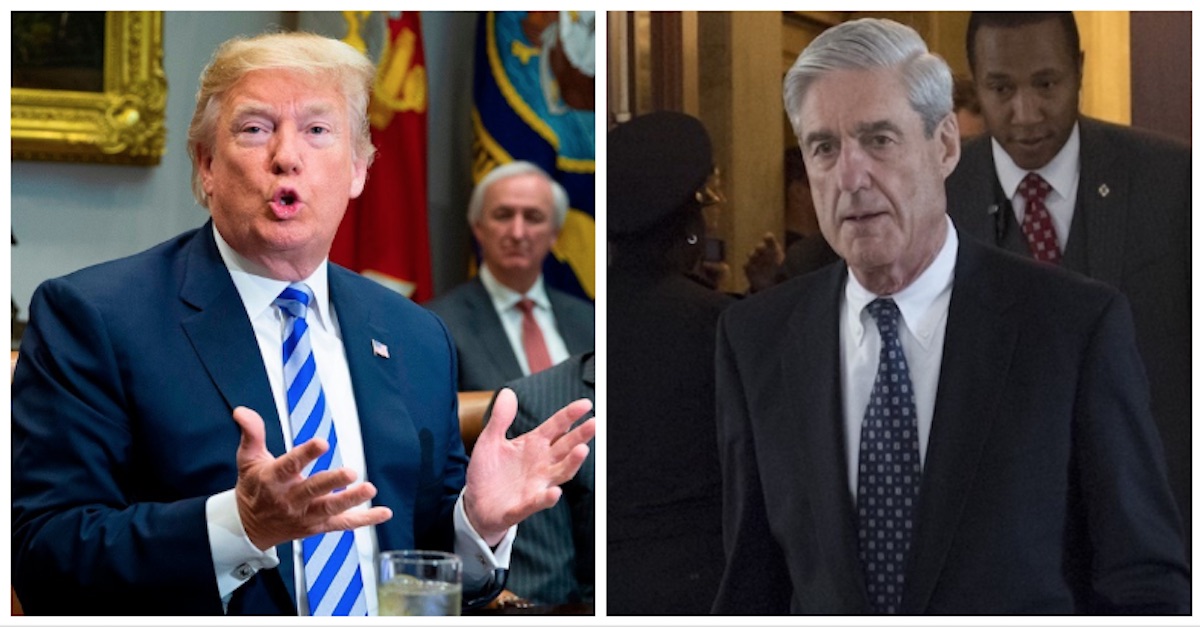 Was special counsel Robert Mueller playing chess while President Donald Trump and his attorney Rudy Giuliani were playing checkers?
A Wednesday CNN report indicated that Trump and Giuliani delayed their written response to the special counsel's questions because they were concerned that Mueller would hand down new indictments before Thanksgiving and didn't want to jump the proverbial gun. Nonetheless, they ended up submitting written answers to Mueller's questions.
Mueller hasn't dropped any new indictments post-midterms as of yet, but there is still reason to believe that's a near-future possibility.
As former federal prosecutor with the Southern District of New York Daniel S. Goldman noted, much of the CNN report headlined "Rudy Giuliani tells CNN that Mueller is not done with seeking answers from Trump" is not news. We know Trump's answers to Mueller's first round of questions is only the first round. Giuliani's waffling over obstruction questions — "It's not on the table, but could be put back on the table" — and his expressed concerns about the violation of executive privilege amount to business as usual.
Giuliani did say that Trump was asked what he knew about the infamous 2016 Trump Tower meeting involving his son Donald Trump Jr. and a Russian lawyer. He also said Trump was asked about comments ("Russia, if you're listening…) he made exhorting Russia to find Hillary Clinton's missing emails.
What Goldman regarded as the "interesting tidbit," however, could be found in a paragraph near the end of CNN article:
One of the delays in returning the response was speculation among Trump's legal team that Mueller would release indictments before Thanksgiving, according to a person who speaks to the President. And they were worried about sending the responses without knowing what Mueller might do in the short term. But in the end, they decided to just send the answers in, the person said.
The flip-side of a purported worry for Trump's legal team is Mueller's strategy. Goldman speculated that "Mueller may have decided to wait to unseal additional indictments on 'collusion' until Trump submitted his answers on the topic so [Trump] could not tailor his answers to the narrative."
Goldman explained what Mueller might be thinking when it comes to delaying additional indictments and why.
"As courts have recognized, one of the main reasons why criminal investigations remain confidential is so that witnesses don't know what evidence the prosecutor has or what other witnesses have said so they cannot tailor their statements to the evidence, but instead provide information solely from their own memories," Goldman told Law&Crime. "This is critical to the proper and fair administration of justice in our system. This fundamental principal is one of the reasons why it was so improper for Trump to order the declassification and public release of investigative information belonging to the Special Counsel earlier this year."
"For that reason, I would guess that Mueller does not want to file or unseal any additional indictments detailing a possible scheme by members or associated of the Trump campaign to illegally influence the election until they have spoken to all the relevant witnesses they have identified, including the President," he added. "So now that the President has gone on record with his answers to questions about collusion during the campaign, likely under penalty of perjury, Mueller will feel more comfortable releasing an indictment against someone else that lays out the case against anyone who conspired with Russians to improperly influence the election."
[Images via Alex Edelman-Pool/Getty Images, Saul Loeb/AFP/Getty Images]
Have a tip we should know? [email protected]