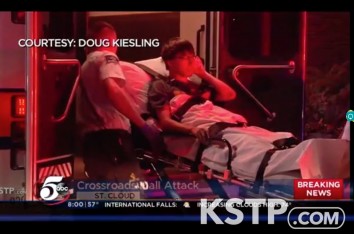 With much of the news media focused on the "intentional" explosion that injured dozens on Saturday night in Manhattan, there was another possible terrorist attack on Saturday in St. Could, MN.  Authorities say a man entered the mall dressed in a security uniform and stabbed eight or nine individuals before he was shot and killed by an off-duty police officer.  Early Sunday, an ISIS affiliated media outlet reportedly issued a statement from the terror group that claimed the attacker was a "soldier of the Islamic State."
CNN reports the statement from the Amaq agency "follows a pattern of ISIS-related media claiming responsibility for what appear to be the acts of individuals across Europe in the past few months."
Authorities in Minnesota say the incident took place at the Crossroads Mall in St. Cloud on Saturday night.  None of the victims in the mall attack are believed to have suffered life threatening injuries, according to St. Cloud Police Chief William B. Anderson.
Police say witnesses heard the attacker make a reference to Allah and even asked at least potential victim whether they were a Muslim.   However, authorities are still unwilling to refer to the incident as a terror attack.
St. Cloud police are expected to hold another press conference on Sunday in the noon hour.
[image via screengrab]
Have a tip we should know? [email protected]