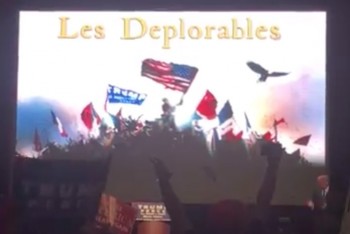 Ever since Hillary Clinton's PR blunder referring to Trump supporters as a "basket of deplorables," Trumpeters have squandered no opportunity to appropriate the word for their own snarky uses. From Judge Jeannine Pirro posting a picture of herself to the Donald himself entering a Miami rally to a satirical number from "Les Deplorables,"  the Trump movement, for possibly the first time ever, has actually been on the creative side of a decent joke. I have to admit, though, something about Trump supporters being sarcastic reminds me of that scene in Rain Man where Raymond Babbitt discovered humor.
Hundreds of Facebook users have jumped on the Deplorable bandwagon and changed their profile names to "Deplorable" in one form or another.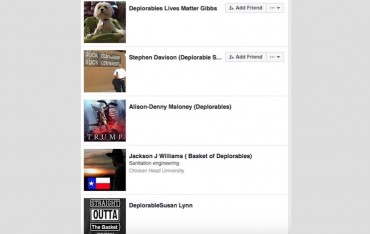 And Facebook just isn't having it.
Many users received this notification from Facebook asking them to change the profile name "Deplorable" to a name by which they are known in everyday life.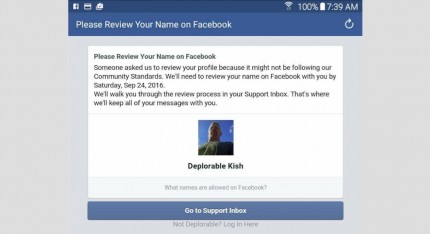 Predictably, the "Deplorables" have become outraged by Facebook's censorship. Facebook, a known cog in the Machine of the Liberal Agenda, has done it again – and the true protectors of liberty aren't going to stand for it.
The only problem? This little user rule that is part of Facebook's Terms of Service:
Registration and Account Security
Facebook users provide their real names and information, and we need your help to keep it that way. Here are some commitments you make to us relating to registering and maintaining the security of your account:
You will not provide any false personal information on Facebook, or create an account for anyone other than yourself without permission.
You will not create more than one personal account.
If we disable your account, you will not create another one without our permission.
You will not use your personal timeline primarily for your own commercial gain, and will use a Facebook Page for such purposes.
You will not use Facebook if you are under 13.
You will not use Facebook if you are a convicted sex offender.
You will keep your contact information accurate and up-to-date.
You will not share your password (or in the case of developers, your secret key), let anyone else access your account, or do anything else that might jeopardize the security of your account.
You will not transfer your account (including any Page or application you administer) to anyone without first getting our written permission.
If you select a username or similar identifier for your account or Page, we reserve the right to remove or reclaim it if we believe it is appropriate (such as when a trademark owner complains about a username that does not closely relate to a user's actual name).
Under those rules, a person would be prohibited from using "Deplorable" as a profile name, unless that's really how the person's alias.  Unless "making America great again" is contingent upon reinventing the foundational principles of contract law, I think Trumpsters are barking up the wrong tree. When someone agrees to terms of service, he or she gives up rights to which there would otherwise be an entitlement. That's the basic concept of contracting.
I'd agree that something would smell a bit rotten if I were to find that Facebook were somehow targeting "Deplorables" more than they were other users of pseudonyms; but from what I can tell, Facebook isn't combing profiles at all. Those users receiving a notice to change their profile name seem to have been reported by other users – not by Facebook itself. In that context, it's pretty hard to make the argument that Facebook is attempting to censor any particular point of view. Rather, other users calling "Deplorables" out on their improper behavior sounds a lot more like "the natural consequences of one's actions."
[image via screengrab]
This is an opinion piece. The views expressed in this article are those of just the author.
Elura Nanos - Columnist & Trial Analyst, Law & Crime; CEO Lawyer Up