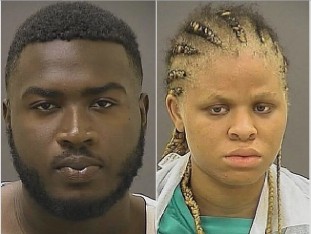 A 64-year-old man was reading a book at a Baltimore park earlier this week he suddenly became the victim of a violent robbery.  Baltimore police say the man was attacked by a group of teens that placed a gun to the man's head, sprayed him with mace and then stabbed him — all in broad daylight.  The attackers then allegedly made off with the man's iPhone, a North Face jacket and $60 in cash. As if it is not already bad enough, Baltimore police say the one of the teens filmed the entire attack and live-streamed over Facebook.
The Baltimore Sun reports police on Friday announced the arrest of  Zannay Laws and Dakei Perry, both 18, in connection with the brutal attack.  Both now face attempted murder and robbery charges over the incident.
According to police charging documents, the victim was sitting a park bench around 5:00 p.m. when he was approached by the group of attackers and asked if he could help them exchange foreign money.  One of the suspects then drew a gun and placed it against the victim's head and the two other attackers quickly joined in, one sprayed the victim with mace and a third attacker stabbed the victim, twice.
Police say Laws admitted to joining the attackers and that she told police she filmed the incident for a Facebook live-stream.
Laws and Perry are reportedly thought to be part of group responsible for a string of recent robberies in the area.
After Perry was arrested in connection with the daytime robbery, police say he admitted involvement in a September 7 attack against a female pizza delivery driver who was allegedly choked until she almost lost consciousness.  Police say Perry admitted to placing the order, but he said two other individuals actually attacked the female driver.  The driver, however, told police she was attacked by three males.  Perry was charged in connection with that attack as well on Friday.
Both Laws and Perry are currently being held without bond.
Investigators say they are still working to identify the other suspects involved in the recent attacks.
Police spokesman T.J. Smith suggested to the newspaper that the Facebook posts helped lead investigators to Laws and Perry.
"Criminals do some crazy things," Smith told reporters.  "We encourage the criminals to continue to record your acts, and encourage citizens to continue to send us information when you find the criminal wrongdoing on camera and on social media."
[images via Baltimore Police]
Have a tip we should know? [email protected]