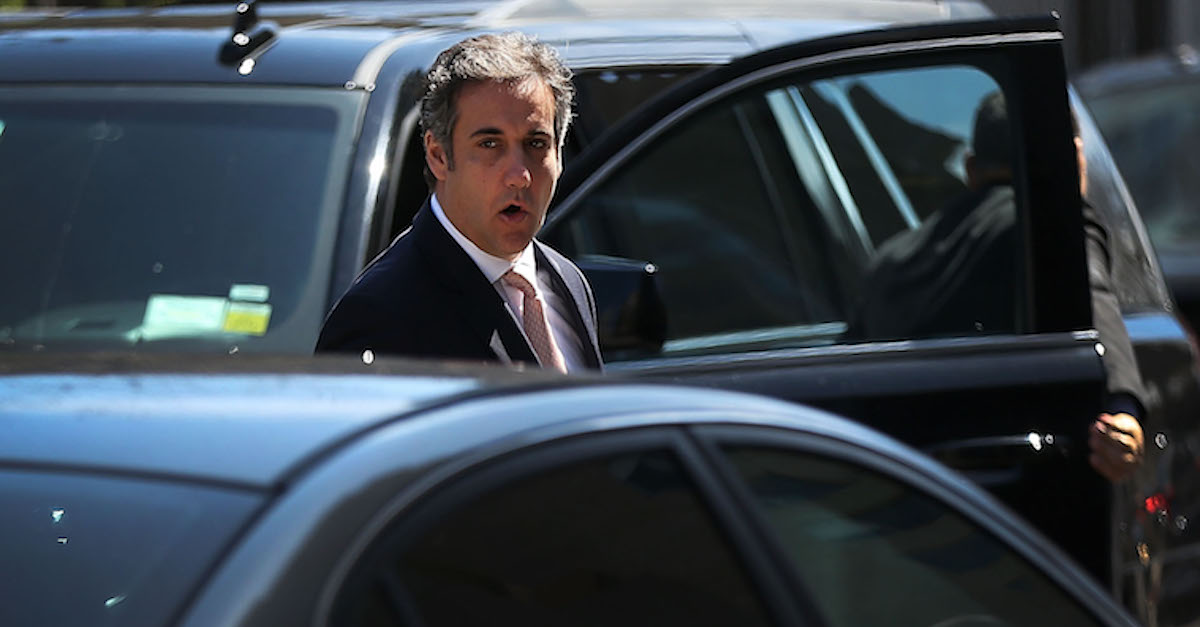 In April, the FBI raided Michael Cohen's home, office and hotel room. It's now August and Cohen has reached a plea deal with the prosecution, claiming that candidate Donald Trump "directed" him to commit campaign finance violations with payoffs to Stormy Daniels and Karen McDougal.
Is it a coincidence that Cohen made this serious decision just as former Trump campaign chairman Paul Manafort's fate hung in the balance? Was it a coincidence that Cohen appeared in a courtroom as Manafort was found guilty of crimes?
Chair of Citizens for Responsibility and Ethics in Washington (CREW) Norm Eisen pointed to the timing of it all.
Donald Trump has attacked DOJ relentlessly for the past 19 months. Do we really think it is a total coincidence that DOJ is landing what look like devastating blows on two of those who were once closest to him within hours of each other? Reason tells me one thing, my gut another.

— Norm Eisen (@NormEisen) August 21, 2018
"Donald Trump has attacked DOJ relentlessly for the past 19 months," he began. "Do we really think it is a total coincidence that DOJ is landing what look like devastating blows on two of those who were once closest to him within hours of each other?"
"Reason tells me one thing, my gut another," he added.
The timing is much more than noticeable. Politico is confirming through a source that Cohen is choosing a guilty plea "to save millions of dollars, protect his family, and limit his exposure."
Attorney Lanny Davis confirmed to Law&Crime in a statement that his client, Mr. Cohen, took this step "so that his family can move on to the next chapter."
While the "exposure" referred to in the Politico piece is legal in nature, and reporting is that he faces 3-5 years behind bars as a result of the plea, it is also a possibility that the timing of the decision was motivated by the Manafort trial.
BREAKING: Fox News' @johnrobertsFox, citing sources, reports Michael Cohen's guilty plea includes 3-5 years in jail

— Evan Rosenfeld (@Evan_Rosenfeld) August 21, 2018
One need not be a rocket scientist to see that media coverage would be split between both stories and lessen, to some degree the focus, on Cohen but increase the focus on Trump associates overall.
Not a good split screen for the president on the shows.. his former personal attorney surrenders to the FBI with a plea agreement expected soon… as a jury decides the fate of his former campaign chairman.

— Jim Acosta (@Acosta) August 21, 2018
Another element here was that, since Cohen's plea deal does implicate President Donald Trump in campaign finance violations, the timing could be a way of twisting the knife into his ex-boss.
This could especially be the case if Cohen doesn't expect a pardon and was serious when he said he is "putting his family and country first."
He's reportedly been assured that his family be taken care of; is his country next? That Cohen said Trump directed him to commit a crime suggests Cohen kept his promises and also suggests no pardon is in the offing.
Lanny Davis touched on this point in his statement as well.
"This is Michael fulfilling his promise made on July 2nd to put his family and country first and tell the truth about Donald Trump.  Today he stood up and testified under oath that Donald Trump directed him to commit a crime by making payments to two women for the principal purpose of influencing an election," he said.
"If those payments were a crime for Michael Cohen, then why wouldn't they be a crime for Donald Trump?" he asked.
The other possibility is the one Eisen raised — that this represents the Department of Justice's (DOJ) revenge for nearly two years of being criticized by the president.
All of this seems significantly less likely than the true fact that the DOJ has guidelines about investigations given the closeness to election season.
As Law&Crime's Ronn Blitzer previously explained, there is an unwritten Justice Department rule against making announcements about investigations or filing indictments within 60 days of an election.
This means that, in essence, the SDNY is running out of time when it comes to a Cohen indictment. Sticking with "unwritten rules," or long-standing department guidelines, are seen as important. Look no further than the criticism leveled at fired FBI Director James Comey for an example of this.
The Office of the Inspector General report concluded Comey's solo announcement that he would not bring charges against Hillary Clinton, for instance, was an "unjustified usurpation of authority" because it was a departure from "longstanding Department practice."
Whether or not it means anything, Eisen wasn't the only person to pick up on the timing.
https://twitter.com/ToddHeadleeAZ/status/1031978659874144256
For a man who has not spoken in public since he began his report, Robert Mueller has a great sense of timing, theatre and drama. A double whammy today with Cohen and Manafort would punch hard at an already cornered opponent.

— Trumpet (@TrumpetOrg) August 21, 2018
What a maestro Mueller is. Timing the Cohen plea deal to take the attention off of the Manafort verdict. He makes three dimensional chess look like checkers.

— Adam G. Chaikin (@Thought2Execute) August 21, 2018
Superb timing today.

When Manafort is found guilty, trump will tweet that it had nothing to do with him or the campaign.

Then Cohen pleads guilty to campaign finance charges which directly involve trump's crime too.

Bazinga! pic.twitter.com/to2NUFU7pk

— KnowWhat EyeMeme (@KnowWhatEyeMeme) August 21, 2018
holy shit I was joking but are these two things going to happen at once

COME ON, WRITERS

— TruthIsNotTruthHat (@Popehat) August 21, 2018
It should be noted that special counsel Robert Mueller is not handling the Cohen investigation, as he referred that investigation to the SDNY.
And, in other interesting timing news, Trump's current personal attorney, Rudy Giuliani, isn't even in America right now.
As @Santucci notes, Giuliani is in Europe. https://t.co/Ngsr6lcvzJ

— Maggie Haberman (@maggieNYT) August 21, 2018
And Rudy is literally on a different continent right now ….. seriously he's not in the US https://t.co/PgrEsQlmZp

— John Santucci (@Santucci) August 21, 2018
[Image via Spencer Platt/Getty Images]
Have a tip we should know? [email protected]