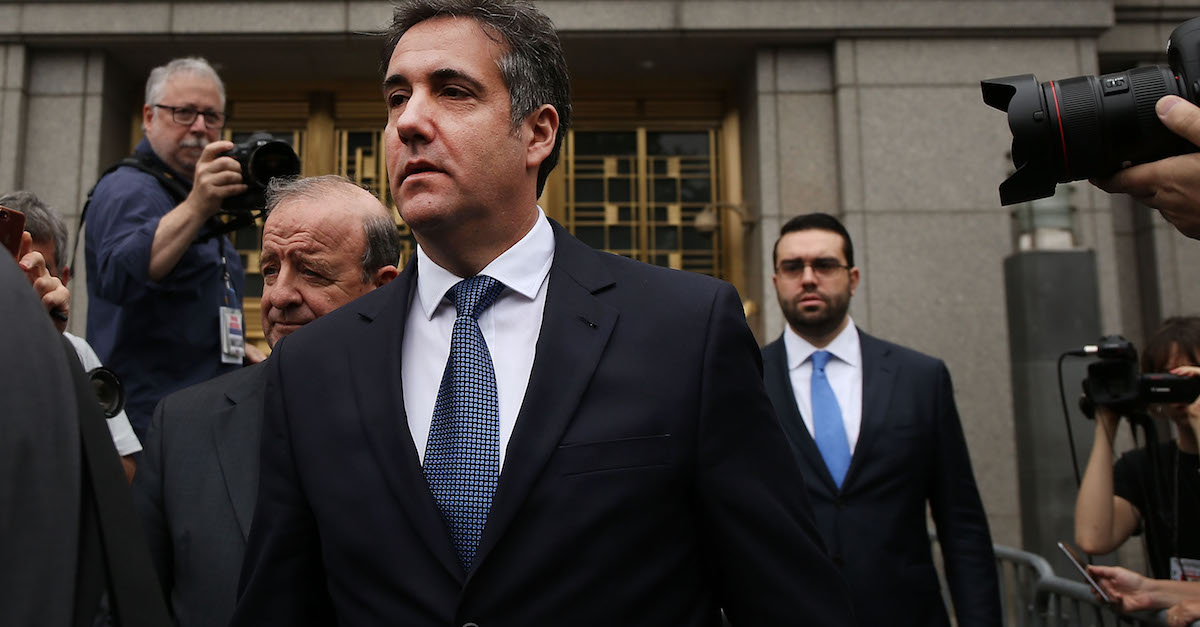 President Donald Trump's former personal attorney Michael Cohen said in a Southern District of New York courtroom that the "candidate directed him" to pay off Stormy Daniels and Karen McDougal in violation of campaign finance law.
The bomb has been dropped:
*****Says he worked "in coordination with and at the direction of a candidate" to make and arrange hush payments.*****

— John Riley (@jriley8832) August 21, 2018
Cohen admits to working "at direction of the candidate" Trump and national enquirer to silence Karen McDougal. He also admits to Stormy Daniels payment that he made "with and at direction of the same candidate."

— Stephen Brown (@PPVSRB) August 21, 2018
The day keeps getting better for the president.
*COHEN SAYS HE VIOLATED CAMPAIGN LAW AT DIRECTION OF CANDIDATE

— Alex Wayne (@aawayne) August 21, 2018
*COHEN SAYS HE ACTED FOR PURPOSE OF INFLUENCING ELECTION

— Alex Wayne (@aawayne) August 21, 2018
Reports started filtering in on Tuesday that a Cohen guilty plea was imminent. He pleaded guilty to eight charges related to bank fraud, tax fraud and campaign finance violations.
He faces a 3-5 year sentence.
JUST IN: Michael Cohen to plead guilty in deal that includes 3-5 years jail time, source says. https://t.co/YYhf3cxZgo

— Fox News (@FoxNews) August 21, 2018
The guilty plea came as former Trump campaign chairman Paul Manafort was found guilty of 8 counts against him in Virginia.
Earlier in the day, we wondered what Cohen's plea without cooperating with federal prosecutors might mean.
The connection to Trump explained a lot. If you read the New York Times on Tuesday afternoon, in addition to bank fraud charges, Cohen was going to plead guilty "over payments to women."
It was pretty clearly the case that those women would be Daniels and McDougal. All that was left was whether Cohen would say Trump was involved. Cohen said Trump "directed" it.
Daniels' attorney Michael Avenatti told Law&Crime that "Trump better prepare because we are coming for him."
This is a developing story.
[Image via Spencer Platt/Getty Images]
Have a tip we should know? [email protected]