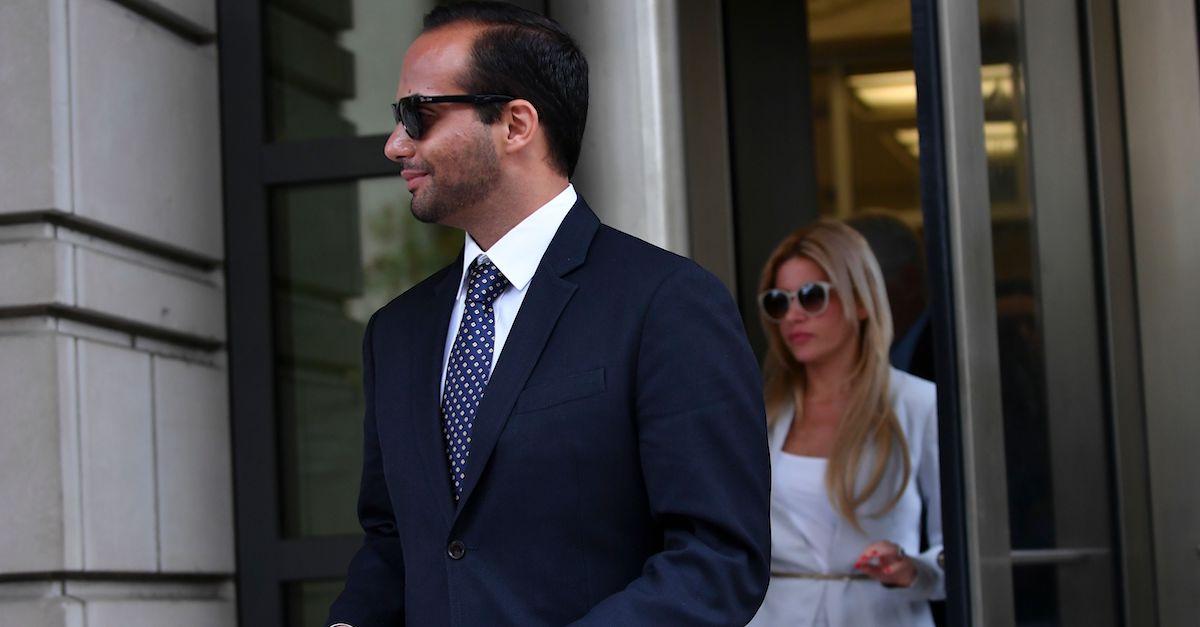 Former Trump campaign advisor George Papadopoulos learned Friday that he will be spending two weeks behind bars as a consequence of pleading guilty to lying to the FBI. While that bit of information might be considered a snoozefest in the grand scheme considering how light a sentence it is, what led up to the sentence was anything but.
Politico reporter Kyle Cheney's tweets on what was happening inside the courtroom are raising eyebrows. In advance of the sentencing, attorney Thomas Breen said that President Donald Trump has hindered special counsel Robert Mueller's investigation more than Papadopoulos ever did.
"The President of the United States hindered that investigation more," he said. "The President of the United States and commander in chief told the world this is fake news and a witch hunt."
As Talking Points Memo noted, Breen argued that Trump Jan. 2017 comments to this effect influenced Papadopoulos when he was interviewed by FBI agents. He said that his client was "naive" and a "fool."
That's not all, though. Breen lended credibility to the Mueller investigation by calling Mueller's team "professional" and "well-prepared."
Breen took it a step further, saying he has seen no evidence of prosecutorial misconduct, "entrapment" or a "set up by U.S. intelligence" through a FISA warrant.
The Friday sentencing began at 3 p.m., and Papadopoulos admitted before Judge Randy Moss that he made a mistake. Eventually, the judge took a 15-minute break to decide. Convinced of Papadopoulos' remorse, the judge sentenced him to 14 days behind bars and 200 hours of community service.
He also slapped him with a $9,500 fine. Papadopoulos had hoped for probation.
The judge, meanwhile, said there was "no reason to think the FBI bamboozled" Papadopoulos.
Here was Trump's reaction to today's events:
Papadopoulos pleaded guilty last year, admitting he lied to the FBI about his conversations about "dirt" on Democratic presidential candidate Hillary Clinton with a professor with links to the Russian government.
Simona Mangiante-Papadopoulos, who has done multiple media appearances in support of her husband, is still hoping that President Donald Trump pardons him.
"Unless Trump is completely incoherent, no one deserves a pardon more than George," she told Law&Crime's Brian Ross this week. "George is particularly calm. He wants it to be over. I'm much more nervous than he is honestly. He has told me 'I want to go there with head held high and demonstrate that I did cooperate.'"
As an aside:
[Image via Mandel Ngan/AFP/Getty Images]
Have a tip we should know? [email protected]