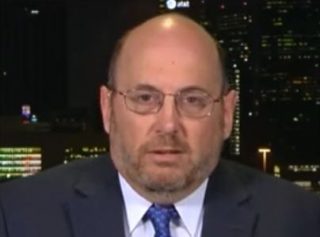 Journalist Kurt Eichenwald, who has a history of writing and tweeting about Donald Trump, has drawn the ire of the President-elect's supporters on social media. Now Eichenwald is trying to take one to court, after one Twitter user allegedly took things a step too far. First, however, he needs Twitter to reveal the user's identity, so he filed a petition in Dallas County court on Monday to make this happen. On Tuesday, a judge issued an order allowing written questions to be served on Twitter's Custodian of Records. Once Eichenwald's able to do identify the person, he has a pretty strong case against them.
First, some background. Eichenwald's petition says that on December 15, a Twitter user going by the name @jew_goldstein sent Eichenwald a message that said, "You deserve a seizure for your posts," accompanied by an image of a flashing strobe light. Eichenwald has gone on record about having epilepsy, and flashing lights are known to induced epileptic seizures. The tactic worked, Eichenwald says, and he suffered a seizure after seeing the image. In addition to filing his petition, Eichenwald told LawNewz.com that his attorney filed a criminal complaint with the Dallas Police Department on Monday.
As promised, I will be tweeting legal updates about the assault on me. I'm coming for you, you son of a bitch. https://t.co/BrWwBcYUXR

— Kurt Eichenwald (@kurteichenwald) December 19, 2016
Eichenwald, who writes for Newsweek and is a contributing editor at Vanity Fair, refers to the message with the strobe light as an "assault" in his petition. So how strong is his case, considering that when one thinks of assault, one usually thinks of physical violence, not a tweet? Well, as it turns out, pretty strong. According to Texas cases such as Hall v. Sonic Drive-In, assault has the same definition in Texas for criminal and civil cases. So let's look at the state's definition of assault.
Texas Penal Code Title 5 Sec. 22.01, which deals with assault, says:
(a) A person commits an offense if the person:

(1) intentionally, knowingly, or recklessly causes bodily injury to another, including the person's spouse;

(2) intentionally or knowingly threatens another with imminent bodily injury, including the person's spouse; or

(3) intentionally or knowingly causes physical contact with another when the person knows or should reasonably believe that the other will regard the contact as offensive or provocative.
While that last one refers to physical contact, the first two ways of committing an assault only refer to physical injury or threat of injury, with no mention of physical contact. So if a person were to send an electronic message that they knew would or could cause physical injury, and caused injury as a result, that would appear to satisfy the first definition of assault. The facts in this case are certainly unconventional, since the alleged assault was in the form of an online message that needed to be viewed in order to be effective. Legally, however, it appears to be similar to throwing a punch, which needs to connect in order to cause the intended injury.
Of course, before any case — criminal or civil — can go forward, the Twitter user's identity has to become known. Assuming that happens, it remains to be seen what kind of defense he or she would have.
[Image via Fox News screengrab]
Have a tip we should know? [email protected]