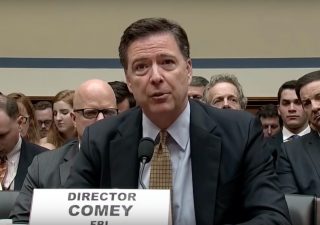 LawNewz.com obtained a copy of the search warrant and search warrant application used by the FBI to get Hillary Clinton's emails which were discovered as part of the Bureau's Anthony Weiner probe. Hillary Clinton, and her supporters have repeatedly asserted that the FBI Director James Comey's late October announcement that his agents were searching these emails was one of the major reasons for her losing the election. So we wanted to know: What evidence did the FBI have to continue their investigation 11 days before the election? Did they even have a legal right to look at Clinton aide Huma Abedin's emails like they did? The search warrant released on Tuesday, though redacted in some areas, gives us some very good insights and clues.
We sent a copy of it to some of the top legal experts in the country to get their response. Some experts told us that they believe that the FBI crossed the line, and the warrant application approved by a magistrate judge was "meritless." One legal expert even said that he believed that the warrant violated the Fourth Amendment of the U.S Constitution which guards against unreasonable search and seizure and requires the government to  have "probable cause" before they seize and look through personal belongings.
"It was a fishing expedition," Clark D. Cunningham, Professor of Law and Ethics at Georgia State University told LawNewz.com, "There is nothing that comes close to probable cause that I can see. (The warrant application) is no more than mere speculation."
Several days before the election, and after the FBI had searched through these emails, Comey announced they had found nothing new that would change their conclusion that Clinton should not face criminal charges. So should the warrant have been approved in the first place? Some experts think the FBI and the judge made a legal mistake. However, it is important to note like everything about this case not all attorneys agrees. Page Pate, a federal criminal defense attorney, agreed that the warrant application was "thin," but said "it doesn't take much to establish probable cause" for a computer that was already in the government's possession. Weiner's laptop had previously been seized by agents who were working a case about his alleged sexting of an underage girl.
"I have done hundreds of search warrants —- the FBI was on solid ground on this one.  It is important to remember that probable cause is a relatively low burden," Bill Thomas, a former federal prosecutor told LawNewz.com.
Below we've posted the legal opinions from experts we consulted about this warrant. Did the FBI violate the 4th Amendment? Read on.
Clark D. Cunningham, Professor of Law and Ethics Georgia State University College of Law:
The warrant violates the 4th Amendment because:

1)         The warrant lacks probable cause that classified information is on the laptop in email between Abedin and Clinton unless probable cause is based on the redacted sentences, which seems unlikely.  The heart of the warrant application is paragraph 26 on page 10, which is nothing more than mere speculation that there is classified information on the laptop.   The "many emails" found on @eclintonmail.com that contained classified information were according to the warrant application about 2,115,  less than 7% of the 30,490 emails that went through that server (paragraph 20).

2)         The warrant grossly exceeds the alleged probable cause by authorizing review of ALL DATA AND INFORMATION related to @eclintonmail.com. It thus allows the FBI to copy and read every email between Abedin and Clinton sent to or from that domain rather than being limited to email containing classified information.

The warrant authorized making a complete digital copy of the laptop contents.  Where is that digital copy now?  Will it be accessible to the Trump administration?
Bill Thomas, former federal prosecutor believe that the FBI was on solid ground: 
First, there is a significant amount of information that remains sealed but even without that it appears that that a summary of what was presented to the judge who authorized the search warrant is this:  1) The laptop (and an e-mail account(s) associated w/ the laptop) was used to communicate with the Clinton server/e-mail account;  2) that Clinton server/e-mail was receiving and distributing information that it (or she) should not have been sending (i.e., classified, secret, top secret etc .etc. ); 3) The laptop itself is not a device that can be legally used to send/receive that type of information.  Therefore there is reason to believe there are other classified e-mails on the computer that we should be allowed to search for.

It is important to note that the laptop itself is potentially evidence of a crime, so beyond the issue of the e-mails there was likely enough probable cause to search even if the FBI knew or thought the laptop had been wiped clean.  What I mean by that is if the storing and sending of e-mails by Clinton had been determined to be a crime, a prosecutor or agent would have been on solid ground to obtain and execute a search warrant to demonstrate the improper storage of Clinton e-mails on the laptop and otherwise, the improper receipt and distribution of classified information and to investigate where those e-mails might have gone, and to determine whether the laptop had been hacked. All of these are things that a prosecutor would have wanted to address in evaluating a case for prosecution and if he case went to trial.

I have done hundreds of search warrants —- the FBI was on solid ground on this one.  It is important to remember that probable cause is a relatively low burden.
Kenneth Katkin, Law Professor, Northern Kentucky University, an expert in the field, also found the warrant application troubling.
This search warrant application appears to have been meritless.  The FBI should not have sought it, and the Magistrate Judge should not have granted it.   For a search warrant to properly issue, there must be probable cause to believe that the search will yield evidence of a crime.   Unless the government already has knowledge (or at least reasonably trustworthy information) to warrant reasonable belief that an offense has been committed, there cannot be probable cause.

Here, the government never had any knowledge or information that would lead a reasonable person to believe that a crime had been committed.  Indeed, FBI Director Comey had already publicly announced this fact over the summer.   The warrant application released today sets forth no basis whatsoever to support a belief that Secretary Clinton ever had any *unauthorized* possession of any information, though it cites 18 U.S.C. 793(e) which concerns only such unauthorized possession.   The warrant application released today also sets forth no basis whatsoever to support a belief that Secretary Clinton ever permitted any information relating to the national defense to actually be lost, stolen, abstacted, or destroyed, though it cites 18 U.S.C. 793(f) which concerns only such loss, theft, or destruction.  The warrant application also relies on Executive Order 13526, which is not a criminal statute, and is not relevant to a criminal investigation.  The same is true of 32 C.F.R. Parts 2001 and 2003, also relied on in the warrant application.

The warrant application seems to reflect a belief that any email sent by Hillary Clinton from a private email server is probably evidence of a crime.    If so, then it must be seen as a partisan political act, rather than a legitimate law enforcement action.
Page Pate, a criminal defense attorney, was willing to give the FBI a little more leeway. He believes that the application was sufficient:
It's a little thin, but it doesn't take much to establish probable cause for the search of a computer already in possession of the government. The expectation of privacy is also very different for emails found on someone else's computer (or a shared computer) than for someone's personal home or a cellphone that is not shared…

This affidavit is sufficient. I have no doubt it was reviewed by everyone who mattered at Main Justice before it was submitted to the judge. Then it was reviewed by a Magistrate Judge who knew the entire country may second guess his decision. And, if they found evidence of a crime, DOJ would presumably want to use the emails to prosecute Clinton and Huma, knowing that this warrant would be subject to aggressive challenges from their lawyers. This is not a situation where you have a sloppy or insufficient affidavit. It was drafted by someone who knew the consequences of getting it wrong.
Randol Schoenberg, an attorney from California, who initially filed the request seeking the warrant, responded:
I see nothing at all in the search warrant application that would give rise to probable cause, nothing that would make anyone suspect that there was anything on the laptop beyond what the FBI had already searched and determined not to be evidence of a crime, nothing to suggest that there would be anything other than routine correspondence between Secretary Clinton and her longtime aide Huma Abedin.

You will have to ask Judge Fox, or the agent in charge (whose name has been redacted), or Director Comey, why they thought they might find evidence of a crime, why they felt it necessary to inform Congress, and why they even sought this search warrant.
LawNewz.com will add more from legal experts as we get responses. 
Have a tip we should know? [email protected]
Rachel Stockman - President / On Air Host