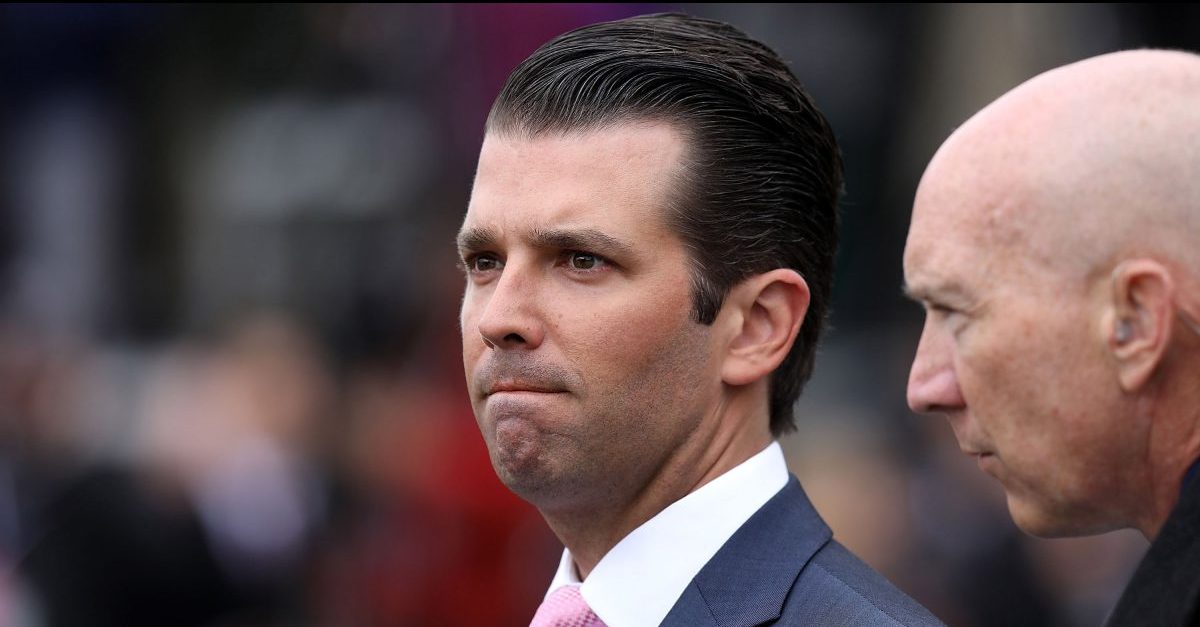 President Donald Trump's son Donald Trump Jr., just as his father did, got a big boost on Sunday when Attorney General William Barr said that they were not being charged with a crime as part of Robert Mueller's Russia investigation, even as Barr also said that Trump was neither guilty nor exonerated in the obstruction case.
The next day, Monday, a long-time Trump Jr. nemesis in Michael Avenatti was charged in the states of New York and California. In New York, Avenatti was charged for alleged extortion of Nike. In California, he was charged for alleged embezzlement and bank fraud. Trump Jr. cheered his opponent's fate:
"#MAGA – Michael Avenatti Getting arrested!!!" Trump Jr. rejoiced over the fate of his political opponent and long-time thorn in the side of his father. When you look back at recent history, you see that Trump Jr.'s beef isn't limited to the Stormy Daniels defamation case against his father.
Avenatti, after rumors were reported that Trump Jr. was expecting indictment, predicted on multiple occasions that Trump Jr. would be indicted as part of the Mueller probe. First, he said it would happen before the end of 2018. Avenatti doubled down after that didn't happen and indicated there were "sealed indictments."
"I don't just pop off and make bold predictions without knowing what I am talking about. The last 8 months has proven that time and time again," Avenatti said in support of the imminent Trump Jr. indictment on one occasion. On another occasion, Avenatti stated that Trump Jr. "lied" about WikiLeaks.
For now, Trump Jr. can experience schadenfreude in peace and, in a twist of fate, it is Avenatti who has been charged first.
It remains to be seen if anything will come of the Southern District of New York (SDNY) and New York Attorney General's investigations into the Trump Organization and whether that will pose legal problems for Trump Jr. His signature, for instance, was on one of the hush payment reimbursement checks paid to Michael Cohen and was one of the Trump Organization executives identified along the way of the SDNY's case against Cohen. Trump Organization CFO Allen Weisselberg was the other executive identified and he was granted immunity as part of the investigation, indicating that he had significant criminal liability.
[Image via Chip Somodevilla/Getty Images]
Have a tip we should know? [email protected]