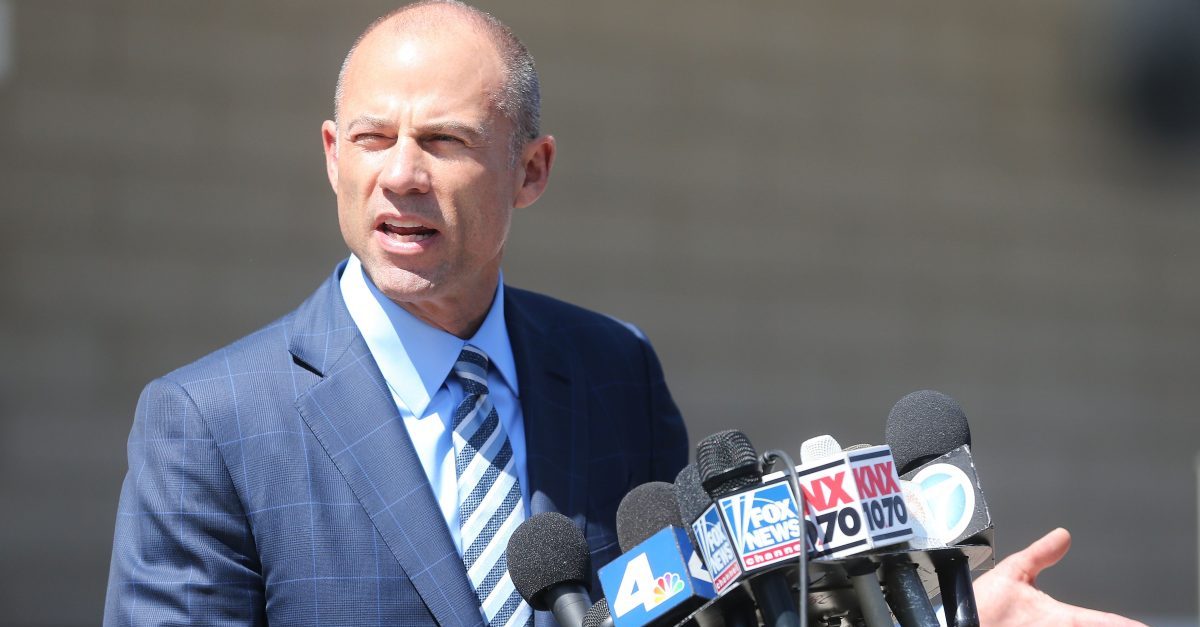 High-profile attorney Michael Avenatti's legal problems continue. Federal authorities have reportedly arrested, and plan to charge Avenatti, for allegedly threatening Nike with reputational harm, seeking millions in payments.
The former lawyer for Stormy Daniels allegedly sought more than $20 million from the company, threatening to use his media presence and influence to to hurt them financially. He is facing charges of Conspiracy to Commit Interstate Communications with Intent to Extort, Conspiracy to Commit Extortion, Transmission of Interstate Communications with Intent to Extort, and Extortion.
Law&Crime reached out to Avenatti and will update should he issue a statement on the matter.
This news comes roughly an hour after Avenatti tweeted that he was planning a press conference for Tuesday, in which he claimed he would be revealing "a major high school/college basketball scandal" that he said was committed by the athletic wear company.
Tmrw at 11 am ET, we will be holding a press conference to disclose a major high school/college basketball scandal perpetrated by @Nike that we have uncovered. This criminal conduct reaches the highest levels of Nike and involves some of the biggest names in college basketball.

— Michael Avenatti (@MichaelAvenatti) March 25, 2019
This press conference appears to be part of the basis for the charges. According to the criminal complaint, which was initially filed under seal on Sunday, Avenatti "threatened to release damaging information regarding Nike if Nike did not agree to make multi-million dollar payments" to Avenatti and another individual, and another payment to someone Avenatti said he was representing.
The complaint says that Avenatti "threatened to hold a press conference on the eve of Nike's quarterly earnings call … at which he would announce allegations of misconduct by employees of Nike." The complaint states that Avenatti said he'd call off the press conference if Nike paid $1.5 million to a client of his who had damaging information, and if the company then hired Avenatti to conduct an "internal investigation." For that investigation, which Nike didn't want, Avenatti and another individual allegedly wanted to be paid between $15 and $25 million. Alternatively, Avenatti allegedly suggested, Nike could pay $22.5 million to buy Avenatti's silence, the complaint says.
The damaging information Avenatti allegedly used to threaten Nike apparently had to do with high school students who he claimed had been paid by Nike, the complaint said. Avenatti allegedly told Nike that he represented a coach whose team had a contract with Nike in the past. Avenatti allegedly said that the coach had information about at least one Nike employee paying top student players or their families and trying to hide the payments. Avenatti allegedly named three high school players and claimed to know of others.
This arrest comes after Avenatti recently faced trouble related to his old law firm. He turned control of the Eagan Avenatti firm over to a court-appointed receiver, then tried unsuccessfully to declare bankruptcy on the firm's behalf without the receiver's consent. Avenatti and Daniels also parted ways, with both sides announcing an end to his representation of the adult film star.
This is a developing story and Law&Crime will update this space upon receiving more information.
u.s. v. Michael Avenatti Co… by on Scribd
[Image via Mario Tama/Getty Images]
Have a tip we should know? [email protected]