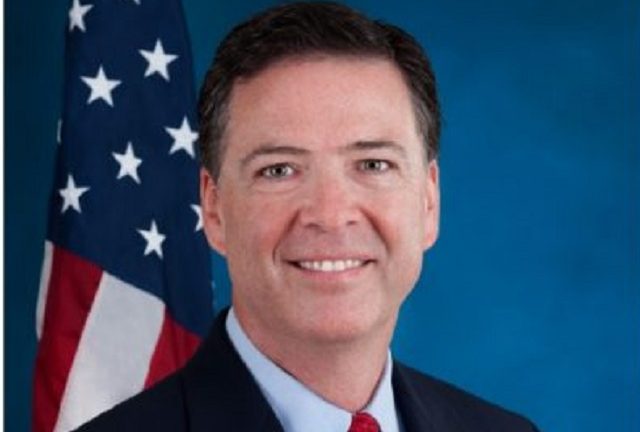 FBI Director James Comey was fired on Tuesday.
Whoa pic.twitter.com/87fOkormuB

— Gideon Resnick (@GideonResnick) May 9, 2017
"It is essential that we find new leadership for the FBI that restores public trust and confidence in its vital law enforcement mission," President Donald Trump wrote. He said that Attorney General Jeff Sessions and Deputy Attorney General Rod Rosenstein recommended he make this decision.
The career of Comey, a Barack Obama nominee, overlapped with numerous high-profile political controversies. He was in charge of the FBI's investigation into former Secretary of State Hillary Clinton's mishandling of official emails, and the investigation into whether the Trump campaign colluded with Russia to win the 2016 presidential election.
Rosenstein said Comey should lose his job because of the way he handled the Clinton email investigation.
Newly confirmed DAG Rod Rosenstein lays out the case for firing Comey in memo sent out by the White House https://t.co/K8Zoe0xzVP pic.twitter.com/0MdMjqMCi2

— Zoe Tillman (@ZoeTillman) May 9, 2017
"The way the Director handled the conclusion of the email investigation was wrong," Rosenstein wrote. "As a result, the FBI is unlikely to regain public and congressional trust until it has a Director who understands the gravity of the mistakes and pledges never to repeat them."
Comey came under fire for comments he made during a Senate Judiciary Committee hearing last week. Comey defended his decision in the days before November's election to disclose that the FBI was investigating emails on Anthony Weiner's computer that may have been connected to their investigation of Clinton. Comey made reference to Clinton aide Huma Abedin having a "regular practice" of forwarding emails to her husband Weiner's computer. In a letter sent to the Committee on Tuesday prior to the announcement of Comey's dismissal, the FBI acknowledged that most of the information that was transferred was due to backing up her Blackberry, and that there were only two email chains containing classified information.
Update – May 9, 6:21 p.m.: We added information from Rosenstein's memo.
Have a tip we should know? [email protected]