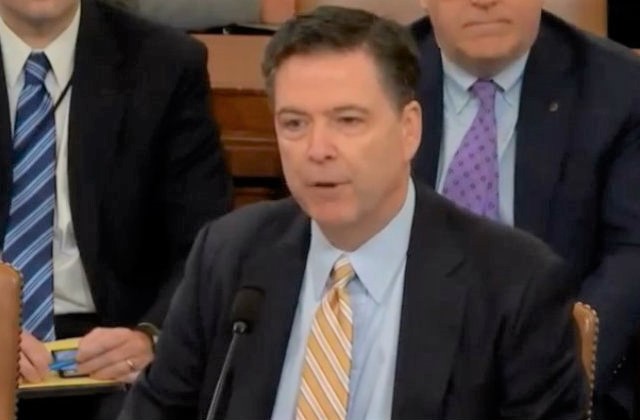 If there's one thing we know about President Donald Trump, it's that he's not afraid to yell, "you're fired!" anytime he hears something he dislikes. 45 must have been practicing his termination declarations earlier today since he just terminated James Comey.
Since Comey was in the middle of serving a 10-year term, it begs the question: Can the President really fire the Director of the FBI just like that?
He sure can. Under federal law, the F.B.I. director is appointed to one 10-year term – a term length purposely created such that it overlaps presidential administrations. Presidents may fire the FBI director (and Congress can impeach one) – and according to a 2014 report by the Congressional Research Service, "there are no statutory conditions on the President's authority to remove the FBI Director." While some FBI directors have resigned prior to the end of their terms, only one – William S. Sessions (appointed by President Ronald Reagan in 1987) – was ever fired. Sessions was fired by President Bill Clinton in the wake of allegations of ethics violations, such as misuse of public funds for his private benefit.
The fact that Comey was leading an investigation into Russian influence on Trump's win certainly adds plenty of political fodder, especially considering that Trump even made reference to it in his letter of termination. Also of note is that Comey's latest controversy came as a result of him defending his decision to disclose that the FBI was reopening their investigation of Hillary Clinton, in connection with emails found on Anthony Weiner's computer. Clinton herself has attributed her loss to this very revelation, which took place days before the election. But that's all part of a discussion for another time. As far as whether the President can terminate the Director of the FBI so suddenly, the answer is an unquestionable yes.
[Image via screengrab]
Have a tip we should know? [email protected]
Elura Nanos - Columnist & Trial Analyst, Law & Crime; CEO Lawyer Up