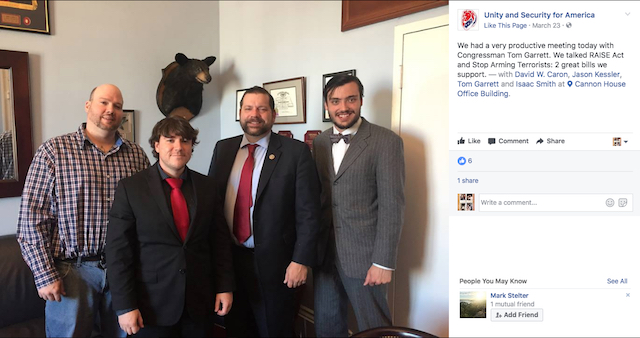 A photograph of Congressman Tom Garrett posing with Jason Kessler–the white nationalist who organized last night's violent neo-Nazi rally in Charlottesville, Virginia–is making its way across social media.
According to the Southern Poverty Law Center (SPLC), Kessler is a relative newcomer to white nationalism–having at one time been supportive of former President Barack Obama and the Occupy Wall Street movement.
A failed author of two novels, Kessler now traffics in standard issue white supremacist phantasms of "white genocide" and "[white] demographic displacement" as well as general complaints about liberalism, black people, Islam and Judaism.
Before organizing the #UniteTheRight rally, he founded Unity and Security for America, which the SPLC describes as, "a nativist, white nationalist group."
That rally, which occurred last night on the University of Virginia in Charlottesville campus, was marked by Nazi sloganeering, racial slurs and eventually violence against students and journalists.
LawNewz attempted to contact Representative Garrett for reaction to the Kessler photograph and rally. Repeat phone calls to Garrett's offices in Virginia and Washington, D.C. were not returned. This post will be updated to reflect the congressman's response–if and when that occurs.
Messages left with the entirety of Virginia's GOP delegation and the Republican Party of Virginia for comment on Garrett's association with Kessler were also not returned at the time of publication.
In a story from earlier this year, Garrett's spokesman Andrew Griffin explained that the congressman posed with Kessler and other members of Unity and Security for America David W. Caron and Isaac Smith because they asked him to.
In a Twitter post, the Charlottesville chapter of the Democratic Socialists of America pointed out that Garrett is not the only Virginia Republican with ties to Kessler. Corey Stewart—who came within a few thousand votes of winning the GOP nomination for this year's gubernatorial race–met with Kessler at a press conference in June.
Update 8/14/17:
Congressman Garrett appeared on Fox News with Eric Shawn on Sunday, August 13 to issue a denunciation of Kessler and his message. In the interview, Garrett said he regretted meeting with Kessler and told him to "Go away." Full video below:
[image via screengrab]
Follow Colin Kalmbacher on Twitter: @colinkalmbacher
Have a tip we should know? [email protected]