A Maryland mother of five who went for a hike on a popular trail over the weekend and never returned home is the victim of homicide, local authorities said during a Sunday press conference.
The Harford County Sheriff's Office confirmed that 37-year-old Rachel Morin's boyfriend reported her missing late Saturday night, several hours after the hiker was last seen alive in Bel Air near the MA & PA Heritage Trail. Morin was found dead the next afternoon.
"At approximately 1:07 pm [on Sunday], a female was located deceased off of the Ma and Pa Trail in Bel Air. The identity of the victim, as well as the cause, and manner of death are still under investigation," the sheriff's office said in a Facebook post.
Morin's car, investigators said, was found parked in Bel Air, Maryland, at a trail entrance on Williams Street.
"Rachel's car was located at the Williams Street entrance in Bel Air. If you are walking the trail this morning and see anything suspicious, please call 911," authorities' online post continued. "Please help us locate Rachel Morin, age 37. Rachel was last seen around 6:00 pm on Saturday, August 5, 2023 when she left to walk on the Ma and Pa Trail in Bel Air. Rachel is 5'2, 107 pounds with blonde hair and blue eyes. She was last seen wearing a blue or black tank top, black sports bra, black spandex shorts, and gray sneakers."
Sheriff Jeffrey Gahler said Sunday that Morin was the victim of a homicide.
"We understand this homicide causes a lot of concern. It causes a lot of concern for us," said Sheriff Jeffrey Gahler. "The trail is one of our major parks and recs assets that runs through a lot of different parts of Harford County."
"Our detectives have no doubt [this was a homicide]," the sheriff added, without going into further detail about investigative findings. "I'm not going to go into what, physically, they observed at the scene. But investigators believe sadly that it's a homicide case."
Notably, the sheriff said he could not confirm that there was no ongoing threat to the public. He urged any would-be hiker to be careful and "always be aware of your surroundings."
In a Sunday update, authorities also urged the public to "refrain from posting any details you may know (or guess) on this post" about the case, a possible reaction to online sleuths who pointed a finger at Morin's new boyfriend despite law enforcement making no allegation of wrongdoing against him.
As recently as Aug. 1, Richard Tobin posted on Facebook that he was in a relationship with Morin.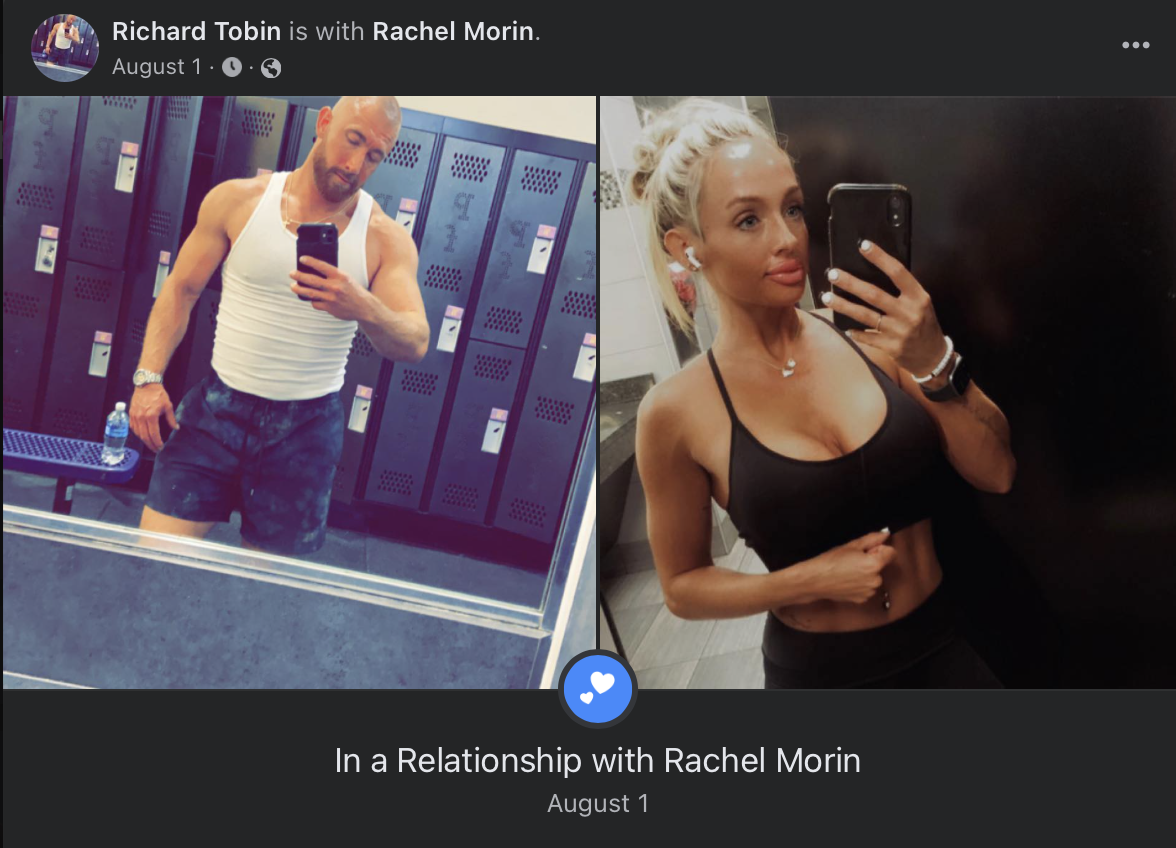 Rachel Morin last posted on Aug. 3, sharing recent photos with Tobin from when they went on a hike.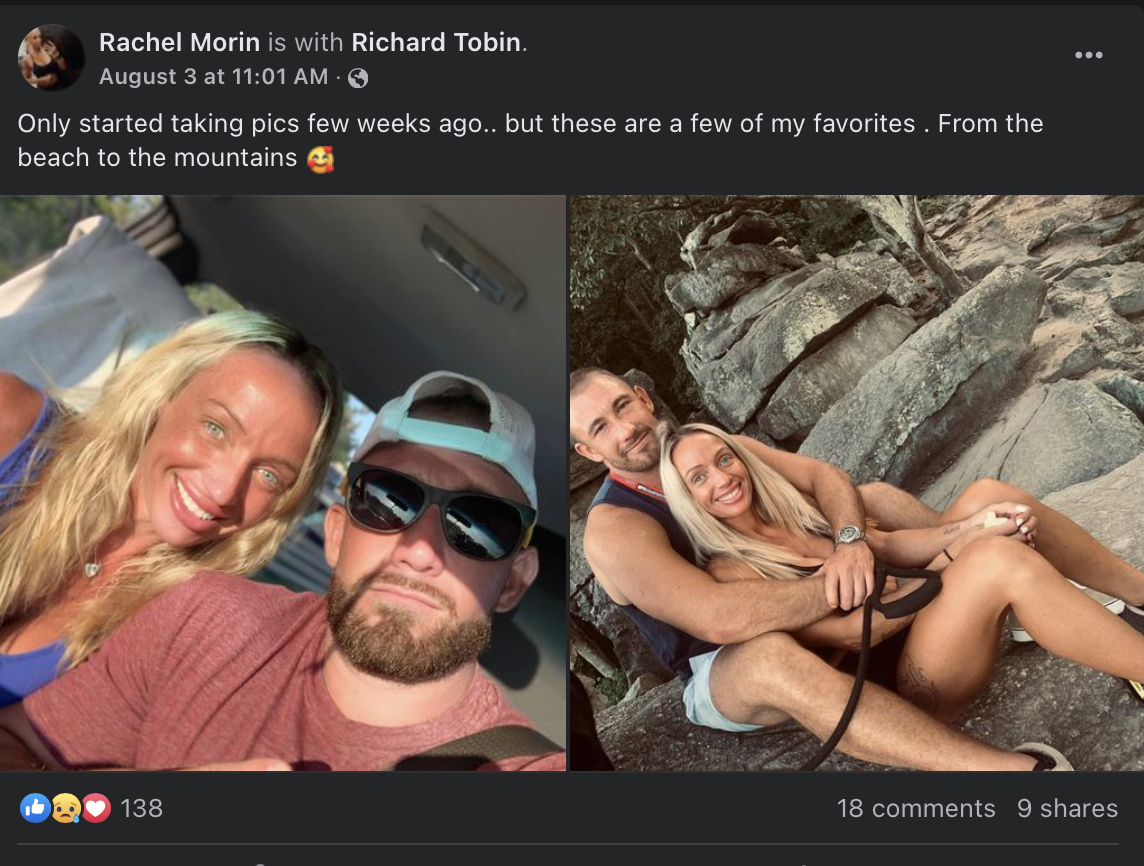 Under that post, Tobin wrote: "Looking gorgeous babe." Morin replied, "thank you handsome."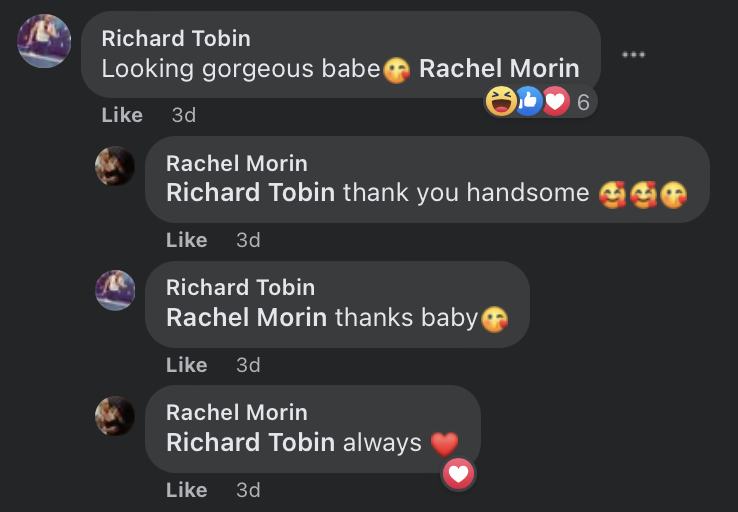 In response to hundreds of comments by members of the public who swarmed his relationship status post, Tobin acknowledged he has a "past" and has struggled with sobriety, but he denied having any involvement in Morin's death.
"I love Rachel, I would never do anything to her, let the family and I grieve. Yes I have a past but I also have 15 months clean and have changed as a person. Please," Tobin wrote Sunday.

The sheriff's office said that the investigation is ongoing.
A GoFundMe campaign to help pay for Morin's funeral and memorial has raised more than $25,000 as of Monday morning.
"It is with devastating sadness and a broken heart that our family has been hit with yet another heartbreak. My sister, Rachel Morin went missing on Saturday August 5 2023 around 6pm. In less than 24 hours her body was found by local law enforcement," wrote Rebekah Morin, who said her sister "did not go willingly and she deserves a funeral worthy of her her beauty."
The grieving sister also said "any remaining funds" from the campaign "will go towards things [Rachel's] 5 children may need."
Have a tip we should know? [email protected]