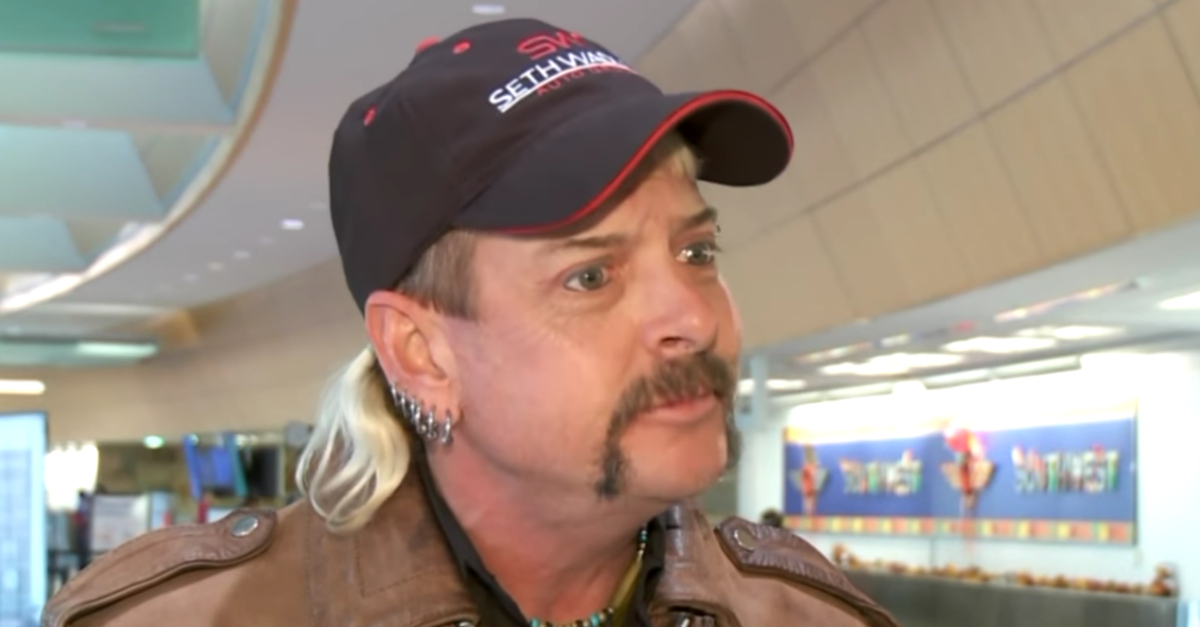 The man known as "Joe Exotic" sold a liliger cub to fund a murder-for-hire plot against a woman who butted heads with him over his zoo, a witness testified in a report from The Oklahoman. Joseph Allen Maldonado-Passage faces an ongoing trial in a Oklahoma federal court.
Some may know the mullet-rocking zookeeper as a sometime political candidate. He ran for governor as a Libertarian last year.
"I just feel strongly about it's your life, you own it, and as long as you don't hurt anyone else you should have the right to do whatever you want," he said in a OKC Fox article in 2018.
Well, he's accused of trying to hurt someone else. His alleged target: Carole Baskin, the CEO of Big Cat Rescue in Tampa, Florida. She successfully sued him for $1 million in 2013 for trademark infringement. Maldonado-Passage told The Oklahoman that at the time he refused to pay the money.
Apparently, he sought Baskin's life over their feud.
"I said I'd cut her head off," said witness Allen Glover in court on Wednesday. He said Maldonado-Passage "was fine with it." The defendant paid him $3,000, and sold a liliger cub to fund it, he said. (A liliger is a hybrid between a male lion and a female liger. The liger is a hybrid between a male lion and a female tiger.)
Glover, an employee at the Greater Wynnewood Exotic Animal Park, testified that he spoke with founder Maldonado-Passage daily. The defendant discussed killing or getting Baskin killed, he said.
The witness claimed he wasn't going to carry out the plan. He was just going to take the cash and run off. Glover insisted he was going to warn Baskin in Florida, but said he became drunk and high and never got around to it.
Maldonado-Passage is also accused of later offering to pay an undercover FBI agent to kill Baskin. His defense says that he was set-up. Charges include use of interstate commerce facilities in the commission of a murder-for-hire, violation of the endangered species act, and violation of the Lacey act.
[Screengrab via KFOR]
Have a tip we should know? [email protected]