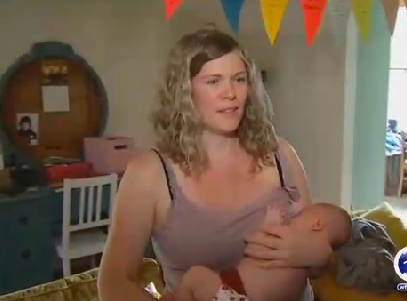 The Jackass-of-the-Day award goes to a Target patron who reportedly called a nursing mother "disgusting" and then screamed, "you're rude!" when she defended herself.  Jessie Maher, the mother, caught some of this ignoramus' behavior on video as he continued to yell at the other Target guests and employees who came to Ms. Maher's defense.   The man concluded his screaming by demanding a refund from the Target café cashier — ostensibly to compensate him for the trauma to which he had been subjected.
There's no question that the Connecticut mom was fully within her rights to breastfeed her child in public – as has been specifically detailed under Connecticut state law.  
I believe, the man's conduct, based on what we know, could have transcended pure obnoxiousness and rose to the level that puts him in legal jeopardy as well.  The woman says she plans to file a police report, if she hasn't already done so. Based on this video, which began after the man's first few insults calling Ms. Maher's "nasty" and "disgusting," a reasonable fact-finder would almost definitely view the man's conduct as threatening. And there's no question that he disturbed Ms. Maher and her child without any lawful basis.
Sec. 53a-182 of the Connecticut Penal Code pretty clearly defines such behavior as "Disorderly conduct" – a Class C misdemeanor:
"A person is guilty of disorderly conduct when, with intent to cause inconvenience, annoyance or alarm, or recklessly creating a risk thereof, he: (1) Engages in fighting or in violent, tumultuous or threatening behavior; or (2) by offensive or disorderly conduct, annoys or interferes with another person; or (3) makes unreasonable noise; or (4) without lawful authority, disturbs any lawful assembly or meeting of persons."
If I were prosecuting this one, based on what we know, I'd try my best to go a step further and charge him with a felony.   And not just a regular felony– a bias crime. 
Under Sec. 53a-181k of the Connecticut Penal Code, intimidation based on bigotry or bias is a Class D felony:
 "(a) A person is guilty of intimidation based on bigotry or bias in the second degree when such person maliciously, and with specific intent to intimidate or harass another person because of the actual or perceived race, religion, ethnicity, disability, sexual orientation or gender identity or expression of such other person, does any of the following: (1) Causes physical contact with such other person, (2) damages, destroys or defaces any real or personal property of such other person, or (3) threatens, by word or act, to do an act described in subdivision (1) or (2) of this subsection, if there is reasonable cause to believe that an act described in subdivision (1) or (2) of this subsection will occur."
Given the man's size, tone of voice, body language, choice of words, and aggressive demeanor, I believe, his behavior would certainly be deemed "intimidating" – especially to a young woman in the vulnerable position of nursing a baby. Although it might be an unusual use of a bias statute, I don't think it's much of a stretch to equate breastfeeding with an expression of a woman's gender identity. This man intended to harass Ms. Maher because she was breastfeeding, and breastfeeding is about as womanly as it gets.   Sure, it's not entirely clear from these facts that the man threatened to touch Ms. Maher or any of her personal property, but such a threat could be inferred if he so much as came within arms reach of her, her child, or any of her belongings.
Under American law of all kinds, there is a long and robust legal history of giving pregnant women and mothers of young children heightened protection. As women become more free to exercise their personal rights in this country, we may see more harassment from those who oppose their behavior. And while it's heartening to see that so many Target employees immediately came to this woman's assistance, it's a little shocking that the man wasn't immediately escorted outside by security. I think the bystanders' reaction was a physical manifestation of the public' thoughts on a situation like this: they knew the woman needed protecting, and they knew the man was wrong to harass her – but they weren't clear that, based on the law, I believe, he may have been breaking the law by doing so.  Next time, let's throw this guy out without the refund for his coffee.
Have a tip we should know? [email protected]
Elura Nanos - Columnist & Trial Analyst, Law & Crime; CEO Lawyer Up