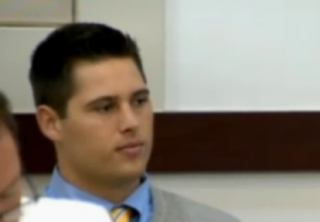 Wednesday was the third day of Brandon Vandenburg's trial for the alleged rape of a young woman he had been dating in his dorm room. Early in the day, the court heard the rest of Vandenburg's interview with Detective Jason Mayo that took place in 2013, after the alleged rape took place. In that conversation, Vandenburg said that he was present while other men allegedly sexually assaulted the woman in his dorm room. He claimed that he did not participate, but that he didn't do anything to stop it. He also said he had consensual sex with the victim the next day.
Vandenburg said at the time, that he wished there was a camera in the room to show that he didn't assault the woman. However, he later admitted that he himself took video of the assault on his phone and sent it to his teammates on the Vanderbilt football team.
In the afternoon, Detective Chad Gish took the stand to discuss the images and video that were recovered from different devices. The jury viewed thumbnail images of the assault while Gish described them in graphic detail. They also watched video footage of the incident. Gish described the contents of the footage, saying that laughter could be heard while Vandenburg recorded other men allegedly sexually assaulting the woman. The detective pointed to Vandenburg as the one recording the video, because the phone used to record showed that the recorder's pants and shoes matched what Vandenburg was wearing in security video from outside the building. Gish identified Vandenburg saying, "I can't do this, dude."
Gish then read text messages that Vandenburg exchanged with others who had seemingly viewed the video, including one where someone told Vandenburg that the woman could call it rape.
. Testimony will resume Thursday morning.
Stay with LawNewz.com for continuing coverage of the trial.
Have a tip we should know? [email protected]