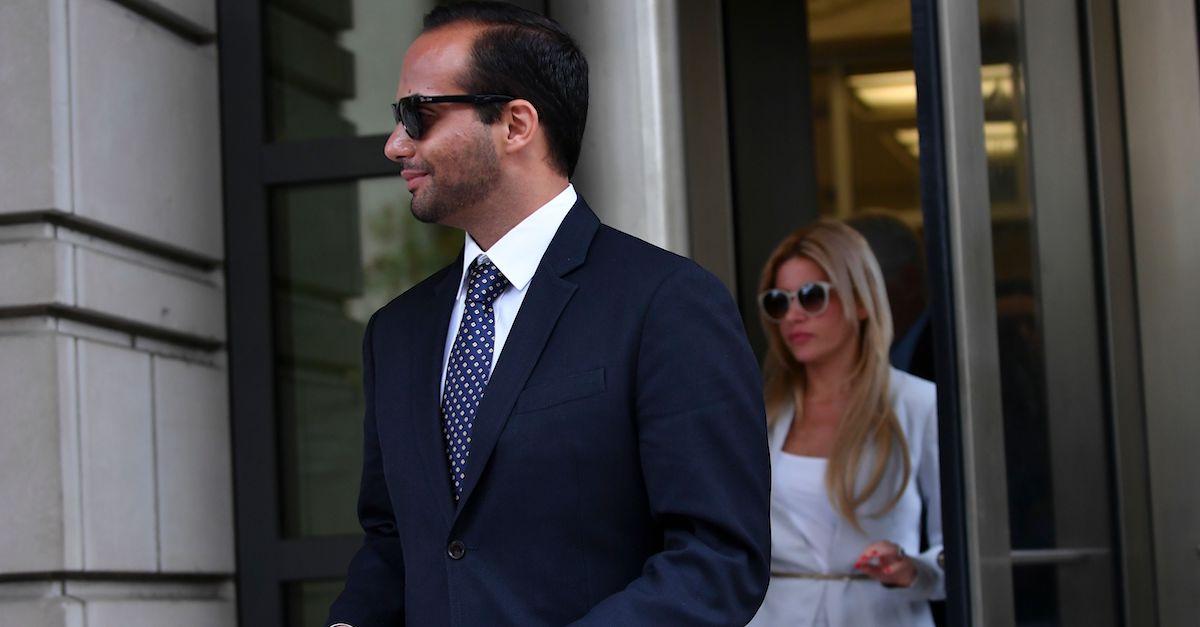 President Donald Trump's former foreign policy advisor George Papadopoulos appears to be upset.
On Tuesday, the convicted felon put out an interesting theory about his admitted law-breaking on Twitter dot com. In a single tweet sent at 2:29 p.m. he wrote:
I have no idea what Paul Manafort was doing with his taxes decades ago, but I don't even think he was entrapped to the extent I was by four intelligence organizations looking for an excuse to sabotage Trump.
Law&Crime has previously reported on Papadopoulos' after-the-fact recriminations leveled against the special counsel's office after his October 2017 guilty plea.
In an August 2018 interview, Simona Mangiante Papadopoulos, Papadopoulos's wife, expressed the desire that her husband might "find a lawyer to drop off his plea agreement and sue the government."
A couple weeks later Law&Crime reported that it looked like Papadopoulos was fishing for a pardon from Trump in a strangely-worded sentencing memo in which his attorneys referred to their client as "Young George" and in which they referred to then-candidate Trump as Papadopoulos' "master."
National security expert Marcy Wheeler noted that aside from the bizarre verbiage, the sentencing memo also "provide[d] an excuse for to repeat, again, in case Trump missed it the first time, that Papadopoulos lied and continued to lie about telling the [Trump 2016] campaign about the [stolen Hillary Clinton] emails."
Those apparent bids didn't quite work out.
On September 7 of this year, the man once disparaged as a "coffee boy" was sentenced to 14 days in prison and one year of supervised release after he pleaded guilty to lying to the FBI during Robert Mueller's wide-ranging Russia probe.
As recently as Sunday, Law&Crime reported that the Papadopouloses have taken to the extreme fringes of the conservative media echo chamber in order to make a renewed case that the convicted spouse might yet be able to change his guilty plea for some unknown, allegedly shadowy reason.
[Image via Mandel Ngan/AFP/Getty Images]
Follow Colin Kalmbacher on Twitter: @colinkalmbacher
Have a tip we should know? [email protected]