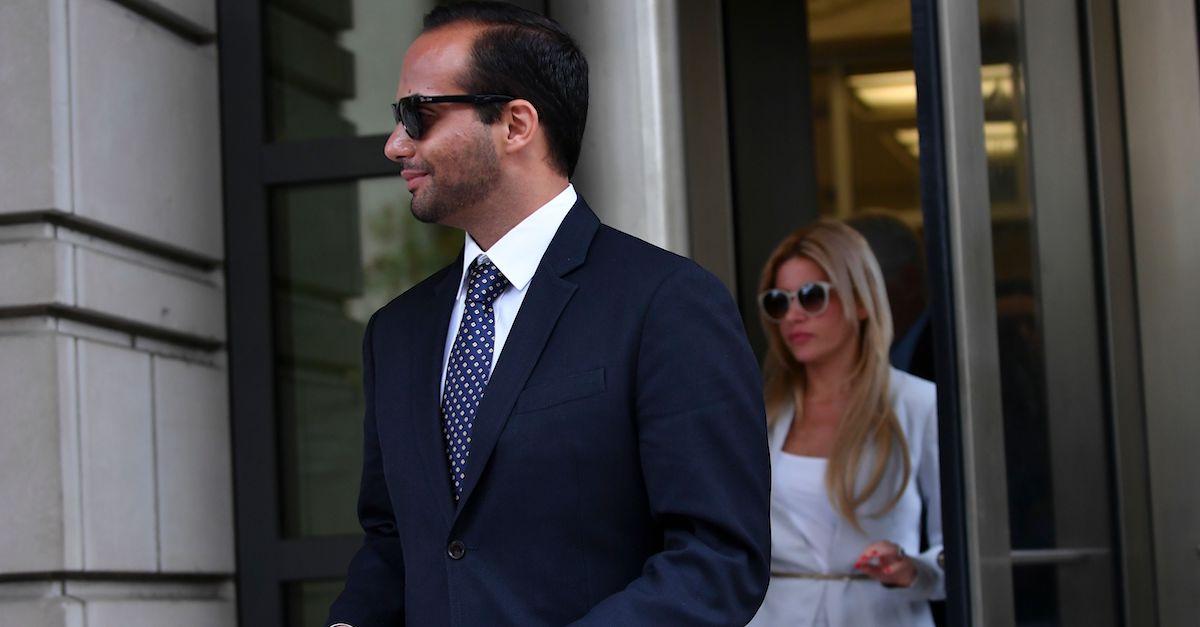 Simona Mangiante Papadopoulos, wife of convicted felon George Papadopoulos, shared an incendiary image-and-caption on Twitter this afternoon which appears to show Stefan Halper and Alexander Downer at some sort of public event together.
At 2:37 p.m., she tweeted:
Just got this amazing picture! HALPER with DOWNER… 🤔🤔🤔 pic.twitter.com/8Md2yzrLhv

— Simona Mangiante Papadopoulos (@simonamangiante) September 11, 2018
The image was posted without any context or information about the location, date or even the time period during which the photograph was taken. The implication, however, appears to be that Halper and Downer were somehow in league to set her husband up. (This after Papadopoulos himself authored a series of fiery and potentially incriminating tweets directed at Downer–which essentially suggested the same thing.)
If this conspiracy theory sounds a bit confusing, that's because it is. Here's a bit of backstory.
Alexander Downer was one of Mr. Papadopoulos' contacts in London during the 2016 presidential campaign when Papadopoulos served as a foreign policy adviser to then-candidate Donald Trump.
The two–Downer and Papadopoulos–allegedly knocked back an insight-impairing amount of gin-and-tonics together and Papadopoulos reportedly got so drunk that he began boasting about receiving Russian-supplied dirt on Hillary Clinton. As Law&Crime reported in late December 2017:
[I]n May 2016, Papadopoulos was having a big night out with Australia's top diplomat in the United Kingdom, Alexander Downer, while both men were in London. While imbibing his way toward ever looser lips at the Kensington Wine Rooms, Papadopoulos allegedly let slip that Russian officials had promised the Trump campaign dirt on Hillary Clinton.

Not much was made of the mid-level advisor's inebriated braggadocio at time–and the extent of what , but when news broke that Democratic National Committee ("DNC") emails were being leaked online, Australian officials contacted their American equivalents–and the FBI–and dished on Papadopoulos' earlier, drunken claims.
So, that takes care of one of the men in the photo. How about the other?
Stefan A. Halper is a professor emeritus at the University of Cambridge. An old hand in D.C. and Republican politics, Halper worked for the Nixon, Ford and Reagan administrations before settling into his role as an academic and eventual Pentagon consultant.
While never working on the Trump 2016 campaign, Halper provided the FBI–at the FBI's request–with human intelligence on various members of the campaign staff. One of those staff members was George Papadopoulos. What's further ignited passions and tensions in this regard are four payments in excess of $1 million paid to Halper by the Pentagon from 2012-2016.
In Trumpland (and apparently Papadopoulosville as well), so the story goes, Halper was a paid informant sent into the Trump campaign to spy at then-president Barack Obama's request. What appears to be the case, however, is that Halper was already on the almost-like-espionage payroll of the Department of Defense's Office of Net Assessment long before Trump's campaign ever began.
As far as any incriminating connective tissue between Downer and Halper are concerned? Aside from the image above–again presented without context or dating–there's currently no evidence to suggest the two men conspired against Mr. Papadopoulos.
Law&Crime reached out to Ms. Papaopoulos for comment on this story but no response was forthcoming at the time of publication.
[image via Mandel Ngan/AFP/Getty Images]
Follow Colin Kalmbacher on Twitter: @colinkalmbacher
Have a tip we should know? [email protected]