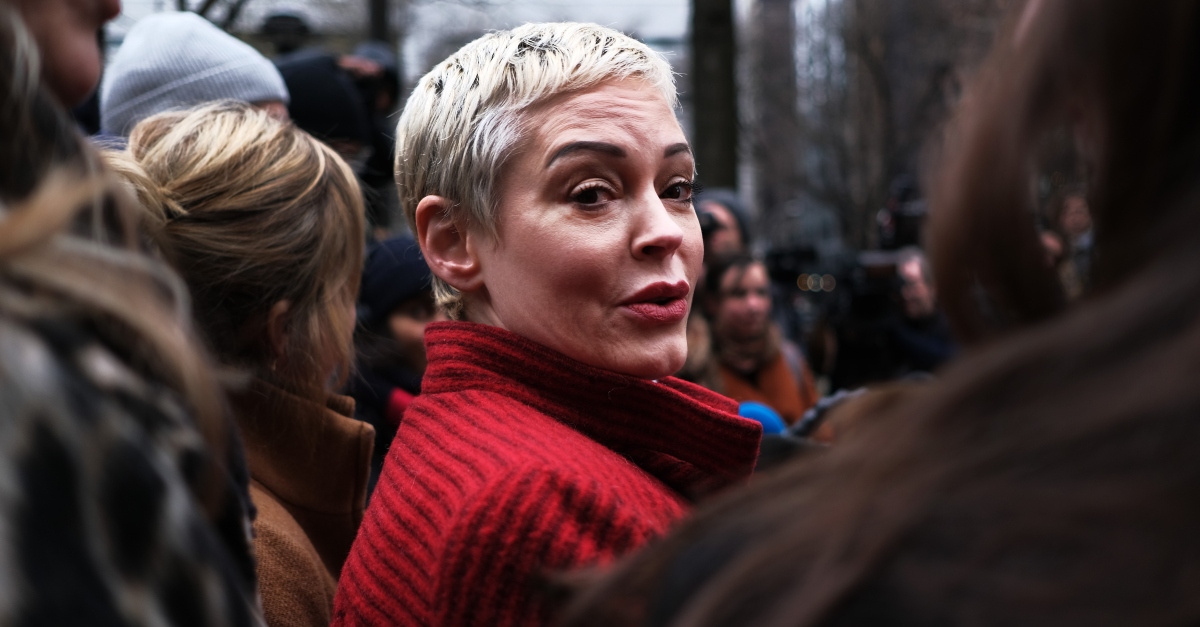 Rose McGowan's lawsuit against Harvey Weinstein and his former attorneys has been dismissed with prejudice after she failed to meet a court deadline to submit supplemental briefing to support her claims of violations of the Racketeer Influenced and Corrupt Organizations Act (RICO).
The lawsuit, filed by the actress in October 2019, accused Weinstein, along with attorneys David Boies, Lisa Bloom and others at the law firm of Boies Schiller Flexner LLP, of racketeering and conspiracy to commit racketeering by trying to silence McGowan from speaking out about her accusations that Weinstein had sexually assaulted her.
Weinstein, 67, is currently behind bars after he was sentenced in March 2020 to 23 years in prison for rape and sexual assault. The convictions were separate from McGowan's accusations, but the actress nonetheless cheered the verdict as "a huge victory" that resulted in "one less serial predator on the streets."
Weinstein appealed the sentence earlier this year. Meanwhile, a separate criminal case is moving forward; Weinstein is facing multiple charges of forcible rape and forcible oral copulation in that case.
In 2017, The New York Times reported on multiple allegations of sexual assault and misconduct by Weinstein, including reviewing a legal document in which the disgraced Hollywood producer reportedly paid McGowan $100,000 regarding an incident in a hotel room during the 1997 Sundance Film Festival. The settlement was "not to be construed as an admission" by Weinstein, but only intended "avoid litigation and buy peace," the agreement stated.
McGowan, 48, had posted several tweets that year saying that she had been raped and would name her alleged rapist in her memoir, Brave, which was published in 2018. She eventually accused Weinstein by name of raping her at Sundance, posting a series of tweets describing the alleged assault and other actions by powerful people in Hollywood to help Weinstein cover it up.
Her lawsuit describes alleged actions by Weinstein's attorneys to attempt to obtain an advance copy of her book and other alleged efforts to smear her reputation in the entertainment industry, including having spies pretend to be reporters and women's rights activists.
The case was partially dismissed in December 2020 due to the expiration of a statute of limitations and the judge ruling that the alleged plot to get a copy of her memoir did not fall under activity prohibited by RICO. McGowan was allowed to file an amended complaint, and on Nov. 29, the court set a deadline of Dec. 2 for McGowan to file supplemental briefing to show how she intended to amend the complaint to make the substantive RICO and conspiracy to commit RICO claims against the defendants.
With the deadline passed, Judge Otis D. Wright II, of the U.S. District Court for the Central District of California, ordered McGowan's RICO claims dismissed with prejudice, meaning she cannot bring the same claims again.
"As of today's date," wrote Wright, "Plaintiff has not filed any brief in response" to the court's orders.
Judge Wright ruled that McGowan was therefore "deemed to have conceded" the points the court had invited her to argue in a supplemental brief and was "unable to sufficiently plead a RICO claim, meaning that further amendment would be futile."
McGowan's RICO claims were dismissed "on the merits and with prejudice as against all Defendants," and the other counts of her complaint were dismissed without prejudice.
It is not clear if McGowan intends to continue to pursue the remaining claims. She has not yet issued a public statement on the court's ruling, and she terminated her legal representation last month.
"Out of the public glare, with proper time, legal work, evidence and facts, this is the way we believe they ultimately will all go," a Weinstein spokesperson said a statement to NBC News. "A chapter is put behind as Mr. Weinstein keeps going forward to demonstrate the truth."
Read the court papers below:
[Image via Spencer Platt/Getty Images]
Have a tip we should know? [email protected]