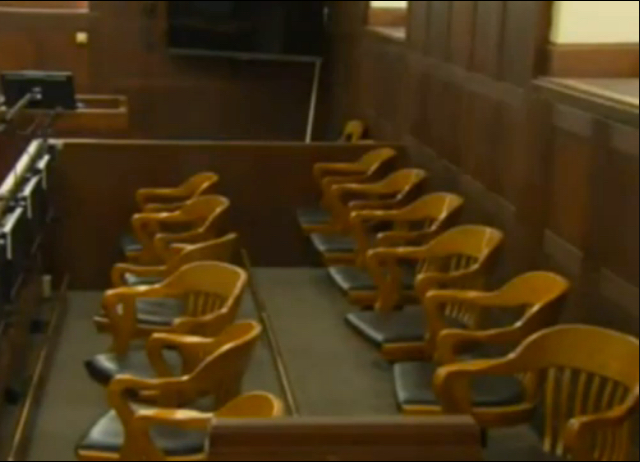 The jury in the Aaron Hernandez double murder trial sent a question to the judge Friday afternoon.  The jury had commenced its deliberations earlier in the day.
The question, which the judge read from the bench, said:
"If an immunized witness provides specific testimony that we believe would give enough evidence for a conviction, do we have to have corroborating evidence to that specific piece of testimony?"
The word "specific," the judge noted, was underlined in the original question.
The judge responded:
"No. What you need is corroboration to at least one element of the charged crime or crimes."
The judge went on to quote the Massachusetts General Laws, Chapter 233, Section 20I, which sets forth the law on immunized witnesses in criminal cases. It reads, in relevant part:
No defendant in any criminal proceeding shall be convicted solely on the testimony of, or the evidence produced by, a person granted immunity.
The standard is further laid out in Commonwealth v. Asmeron, a 2007 case from the Massachusetts Appeals Court. The judge discussed the case with the attorneys before the jury came into the courtroom.
As the case explains:
"Evidence corroborating accomplice testimony need not prove the commission of the crime; all that is necessary is that the evidence satisfies the jury that the accomplice is telling the truth."
Let's think about that hypothetically.
Let's say a witness testifies under a grant of immunity. Let's say that the charge levied against a hypothetical defendant requires the state to prove six elements. Let's say the witness under immunity testifies to all six elements necessary.
Let's say the prosecution provides corroborating evidence for two of those six elements. If the jury is satisfied that the corroborating evidence is enough to prove that the witness is telling the truth, the jury can convict, and the Massachusetts courts will uphold the conviction.
Bottom line: in this hypothetical, corroborating evidence is not necessary on every one of the six points testified to by the immunized witness.
Let's go further.  Let's say the defendant faces five separate charges.  There must be corroborating evidence for at least one element of every one of the five charges levied against the defendant in order for a conviction to stick.  If there is no corroborating evidence, the jury cannot convict.
Also, as Asmeron points out:
"All questions of the weight of the evidence and the credibility of the testimony were for the jury to decide."
It's up to the jury to decide how much corroborating evidence is necessary.
The jury returned to deliberate into the afternoon.  Deliberations will resume Monday, the judge announced late in the afternoon.
Have a tip we should know? [email protected]
Aaron Keller - Deputy Editor-in-Chief