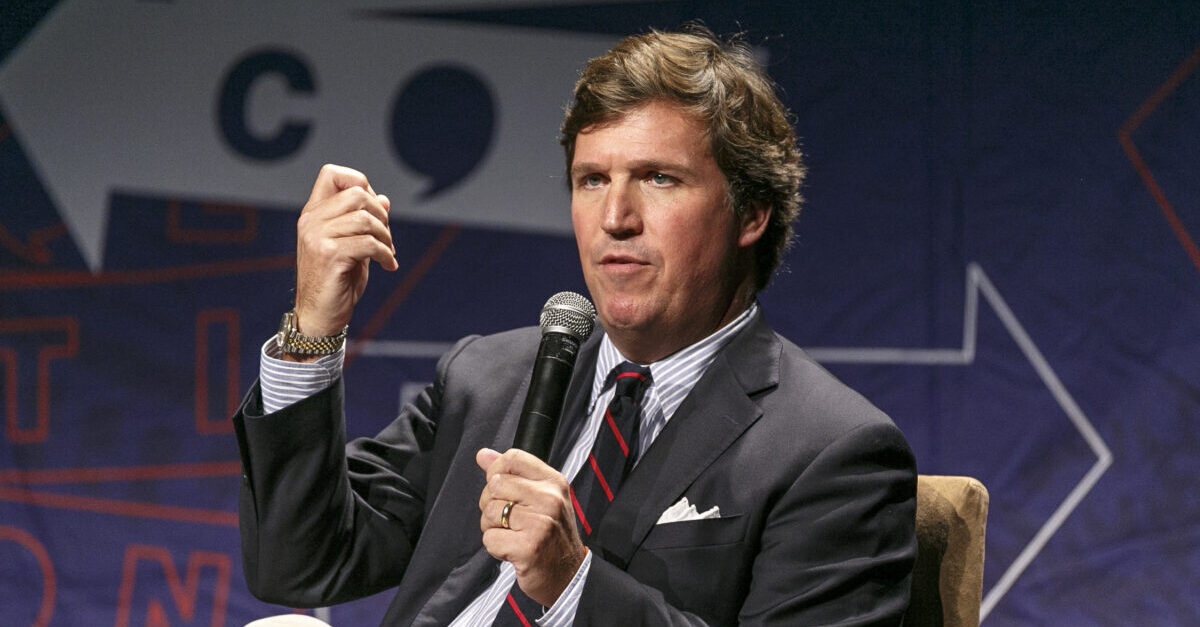 Fox News host Tucker Carlson savaged conspiracy theorist lawyer Sidney Powell in jaw-dropping unsealed messages released in Dominion's $1.6 billion defamation lawsuit.
"Sidney Powell is lying," Carlson said of former President Donald Trump's would-be special counsel for the 2020 election in a message dated Nov. 17, 2020.
"F—ing b—-," Carlson added.
The recipient of the message, whose identity is redacted, responded: "it is top article on mediaite," referring to Law&Crime's press-focused sister site.
Fellow Fox star Laura Ingraham appeared to share Carlson's opinion.
"Sidney Powell is a bit nuts," Ingraham wrote on Nov. 16, a day earlier. "Sorry but she is."
The first part of Carlson's response is redacted, but he followed it up by saying: "She's making everyone paranoid and crazy, including me."
Those unsealed messages, and others, were part of a tranche of once-private communications that Dominion culled in their discovery haul as the parties prepare for an April trial.
Fox also released information that they received during the case's road to trial, which the network claims catches Dominion "red handed using more distortions and misinformation in their PR campaign to smear FOX News and trample on free speech and freedom of the press."
In one of these examples, Fox say that Dominion misquoted Rupert Murdoch expressing a bottom-line justification for giving MyPillow salesman and pro-Trump conspiracy theorist Mike Lindell a "platform."
In the passage of the deposition in question, Murdoch isn't asked about granting Lindell a platform for interviews, only ad-buys.
"We don't ask how people voted before we put their ads on," Murdoch replied. "If it is a genuine advertisement and they pay for it, that's it."
A Dominion lawyer then asks Murdoch: "It is not red or blue, it is green; right?"
"Correct," Murdoch responds.
Fox argues that is emblematic of Dominion's litigation strategy.
"We already know they will say and do anything to try to win this case, but to twist and even misattribute quotes to the highest levels of our company is truly beyond the pale," Fox said.
Dominion provided a slew of other Murdoch quotes in the unsealed batch, including one hoping his anchors wouldn't follow Trump in becoming a "sore loser."
"Everything seems to be moving to Biden and if Trump becomes a sore loser we should watch Sean especially and others don't sound the same," Trump told Fox News CEO Suzanne Scott in an email on Nov. 6, 2020
Murdoch added later: "If Biden holds Az, Nevada, Georgia and Pa., very hard to credibly cry foul everywhere."
Scott replied a little more than an hour later: "Agree on all."
Biden did indeed hold onto his lead in all of those states. Trump, his surrogates, and his allies, like Powell, unsuccessfully tried to overturn those results, in a tsunami of more than 60 failed election lawsuits.
The day after President Joe Biden's inauguration, Murdoch bristled at the bad press Fox continued to get about their election coverage.
"Still getting mud thrown at us! Is it 'unarguable that high profile Fox voices fed the story that the election was stolen and that January 6th an important chance to have the result overturned'?" Murdoch asked in an email dated Jan. 21, 2021.
"Maybe Sean and Laura went too far," he added, apparently referring to Hannity and Ingraham.
At the time, Dominion's billion-dollar lawsuit was mere months away.
In May 2021, Dominion filed a lawsuit in Delaware stating that Fox turned a "flame" of former President Donald Trump's election lies into a "forest fire." Fox News was one of the first news outlets to call the election in Arizona for President Joe Biden, angering Trump supporters who flocked to right-wing networks like One America News and Newsmax. Internal Fox communications appeared to show their most watched hosts fretting about conservatives fleeing to the competition.
In one message, Carlson told Sean Hannity that a Fox reporter who fact-checked false election claims on Twitter should be fired.
"I'm actually shocked…It needs to stop immediately, like tonight," Carlson wrote in the message. "It's measurably hurting the company. The stock price is down. Not a joke."
Later that month, Dominion revealed passages from Murdoch's two-day deposition, appearing to express regret about Fox's post-2020 election coverage.
"I would have liked us to be stronger in denouncing it, in hindsight," Murdoch testified.
Though he insisted Fox itself never endorsed the idea of a stolen election, Murdoch conceded "maybe Lou Dobbs, maybe Maria, as commentators," referring to Bartiromo. Defending her conduct, Fox noted that newly released communications showed that she offered Dominion's CEO an interview.
Editor's note: This story has been updated to clarify the context of Rupert Murdoch's testimony about Mike Lindell. Though Murdoch agreed with the Dominion lawyer's oft-quoted remark "It's not red or blue, it's green," that statement was in reference to advertising dollars, not on-air interviews. 
Have a tip we should know? [email protected]
Adam Klasfeld - Managing Editor