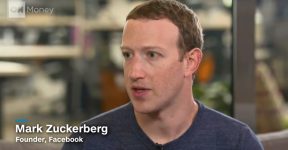 Before there was Facebook there was Facemash, and "privacy concerns" were enough for a Harvard student named Mark E. Zuckerberg to shut it down.
Judging by his apology tour on CNN and Facebook, and the assurances that went with it, as well as the money at stake, Zuckerberg has no intention of doing so even though the "Cambridge Analytica situation," as he calls it, has #deletefacebook trending.
But let's warp back to a time Zuckerberg had to answer for the concerns of his colleagues in The Harvard Crimson.
The article from 2003, still available to read in full today, is a timely trip down memory lane.
It's interesting to note the tone and language he used to respond to that controversy.
Back then, Zuckerberg was accused of violating copyrights, privacy and breaching security.
Zuckerberg, described as "aware of the shortcomings of his site," told the reporter that he understood "some parts [of Facemash] were still a little sketchy" and that he "wanted some more time to think about whether or not this was really appropriate to release to the Harvard community."
He also agreed to shut down Facemash because issues of violating people's privacy "[didn't] seem to be surmountable."
"I'm not willing to risk insulting anyone," he also said.
[Image source: screengrab via CNN Money]
Have a tip we should know? [email protected]