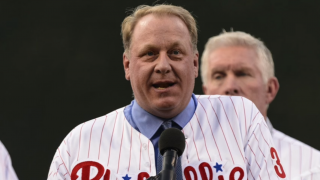 Curt Schilling had quite an extensive baseball career.  The bulk of his career was played pitching with the Philadelphia Phillies, Arizona Diamondbacks, and Boston Red Sox.  The 6-time All-Star and 3-time World Series Champion is best known for his 2004 ALCS Game 6 performance, who pitched 7 strong innings against the New York Yankees with a bloody ankle. His performance helped the Red Sox win AL Championship and ultimately win the World Series for the first time in 86 years.  Curt Schilling went on to retire from baseball in 2007 and subsequently join ESPN in 2010.  Schilling, however, engaged in some controversial activity on social media this week that has led to his firing from ESPN on Thursday.
On Monday, Curt Schilling shared a meme portraying a man cross-dressing as a woman with an accompanying sarcastic caption.  Schilling's post, which was made in response to North Carolina's anti-LGBT law, caused an uproar.  ESPN subsequently responded by dismissing Schilling for "unacceptable conduct."  This is not Schilling's first time causing controversy.  In August 2015, Schilling was suspended for a month when he tweeted that extremist Muslims were comparable to Nazi Germans.  Schilling has also been very outspoken on his political views, saying most recently that Hillary Clinton should be in jail as a result of the investigation into her use of a private email server while serving as Secretary of State.  These comments directly contradicted ESPN's policy on the 2016 US presidential election, which stated that, among other things, that all ESPN journalists and on-air talent were refrained from "political editorializing, personal attacks, or 'drive-by' comments regarding the candidates and their campaigns."
Schilling took to his personal website on Tuesday to address the controversy surrounding his post on Monday, stating that "[i]f you get offended by ANYTHING in this post, that's your fault, all yours."  Schilling went on to write that people protesting his opinions and comments are "screaming from 'tolerance' and 'acceptance' while you refuse to do and be either."  ESPN didn't seem to take his opinion too lightly, which is why they opted to fire him outright.
From a legal perspective, many issues arise, primarily from an employment law perspective and from a constitutional law perspective.  Addressing the employment law issue first, the question is whether ESPN had the legal right to fire Schilling.  The shorthand answer is yes.  Connecticut, which is the state where ESPN is headquartered, is an at-will employment state, which means that an employer can fire an employee for any reason or no reason at all.  However, considering that Curt Schilling was an on-air talent, primarily calling ESPN's baseball games, it would seem very likely that Schilling's contract had very defined terms laying out what could be grounds for discharge from ESPN.  One of these terms is very likely a morals clause.  A morals clause is a contractual provision that binds a party to behave in a certain way.  If a party behaves in a reckless manner that could tarnish the image and reputation of the other party (in this case, ESPN), this is a breach of the morals clause and this could be enough grounds to terminate the contract. Judging from Schilling's history of controversial topics, it would come as no surprise that Schilling's Facebook post was the straw that broke the camel's back.  ESPN, after all, called Schilling's conduct "unacceptable."  ESPN very likely saw Schilling's actions as discriminatory, which would give them sufficient cause to terminate Schilling's broadcaster's contract.
There are people saying that Schilling, as a journalist, had a right to express an opinion and therefore his 1st Amendment right to free speech and freedom of expression were violated.  Unfortunately, this legal argument is not meritorious at all.  Daniel Werly, a sports lawyer and managing editor of TheWhiteBronco.com, told LawNewz that Schilling has no 1st Amendment protection under these circumstances.
"Freedom of speech does not necessarily mean freedom from consequence. The First Amendment prevents the government, not a private company such as ESPN, from censoring or taking action against protected free speech.  ESPN did not have to give Schilling a forum to express views that conflict with their beliefs."  Werly added that even though many of Schilling's controversial comments happened via social media, a disclaimer saying that his views were not reflective of ESPN's holds no water either. "A legal disclaimer on Facebook or Twitter has no legal effect and would not prevent a private company from firing an employee that posts inappropriate material to social media."
In the end, Schilling's social media antics and public outcry on social issues are what cost him his job.  His job, as a representative of the worldwide leader in sports, was to strictly talk baseball.  Nothing more and nothing less.  Schilling's actions certainly demonstrate that unless it is your job to give an opinion, be careful what you say/tweet/share. It may just come back to haunt you.
Tony Iliakostas is a sports law contributor for LawNewz.  He is the founder and host of his own sports law video blog called "Law and Batting Order."  You can follow Law and Batting Order on Facebook and Twitter, and you can follow Tony on Twitter.
[screengrab via NESN]
Have a tip we should know? [email protected]