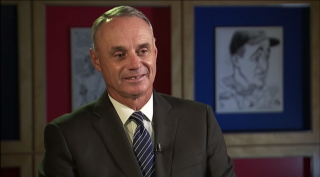 The 2016 Major League Baseball season has officially started.  With many teams making the necessary improvements through free agent signings and trades this offseason, this baseball season should prove to be an exciting one. 2016 also means we enter year 2 of the Rob Manfred regime.  Manfred was named MLB's 10th Commissioner at the end of the 2014 season.  In year 1 as commissioner, Rob Manfred denied Pete Rose's appeal to lift his ban from Major League Baseball, he addressed issues involving the pace of baseball games, enforced MLB's drug testing policy against multiple players, including Jenrry Mejia, and even saw the Kansas City Royals break a 30-year World Series drought.  There are many important issues that Rob Manfred will be confronted with in 2016, and I'll be breaking down my top 5 legal related headlines to watch out for this MLB season.
CONTINUED ENFORCEMENT OF THE LEAGUE'S DOMESTIC VIOLENCE POLICY
Before the regular season commenced, we saw Commissioner Manfred suspend New York Yankees closer Aroldis Chapman 30 games for a domestic violence dispute between him and his girlfriend in October 2015.  The sanction made Commissioner Manfred the first MLB commissioner in league history to suspend a player under the league's new domestic violence policy.  While domestic violence has been an issue even before the creation of this policy, it never really came to the forefront in the sports world until the Ray Rice scandal unfolded before our eyes.  Surely, MLB's domestic violence policy is a work in progress but the fact that the league and the MLB Players' Association were able to come together to draft this policy at the tail end of last season is especially important.
As the 2016 MLB season commences, we'll continue to see Commissioner Manfred enforce the league's domestic violence policy.  His next subject is Colorado Rockies shortstop Jose Reyes, who was arrested on Halloween Day in 2015 for allegedly choking his wife and slamming her against a sliding glass door in their hotel room in Maui, Hawaii.  Last week, Hawaiian prosecutors dropped domestic violence charges against Reyes after his wife failed to cooperate with prosecutors.  It will be up to Commissioner Manfred to decide how he'll sanction Reyes based on what his investigatory team concludes.  Just as Rob Manfred set precedent with the Chapman suspension, he will do the same with Jose Reyes and any other MLB players who subsequently violate the league's domestic violence policy this season.
NEGOTIATING MLB'S NEW COLLECTIVE BARGAINING AGREEMENT
Major League Baseball's collective bargaining agreement is set to expire at the close of this season.  This will be Rob Manfred's first experience dealing with a CBA expiration and negotiation as MLB commissioner.  MLB had prided itself in not having a labor strike over the terms of a collective bargaining agreement since 1994.  The league and the players' association have entered the bargaining table since that strike and have been open to everything from the steroid policy to even creating a strict social media policies.  I think pace of game will be a topic that will be addressed during this year's CBA negotiations.  Pace of game is a newly implemented rule in MLB that focuses on preventing any unnecessary delays to the game to keep the game going at a steady and progressive rate.  CBA negotiations will additionally focus on refining the league's domestic violence policy, modifying rules on qualifying offers (which are ever-growing in MLB) offered to free agents, and continued efforts to improve the league's drug testing policy.  Will there be a potential labor strike?  That's hard to predict, but judging from history, it would be hard to fathom work stoppage in Major League Baseball.
THE CONTINUED FIGHT AGAINST STEROIDS AND OTHER PERFORMANCE ENHANCING DRUGS IN MLB
The MLB and MLBPA will have to come together during this year's CBA negotiation to discuss ways to improve the league's drug testing policy.   One topic that will surely be addressed is due process provisions for players who are accused of violating the league's drug testing policy.  Due process has been the center of the entire Deflategate saga and surely this will have a ripple effect on other sports leagues, including MLB.  I foresee a re-examination of due process provisions in MLB's drug testing policy.  That said, we'll continue to see Commissioner Manfred serve as an enforcer of this policy.  We saw his sanctioning power when he banned former New York Mets pitcher Jenrry Mejia from Major League Baseball for violating the league's drug testing policy three times.  Once again, Manfred made history as the first MLB commissioner to impose such a punishment on a player for violating the league's drug testing policy.  Manfred's sanctioning power should serve as a warning to players who dare to take any banned substances.  It's hard to predict who or how many players will be suspended for violating the league's drug testing policy in any given year, but this is one of those perpetual legal headlines worth watching in MLB.
THE AFTER-EFFECTS OF THE GARBER V. MLB SETTLEMENT AND THE FUTURE OF STREAMING
Garber v. MLB was a major anti-trust lawsuit that settled hours before the case was set to begin in federal court.  The premise of this case was that a class of plaintiffs sued MLB for the inability to buy single-team TV streaming packages, as they were stuck purchased a year-long out-of-market package to watch all 30 teams online.  The plaintiffs argued that this created unfair competition.  The settlement calls for reduced prices for fans who want to subscribe to a league-wide package as well as a reasonable fee for fans who want to watch a single team for the next five years.
With this settlement in mind, perhaps this is Manfred's time to strike while the iron is hot.  Commissioner Manfred, and MLB as a whole, has been slowly implementing new technology into the baseball culture with the expansion of instant replay and review and now the integration of iPad pros in all MLB ballpark dugouts.  This week, NFL Commissioner Roger Goodell announced that Thursday Night Football games would be streamed live on Twitter.  The future is here.  Perhaps this idea won't totally come to fruition this season, but it's certainly an idea that Manfred can ponder on and consider as he continues to marry baseball with technology.  Just imagine: Sunday Night Baseball games on Facebook.  That'll be an unreal experience.
THE CREATION OF AN INTERNATIONAL BASEBALL DRAFT
This has been an idea that has floated around MLB's offices but never made much noise.  Perhaps now is the time significant developments can be made on this front now that the MLB CBA is set to expire at the conclusion of the 2016 season.  MLB has slowly become an international sport thanks to the creation of the World Baseball Classic.  Annually, there are news of teams signing players from Australia, Japan, and parts of South America and the Caribbean.  We even saw an exhibition game in Cuba between the Tampa Bay Rays and the Cuban national baseball team.  Clearly, MLB has a vested interest in building an international audience and making baseball a worldwide sport like basketball has become.  Certainly, these case studies could make for a compelling case for the league to consider bringing up the idea of an international draft at the start of the CBA negotiations.   Certainly, some of the legal dilemmas that come from this are on the immigration front.
The 2016 MLB season should be a fun one to watch.  I'm looking forward to seeing Commissioner Manfred make his mark as one of the most influential and perhaps one of the best commissioners Major League Baseball has ever had.
Tony Iliakostas is a sports law contributor for LawNewz.  He is the founder and host of his own sports law video blog called "Law and Batting Order."  You can follow Law and Batting Order on Facebook and Twitter, and you can follow Tony on Twitter.
[screengrab via Fox 5 NY]
Have a tip we should know? [email protected]