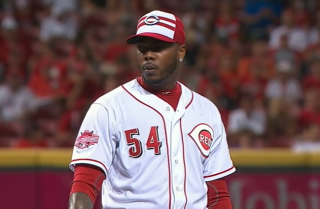 On Tuesday, Major League Baseball Commissioner Rob Manfred and New York Yankees closer Aroldis Chapman both made Major League Baseball history.  Manfred became the first Major League Baseball commissioner to sanction a player under the league's newly instituted domestic violence policy and Chapman is now the first MLB player in the history of the game to be suspended under this policy.  Chapman received a 30-game suspension after an investigation of an alleged domestic violence incident with his girlfriend.  There are no criminal charges against Chapman, due to insufficient evidence.  Chapman's suspension will commence at the start of the regular season in April.  According to Commissioner Manfred, Chapman and his attorney requested an in-person interview to review the league's report and to acknowledge that his conduct was inappropriate under the domestic violence policy.  Manfred further added that he is "gratified that Mr. Chapman has responsibility for his conduct." Chapman has also apologized for his use of a gun, calling it "a bad judgment" on his part.
I opined on this matter in my debut LawNewz article.  Just as a reminder, MLB's domestic violence policy gives the commissioner full authority to suspend a player as few or many games as he deems necessary, regardless of whether the player will face criminal charges.  There are no tiered levels of punishment under MLB's domestic violence policy like there is under their drug testing policy.
That said, a few thoughts crossed my mind.  First, in my LawNewz piece, I suspected a sanction of at least 20 to 30 games but no more than 60 games, and it appears that Chapman received the lower end of the scale.  I was expecting that MLB would've gone harder on Chapman; in fact, a 50-game suspension would probably have been more appropriate, especially under the circumstances outlined in Broward County State Attorney's Office memorandum of understanding.  However, it is possible that MLB negotiated a deal with Chapman and settled on a 30-game suspension, which would explain why Chapman is not appealing this suspension.
This suspension is very important though because it sets precedent.  This was a case of first impression for Manfred and Major League Baseball.  It will undoubtedly serve as guidance for Manfred and any succeeding commissioner as they go forward punishing players involved in future domestic violence cases.  Admittedly, it perplexes me that an MLB player could be far more severely sanctioned under MLB's drug testing policy than under the DV policy.  Then again, Commissioner Manfred's meeting with Chapman and his lawyer may have mitigated the punishment.
While I think implementing a domestic violence policy is a step in the right direction for MLB, it's far from being perfect.  Annually, the league and MLB Players' Association will have to review the terms of the policy and continue to perfect it.  I still believe that creating a tiered system of punishment under the MLB domestic violence policy is one improvement they can make at the bargaining table.  Creating a progressive system that punishes repeat offenders like they have under the league's drug testing policy may prove to be a successful and fair method of punishment as opposed to giving the commissioner absolute authority and latitude to punish a player.  Plus, if the league wants to enforce a zero-tolerance policy against domestic violence, they could successfully do that by creating stiffer penalties for first-time and repeat offenders.
Needless to say, we have two remaining players who are subject to punishment under the league's domestic violence policy, Los Angeles Dodgers outfielder Yasiel Puig and Colorado Rockies shortstop Jose Reyes.  Mark my words: the Jose Reyes case is THE domestic violence case to watch here.  Unlike Chapman, Reyes was arrested and charged in Hawaii after he allegedly slammed his wife against a sliding glass door in a hotel room in Maui on Halloween last year.  Reyes has plead not guilty and his first court date is set on April 4, 2016, which happens to be Opening Day for the Colorado Rockies.  Major League Baseball also placed Reyes on paid administrative leave last week until his criminal proceedings are resolved.
Evidence will come forth in this trial that Manfred will absolutely use as he considers how to punish Jose Reyes under the MLB domestic violence policy.  Considering that Chapman received a 30-game suspension, it's very likely that Reyes could receive more than that.  I would suspect a 50-game suspension would seem appropriate and fair. Whatever sanction Jose Reyes receives under the league's domestic violence policy will certainly create new precedent.
Tony Iliakostas is a sports law contributor for LawNewz.  He is the founder and host of his own sports law video blog called "Law and Batting Order."  You can follow Law and Batting Order on Facebook and Twitter, and you can follow Tony on Twitter.
Have a tip we should know? [email protected]