New Hampshire voters are now also being targeted by shady 'voter shaming' mailers ahead of tomorrow's critical primary election. What is particularly troubling to some about these letters is that they purport to be from a New Hampshire state-sponsored program that does not exist. An independent voter from Bedford, N.H. sent LawNewz.com a scanned copy of the mailer.  The New Hampshire Secretary of State's Office told LawNewz.com that they have received other similar complaints, and are now looking into the matter.
This new mailer has a New Hampshire State emblem-like graphic with the title "New Hampshire State Voter Program" on the letterhead. There is no such state-sponsored program in New Hampshire, according to the Secretary of State's Office.
"I'd like to know who is responsible, they won't be getting my vote," New Hampshire voter William O'Shaughessy told LawNewz.com.
And apparently, O'Shaughnessy is not the only one who received the letter. Other people on Twitter say they have as well:
#NHPolitics dirty tricks? "New Hampshire Voter Report" mail shaming voters. Who is "Public Policy Matters?#FITN pic.twitter.com/vkpOaKYeOr

— Marc Nozell (@MarcNo) February 8, 2016

In small letters at the bottom, the letter says it was paid for by "Public Policy Matters." A google search for this group turns up nothing, and the mysterious group is not registered (as far as we can find) as a PAC. The group does have a P.O. Box in Manchester, New Hampshire.
Here is a copy of the mailer that was sent (redacted to protect private information):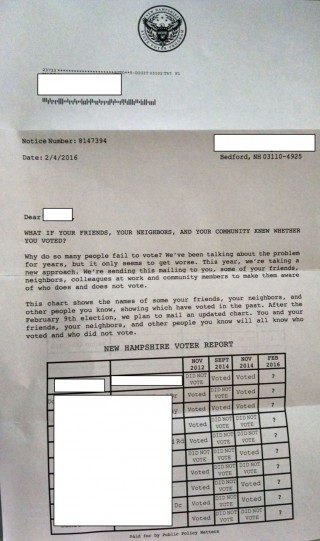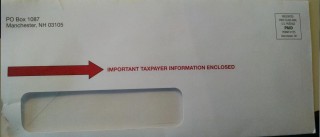 It is unclear who sent these letters but one thing is clear a larger turnout among independent voters could benefit Donald Trump and Bernie Sanders. Recent polling of registered, undeclared voters puts Donald Trump in first, followed by Ted Cruz in a distant second, narrowly edging out the cluster of establishment candidates, according to the Hill.com. Again, there is no indication at this point that the mailer is linked or funded by any candidate.
Ted Cruz's campaign came under intense scrutiny for sending similar mailers to Iowa residents. Some pundits even believe the mailers broke state law by trying to trick voters into believing they came from the government.
We are closely monitoring this story at LawNewz.com and will update if we hear back again from the Secretary of State's Office.
Have a tip we should know? [email protected]
Rachel Stockman - President / On Air Host