In a last minute push to drive voters to the Iowa Caucus, Ted Cruz's campaign may have waded into to some legally questionable territory. The Cruz campaign sent out a mailer aimed at motivating lower-turnout voters to show up. On top of the yellow notices, the mailer reads in big red letters, "VOTING VIOLATION", and on top of that "RECIPIENT COPY, OFFICIAL PUBLIC RECORD." The mailer, giving the impression to some of an official government document, gives the recipient their voter score. For example, 55% or F for not turning up very often to vote. Here is an example of one: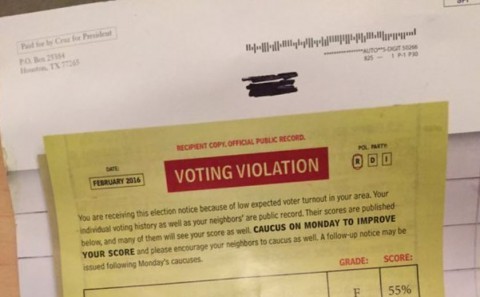 This could be a problem for Ted Cruz. By placing "PUBLIC RECORD" on top of the violation, he delves into some murky legal water. Paul Pate, the Iowa Secretary of State (Republican by the way) is also concerned. His office fired back with this statement sent to LawNewz.com:
Accusing citizens of Iowa of a "voting violation"  based on Iowa Caucus participation, or lack thereof , is a false representation of an official act. There is no such thing as an election violated related to frequency of voting. Any insinuation or statement to the contrary is wrong and I believe it is not in keeping in the spirit of the Iowa Caucuses.
Notice that Pate used the words "false representation of an official act" in his statement.  We looked through Iowa code, and a potential false representation is, in fact,  a violation of criminal law.  The law reads (Section 720.5) "any person who represents any document or paper to be any public record or any civil or criminal process, when the person knows such representation to be false, commits a simple misdemeanor." (Side note: this is part of the Chapter of Iowa Law entitled Interference of Judicial Process)
"I get the idea behind it to try to motivate people to participate in the caucus, but the way that it is done in terms of pawning itself off as a public record is what's problematic,"  Iowa election law attorney Gary Dickey told LawNewz.com.  Dickey has consulted for some Democrats.
"In this incident (the mailer) certainly gives the impression that it was an official document, whether they (Secretary of State's office) is going to pursue that I'm not sure, but maybe. There is law on the books and given the language of Pate's statement, maybe," Timothy Hagle, a professor and Iowa caucus expert at the University of Iowa, told LawNewz.com
Cruz, however, says he is not apologizing for the mailer. "I will apologize to no one for using every tool we can to encourage Iowa voters to come out and vote," he told reporters on Saturday.
If this mailer becomes a sticking point, Cruz's campaign will likely argue that the envelope which contained the "violation" had "Paid for by Cruz for President" on the left hand corner. While this certainly gives him some legal leeway, it could still potentially be challenged by opponents.
"It certainly has that appearance (of an official document), I would think the language was vague enough, a lawyer could probably defend it. That's not to say it couldn't be charged," Hagle said.
Cruz opponents – like Donald Trump — are not surprisingly already latching on to the issue:
The Cruz campaign issued a dishonest and deceptive get out the vote ad calling voters "in violation." They are now under investigation. Bad!

— Donald J. Trump (@realDonaldTrump) January 31, 2016
"My reaction was that it was incredibly bizarre and counter intuitive tactic for a campaign to use," Tom Hinkeldey, an Iowa resident told LawNewz.com over Twitter. Hinkeldey said he received one of the letters.
When asked by the LawNewz.com, if the SOS would investigate further, his spokesperson replied "it's not something we've discussed."
"The Iowa Caucus is not an official State of Iowa election. The Secretary of State does not oversee the caucuses. They are run by the state parties," the spokesperson added.
[image via twitter]
Have a tip we should know? [email protected]
Rachel Stockman - President / On Air Host