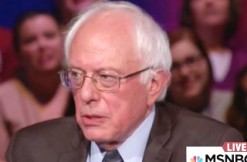 One veterans group has pushed three cease-and-desist letters onto a Democratic presidential candidate, and they might get their way. A rep for U.S. Senator Bernie Sanders promises his campaign will no longer use The American Legion emblem in campaign materials, according to Politico in a Monday report.
This comes after the campaign was already asked to stop. But "asked" is an understatement. The veterans organization has complained three times since Jan. 22 in cease-and-desist letters.
"A flier urges people to support your candidacy and contains pictures of the emblem of The American Legion while referencing the Veterans of Foreign Wars," the group wrote in a Jan. 22 letter. "This is totally illegal and misleading."
In a Feb. 1 letter obtained by The Associated Press, they warned "any further communication about it will be through our trademark attorney in the appropriate forum."
Then we climax with a newly issued cease-and-desist letter, according to The AP on Monday.
"We sincerely appreciate the notification of the unintentional improper use by Sanders of the emblem of The American Legion and the helpful information pertaining to your concerns," said Garvey Schubert Barer, attorney for the Sanders Campaign. "Sanders takes intellectual property matters very seriously and does its best to respectfully and appropriately acknowledge and to not infringe the intellectual property rights of others."
According to the Politico, Barer promised the campaign will stop using the Legion's emblem, and "make every effort to prevent and prohibit all improper use of the emblem or name of The American Legion in its materials, fliers, or campaign."
Bernie Sanders narrowly lost the Iowa caucus to Hillary Clinton. As for The American Legion, it is a non-profit organization founded in 1919 after World War I. A huge network for wartime veterans, it boasts its volunteer programs on its official website.
[h/t Politico]
–
>> Follow Alberto Luperon on Twitter (@Alberto Luperon)
Have a tip we should know? [email protected]