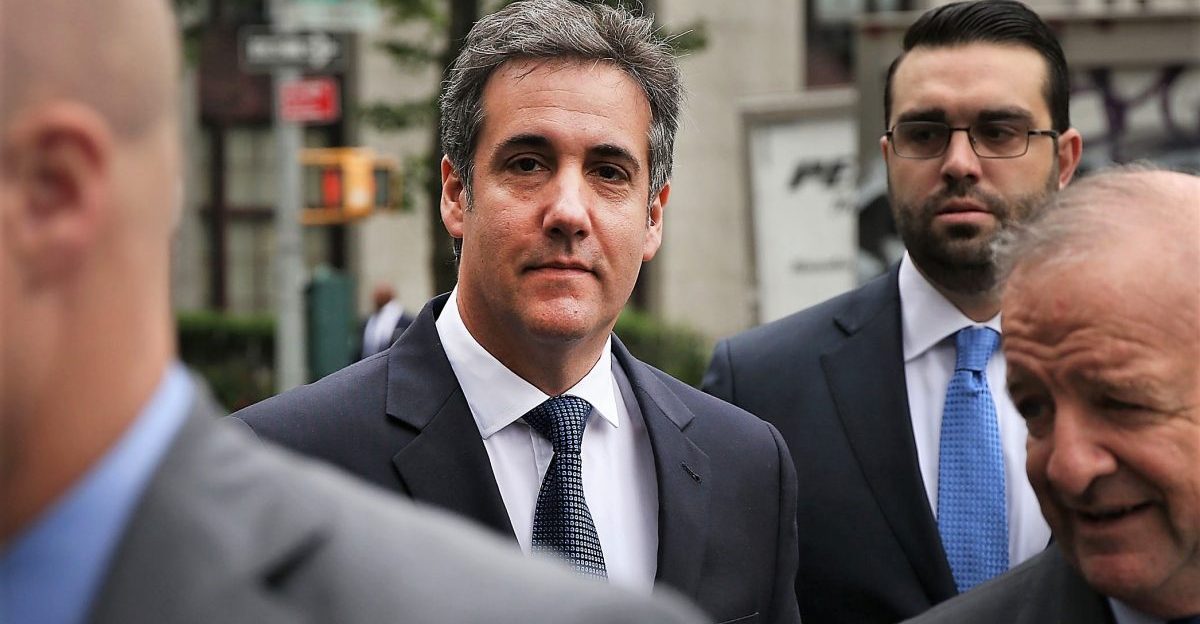 Today, Lanny Davis, Michael Cohen's lawyer, offered up his client as some sort of patriotic martyr, telling NPR, "Under no circumstances would [Cohen] accept a pardon from Mr. Trump," and adding that Trump, "not only directed a crime, he's part of a cover up."
This is, without qualification, the most absurd thing I've heard all year. And in this up-is-down-truth-isn't-truth world, that's saying something. Donald Trump is the same lying sack of you-know-what that he was when Cohen was promising to go all secret-service on him, and Cohen is isn't exactly Nathan Hale.
Let's be serious. Trump isn't likely to pardon Cohen, as he has now moved on to cyberbullying him. But since we're talking hypothetically, any suggestion that Cohen would refuse to "accept" the pardon (whatever that means) in order to prove his own patriotism is flatly laughable.
Normally, anyone facing time in federal prison would be thrilled at the prospect of a presidential pardon; but for Cohen, a presidential pardon would ensure that he has to spend then next few years in prosecutorial limbo, fielding more indictments with potentially harsher consequences. You see, New York State has already put Cohen on notice that it's gearing up to pick up any slack created by a Trump pardon.
The plea-and-pardon scenario is one that's been envisioned for some time by legal experts, as well as those close to the players.
Keep in mind this could mean that Cohen pleads, doesn't cooperate, gets sentenced, and President Trump immediately pardons him. https://t.co/8j4TjzJQGH

— Dan Abrams (@danabrams) August 21, 2018
Knowing all that, last April, then-Attorney General of New York Eric Schneiderman sent a letter to New York Governor Andrew Cuomo and a group of legislators urging them to change New York state law in anticipation of a Cohen pardon or a Trump self-pardon. In the context of what's going on in the New York State Legislature, Senator Chuck Schumer's warning today wasn't at all hyperbolic:
My message to the president: you better not talk about pardons for Michael Cohen or Paul Manafort tonight, or anytime in the future.
New York (like many other states), currently guarantees its citizens more protections than are strictly required under the U.S. Constitution. One such additional protection is a shield against successive prosecution—commonly called "double jeopardy." Although federal law would permit Cohen to be prosecuted in state court even if he'd already been federally prosecuted for the same crime, that kind of thing would be a no-go in for in certain specifically-defined circumstances. [Sidebar: Yes, New York is allowed to do this because of dual sovereignty; yes, conservatives are always shouting state sovereignty and the Tenth Amendment from the rooftops; no, those ideologies aren't going to mesh well in this particular case.]
New York law does allow for some exceptions to the "no successive prosecution" rule – and Schneiderman simply asked an amendment to include presidential pardons as another exception. Legislatively, the change isn't particularly radical, makes good legal sense, and creates a political gem for legislators of New York State. Schneiderman's crusade was progressing on course until he was derailed by some major #MeToo drama.
The bill is currently before the New York State Legislature, and current Attorney General Barbara Underwood, is continuing to advocate for the change. Following President Trump's Pardon Of Dinesh D'Souza, Underwood issued the following statement:
"President Trump's latest pardon makes crystal clear his willingness to use his pardon power to thwart the cause of justice, rather than advance it. By pardoning Dinesh D'Souza, President Trump is undermining the rule of law by pardoning a political supporter who is an unapologetic convicted felon. First it was Sheriff Joe Arpaio. Then it was Scooter Libby. Now it's Dinesh D'Souza. We can't afford to wait to see who will be next. Lawmakers must act now to close New York's double jeopardy loophole and ensure that anyone who evades federal justice by virtue of a politically expedient pardon can be held accountable if they violate New York law."
Very likely, the fate of the bill – and any NYS-specific fate of Michael Cohen—is contingent on the November election. New York's closely-divided state legislature, as well as its incoming attorney general will grapple with the question of whether to close what's been called New York's "loophole" on the double jeopardy.
Zephyr Teachout, a Democratic candidate Attorney General, was quick to tweet where she stands on the matter:
If Donald Trump pardons Manafort, the federal pardon would not cover state crimes. As AG of New York, I will investigate and pursue any state law violations to be ready for Trump trying to protect himself with a pardon. We have to be totally clear that no one is above the law.

— Zephyr Teachout (@ZephyrTeachout) August 21, 2018
Law&Crime spoke with Assemblyman David Buchwald, one of the bill's co-sponsors, who explained that irrespective of political undertones, the amendment is a change that will effectuate justice for the American people. Buchwald said:
This legislation is important, because it underscores that no one is above the law — not even if they have a president on their side.
Timing is essential in this game of pleas and pardons. When last in session, SCOTUS agreed to hear a case with implications on just this issue. In that case, a ruling in favor of a criminal defendant might eradicate New York State's prized chance to position itself to defend the realm against Donald Trump and Michael Cohen.
Let's not forget, too, that all of this prosecutorial two-step only applies to crimes that are the same under both New York and federal law. Certainly, some of the crimes to which Cohen pleaded guilty (such as tax evasion) do not have direct state-law counterparts; others, however, may. Regardless of any crossover, New York certainly can (and very well may) choose to prosecute Cohen for crimes wholly different than those charged by the feds; for those, no presidential pardon will be possible. Cohen may be professing to valiantly take his medicine without protest — but behind his veil of valor lies a man who's probably seen enough Law & Order episodes to know that federal prison is a lot nicer than the state penn.
No word yet on whether Cohen has plans to ask Andrew Cuomo for a pardon.
[Photo by Spencer Platt/Getty Images]
This is an opinion piece. The views expressed in this article are those of just the author.
Elura Nanos - Columnist & Trial Analyst, Law & Crime; CEO Lawyer Up