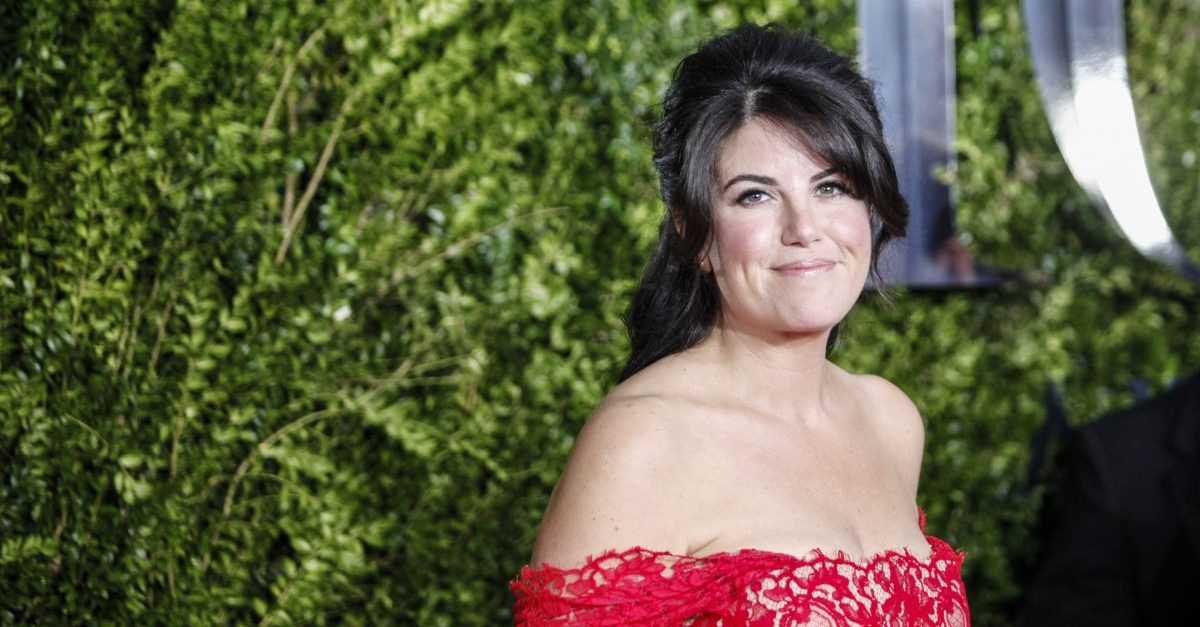 On Sunday night, A&E's miniseries The Clinton Affair began its run, and it's more than just good TV. It is a reckoning. Two decades after Monica Lewinsky became America's villainess-in-chief, the world has become a very different place for young women and powerful men. In part due to our undignified, pussy-grabbing, current commander-in-chief, and in part due to the #MeToo dominoes falling on a daily basis, we are a nation that is ready to reframe one of the biggest scandals of all time. In a move that's long overdue, Monica Lewinksy is here to reclaim her identity. And boy, is it working.
I was too young to understand what happening. My generation of women was introduced to our country's sexism through this scandal and our understanding shaped by those in power. Thank you, @MonicaLewinsky I can't wait to hear your story. #TheClintonAffair https://t.co/UPmkhLIIFu

— Kelli M (@KelliMali) November 13, 2018
In the 90s, the Anita Hills and Paula Joneses of the world were cast as nuisances, troublemakers, and liars. Lewinsky was crowned biggest troublemaker at all – for harming Bill Clinton's presidency, Clinton's marriage, and the nation as a whole – and all for telling the truth.
Things are different today, though. This is the #MeToo Age, and the only public split seems to be between those taking a perverse pleasure in watching icons like Weinstein and Spacey fall and those who are legitimately hurt by hearing apologies from beloved figures like John Lasseter and Charlie Rose. It has taken until now, after we have accepted that our presidents may not act presidential, and that our heroes may not be heroic, to begin the long-overdue reframing of Monica Lewinsky.
Last year, when HLN promoted its upcoming special, Lewinsky herself began to speak up:
fixed it for you. you're welcome. pic.twitter.com/h4iVKGwM1g
— Monica Lewinsky (@MonicaLewinsky) November 28, 2017
Boom.
Five hours and twelve thousand "likes" later, the world (or at least the Twittersphere) was all about viewing the "Monica Lewinsky Scandal" through 2017's eyes:
Much better, thank you and sorry everyone is so stupid and mean.
— Vix Maren (@VixMaren) November 29, 2017
Recently had to stand up to a manipulative dude. Kept you in mind as inspiration – it helped. That's your legacy for me.
— Colette (@songofcolette) November 29, 2017
You were a young woman in your early 20's. He was 20 yrs. older, the President of the United States and a known predator. Regardless of what happened, you never did nor do you now deserve the degree of shaming to which you have been subjected to. Period. Keep standing strong.
— Lynda Fusco DeRosa (@mrsderosa) November 29, 2017
For years, the only debate about Monica Lewinsky was whether her involvement with Bill Clinton was "forgivable"; I remember no TV talking heads opining on whether she'd been victimized. From all accounts, including, most importantly, Lewinsky's own, her relationship with Clinton had been consensual. However, for an event that received unprecedented media attention and public debate, the lack of talk over that consent is – at least in retrospect – disturbing. Had Lewinsky been a bit younger, her willingness to enter into a sexual relationship with an adult would have been immaterial. The entire "relationship" would have been a sexual assault, no matter how she felt about it.
Now, Lewinsky and others have come full-circle to re-characterize the Clinton scandal as what it unquestionably was– a dramatic imbalance of power that resulted in the near-ruin of a young girl's life. The Clinton impeachment is a shameful part of American history – but most shameful of all is that through months of investigations, special prosecutors, press conferences, and Congressional inquiries, we never even considered whether Monica Lewinsky had been victimized. While "slut" and "oval office" and "blue dress" were on everyone's tongue, "harassment," "predator," and "misconduct," were nowhere to be heard. At 22, Lewinsky wasn't even old enough to rent a car; Clinton was double her age, powerful beyond measure, and not insignificantly, a man with a history of allegations of sexual misconduct. Whatever one's feeling about the relationship itself, 1990s America got it all very wrong.
Ultimately, it's not the lurid details of Bill Clinton and Monica Lewinsky that are important. It is how we react to these stories. When we hear about a sexual relationship between a very young woman and her much older, much more powerful boss, we should be asking questions about consent. We didn't then, but we need to now. If we had realized that the first time we were listening to Green Day and wearing flannel, we might have prevented some of the damage the Spaceys, O'Reillys, and Weinsteins have inflicted.
Monica-Lewinsky-as-American-villain is as outdated as asking your hairdresser for "the Rachel," and as a nation, we're ready for a new look.
When mob culture goes low, @MonicaLewinsky always, always goes high. So grateful for her leadership in anti-bullying, and her bravery in speaking truth to patriarchy. #ClickWithCompassion #leadership #whatlovelookslike #TheClintonAffair https://t.co/6vCagQkO3b

— Julie Scelfo (@JulieScelfo) November 13, 2018
This is truth-telling of the highest order, a magnificent piece from the incredible @MonicaLewinsky a woman I have admired for a very long time. Thank you Monica #theclintonaffair https://t.co/4b8y6581Di @monaeltahawy

— Roisin Ingle (@roisiningle) November 14, 2018
[Image via KENA BETANCUR/AFP/Getty Images]
This is an opinion piece. The views expressed in this article are those of just the author.
Elura Nanos - Columnist & Trial Analyst, Law & Crime; CEO Lawyer Up