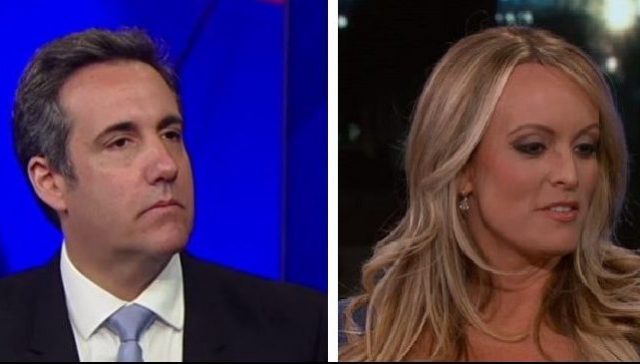 President Donald Trump's personal attorney Michael Cohen addressed the payment of $130,000 that went to former pornographic film star Stephanie Clifford (aka Stormy Daniels) in 2016. Cohen said that the payment to Clifford, who had claimed she had an affair with Trump soon after his wife Melania Trump gave birth to their son, came directly from him. In an apparent effort to show that the payment was legal, he made it clear that Trump's campaign was not involved in the transaction. Ironically, however, Cohen's very explanation could land Trump in serious trouble, and possibly vulnerable to criminal charges.
"Neither the Trump Organization nor the Trump campaign was a party to the transaction with Ms. Clifford," Cohen told the New York Times, "and neither reimbursed me for the payment, either directly or indirectly." Cohen would not say what the payment was for, but other outlets have reported it was to prevent Clifford from speaking publicly about the alleged affair.
While Cohen was probably trying to put Trump in the clear by saying he had nothing to do with it, his very explanation paints a picture very similar to that of former Democratic presidential candidate John Edwards.
Edwards faced charges after it was alleged that he accepted and tried to conceal hundreds of thousands of dollars that came from outside sources that were then used to cover up an affair he was having. Edwards was running for president at the time of the payments, and federal prosecutors claimed that the money should have been reported as campaign contributions. Such contributions also would have been in excess of the maximum amount allowed by individual donors, in violation of the Federal Election Campaign Act.
Edwards was charged with four counts of illegal campaign contributions, one count of conspiracy, and one count of false statements. He was never convicted, as a jury acquitted him on one charge and failed to reach a decision on the other five. The Justice Department opted not to have a retrial and dropped the case.
Edwards claimed he didn't know about the payments, which appears to be what Michael Cohen is indicating about Trump and his situation. While this defense may have ultimately worked on the jury, it wasn't enough to prevent charges from being filed in the first place.
The allegations against Edwards are fairly similar to the ones against the Trump campaign and Cohen. In the Edwards case, the Justice Department alleged that donors paid money to an Edwards associate who then used the money to make payments. In the current situation, Cohen is basically saying that he's both the donor and the associate. While Edwards denied having knowledge of the payments in his situation, Cohen did not address whether Trump was aware of the payment at the time.
Cohen was, however, quick to insists that the payment to Clifford was not a campaign contribution.
"The payment to Ms. Clifford was lawful, and was not a campaign contribution or a campaign expenditure by anyone."
Cohen said he offered a similar explanation of the payment to the Federal Election Commission after a complaint was filed by watchdog organization Common Cause. The complaint alleged that the payment to Clifford was in fact a campaign contribution, as it was made to benefit Trump while he was running for president.
"The complaint alleges that I somehow violated campaign finance laws by facilitating an excess, in-kind contribution," Cohen said. "The allegations in the complaint are factually unsupported and without legal merit, and my counsel has submitted a response to the F.E.C."
Cohen's statement where he took responsibility for the payment claimed that he wasn't reimbursed by the Trump campaign or the Trump Organization. He didn't say anything about Trump himself. Election law expert Rick Hasen said in a tweet Tuesday night that it may not matter, even if Cohen was reimbursed, because he still made the donation, plus he would have been involved in making an unreported expenditure.
Either way, it is not clear that this keeps Cohen out of legal trouble for either making an excessive campaign contribution or serving as a conduit for Trump's unreported campaign expenditure.

Just because Cohen says it is not campaign related doesn't make it so. https://t.co/8wcP3GRwaL

— Rick Hasen (@rickhasen) February 14, 2018
Of course, this all depends on whether the FEC believes that the payment should be considered campaign-related.
Cohen believes it should not be, and he and the Trump campaign should hope that the FEC sees things the same way. They didn't in Edwards' case, and if they believe that Trump himself knew about the payment when it was made, he could end up facing similar charges as well. While it is believed that a sitting president cannot face criminal charges while in office, at the very least, he could potentially have to deal with it after his presidency concludes.
At least one voice on the FEC during Edwards case believed that the payments in that situation should not have been considered campaign contributions. That voice belonged to Don McGahn. McGahn, of course, is no longer part of the FEC, as he is currently Trump's White House Counsel.
[Image of Michael Cohen via Fox News screengrab; image of Stephanie Clifford via ABC screengrab]
This is an opinion piece. The views expressed in this article are those of just the author.